From the About page: 

What is MarcNA?
MarcNA is the first of its kind! Never before has there been a 24-hour educational event for the reef keeping hobby. All things saltwater will be considered, discussed and dissected. The Live Chat will allow attendees to pose questions to the guest speakers, and the moderators will make sure everyone has a good time.
Marc has been attending MACNA every year since 2002, never missing one. However, in 2023 the event was canceled. Unacceptable. MarcNA was born from an idea of Marc 'melev' Levenson hosting his own event this year. After giving it a lot of thought, he came up with the plan of holding a 24-hour livestream event on Youtube. People from around the world already join his weekly livestream, so it makes sense for MarcNA to be an international streaming show as well.
24 hours?
Every hour, a chosen guest will be speaking to the audience interview-style. Education is key, with focus to keeping the conversation lively. It will start at 9 a.m. CST and end the following day at 9 a.m. CST. Audience members will be able to ask questions in the live chat during each session. Guest speakers will be from multiple countries, which will work well for the overnight portion.
Is this a Zoom thing?
This Youtube livestream will be broadcast in 4K to provide the best visual experience. Videos & photos will be crisp and in focus, with clean audio. Log into each session via Youtube on your favorite device: smartphone, tablet, gaming console, computer or tv.
What does it cost?
Attendance is free. To participate in the live chat, you must be logged into Youtube, and be subscribed to the Melev's Reef YouTube channel (youtube.com/melevsreef). Be sure to enable the notification bell. Email and app notifications will go out to all channel subscribers as new streams begin.
When is it?
Saturday, September 9th, 2023 to Sunday, September 10th, 2023. The first stream will start at 9 a.m. Central Standard Time promptly. Each session will be its own recording, which can be viewed after the event.
24 speakers!
We are going to have 24 different people present during MarcNA, and this will include some fresh names that may be new to you. Let us know if you know the perfect candidate!
What else? How about a fundraiser?
Besides being educational in nature, we want to use this opportunity to raise funds for the Coral Restoration Foundation™. Proceeds from all raffle ticket sales will go to the CRF to support their efforts planting endangered corals back in the Florida Keys here in the U.S.A. Learn more about CRF here: https://www.coralrestoration.org/
Raffle prizes will be awarded at the end of the speaker session. The more tickets sold, the
more funding the CRF will receive. WAMAS (a D.C. Saltwater non-profit club) handles the raffle process, and will forward the proceeds raised to the Coral Restoration Foundation™ after the event concludes.
About:
Marc Levenson is a nationally recognized public speaker, speaking to clubs as well as these nationally known trade shows: MACNA, MAX, Reefapalooza, and Aquashella. His passion runs deep, a true hobbyist at heart. Besides attending 22 MACNA events in a row, he was one of the organizers for the MACNA 2012 event in Dallas, Texas. He's the current club president for DFWMAS; he's very familiar with running local events and larger trade shows. MarcNA is being managed by a good group of motivated individuals that all want this 24-hour event to be a huge success. MarcNA is a DBA of Melev's Reef, Inc, filed in the state of Texas in 2023. This website will be updated with additional information. Check back frequently for the latest details.
Our Speakers: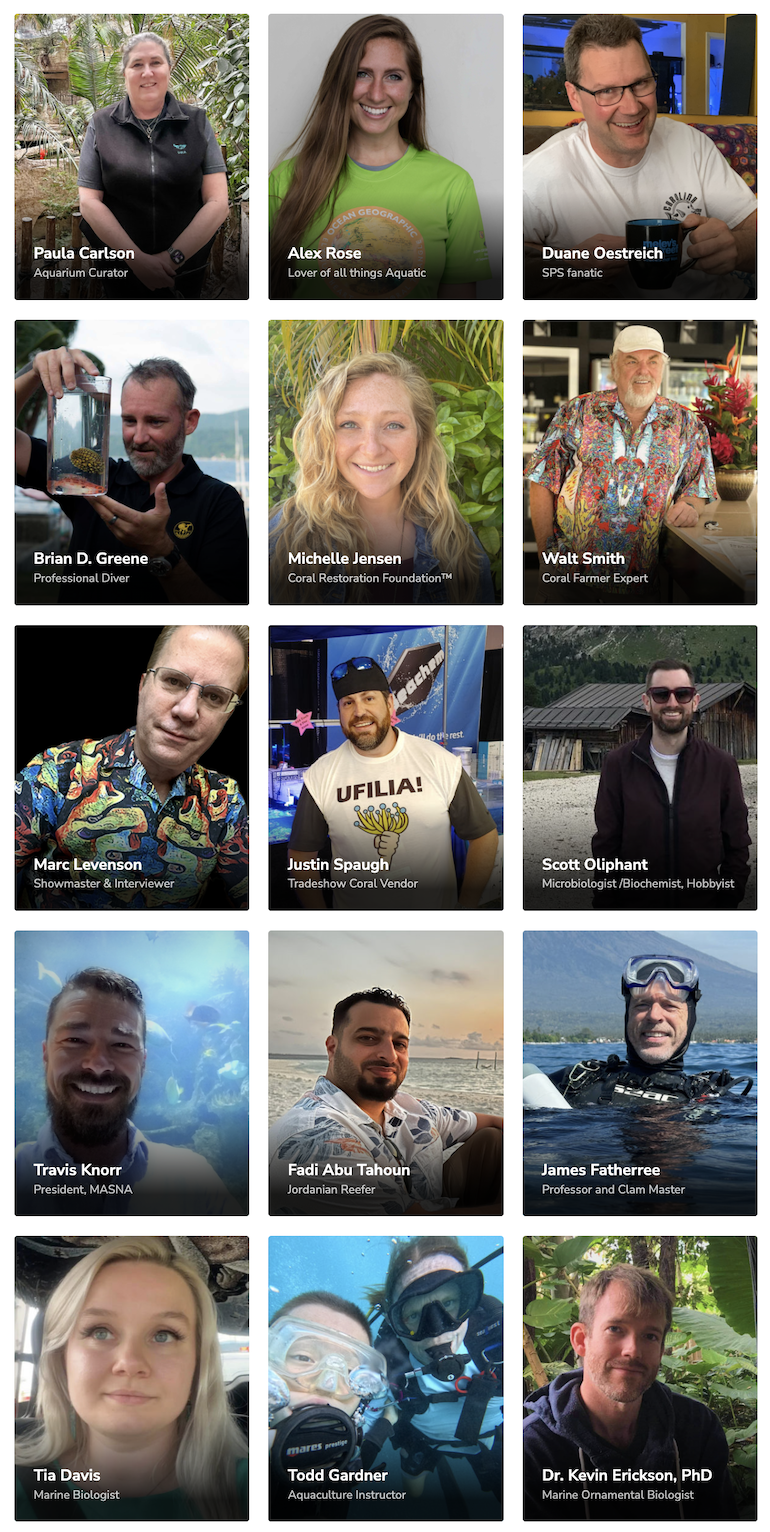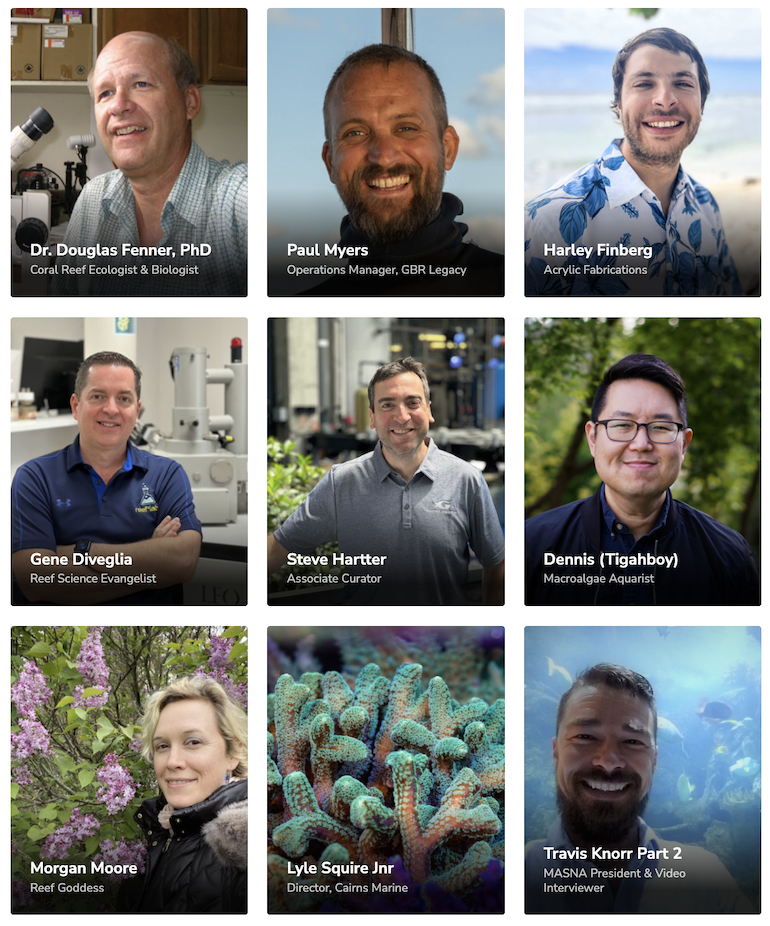 From the Schedule page:
9:00 a.m. CST – Michelle Jensen "Hope" 
https://www.youtube.com/watch?v=CK26dPmf6ys
10:00 a.m. CST – Steve Hartter "A Mega Reef in Atlanta" 
https://www.youtube.com/watch?v=Z0AjEB3QKFY
11:00 a.m. CST – Justin Spaugh "Running a Coral business during trying economic times"
https://www.youtube.com/watch?v=x9bmB52mfZA
12:00 p.m. CST – Walt Smith "Who is Walt Smith?"
https://www.youtube.com/watch?v=deYzDTUn8zk
1:00 p.m. CST – Duane Oestreich "Running a Reef with Careful Neglect"
https://www.youtube.com/watch?v=krUK2au28zA
2:00 p.m. CST – Gene Diveglia " What Every Hobbyist Should Know About ICP Testing"
https://www.youtube.com/watch?v=XnN7SvJDlSI
3:00 p.m. CST – Alex Rose "Pole to Pole: Exploration with a Purpose"
https://www.youtube.com/watch?v=EF967MtN45k
4:00 p.m. CST – Travis Knorr "President of MASNA tours Ruskin Tropical Aquaculture Lab"
https://www.youtube.com/watch?v=x4x4YUBhln8
5:00 p.m. CST – Dr. Kevin Erickson, PhD "Disease Prevention in Aquariums/AIMS & Reef Restoration"
https://www.youtube.com/watch?v=mAuthqJBuAw
6:00 p.m. CST – Dr. Douglas Fenner, PhD "NOAA's Coral Identification Workshop teaser"
https://www.youtube.com/watch?v=DCcvOicGXEw
7:00 p.m. CST – Todd Gardner "Sustaining our Hobby"
https://www.youtube.com/watch?v=iIf4elUblm8
8:00 p.m. CST – Tia Davis "Biophile Endeavors with macro algae"
https://www.youtube.com/watch?v=tqJROr3jrA4
9:00 p.m. CST – Paula Carlson "An ounce of Prevention is Worth a Pound of Cure - and other Words of Wisdom from a lifetime of fish keeping"
https://www.youtube.com/watch?v=U4EK76u79B4
10:00 p.m. CST – Brian D Green "Diving Deep for the Bishop Aquarium of Hawaii"
https://www.youtube.com/watch?v=ajfna4LOaCo
11:00 p.m. CST – Scott Oliphant "A Reefing Nightmare: Parasitic Copepods"
https://www.youtube.com/watch?v=fGBw0NdO5V8
12:00 a.m. CST – James Fatherree "A bunch of stuff about Giant Clams"
https://www.youtube.com/watch?v=clY7Tiy9OyU
1:00 a.m. CST – Harley Finberg "Acrylic fabrication with lasers and CNCs"
https://www.youtube.com/watch?v=tjndK2cQk1c
3:00 a.m. CST – Travis Knorr Part 2 "Diadema urchin aquacultured for Reef Restoration Efforts"
https://www.youtube.com/watch?v=tqFRuf5lZ5Q
4:00 a.m. CST – Fadi Abu Tahoun "A Jordanian Reefkeeper in the UAE"
https://www.youtube.com/watch?v=oku0x1U0pf0
5:00 a.m. CST – Paul Myers "Forever Reef Project / Great Barrier Reef Legacy"
https://www.youtube.com/watch?v=ZRmDVjYOqUw
6:00 a.m. CST – Marc Levenson "Marc and Friends"
https://www.youtube.com/watch?v=IVyUeT9KF3g
7:00 a.m. CST – Morgan Moore "The Life of a Coral Farmer"
https://www.youtube.com/watch?v=MEM3a6HA-AQ
8:00 a.m. CST – Dennis (Tigahboy) "Macroalgae Display Tanks"
https://www.youtube.com/watch?v=jlP7s78xJcM
9:00 a.m. CST – Closing Ceremonies 

Sponsors that supported MarcNA:
Benepets
Fritz Aquatics
Reef Nutrition
Slide-Loc
Two Little Fishies
Sicce
Marco Rocks
AquaIllumination
Ecotech Marine
Neptune Systems

Donated Prizes were listed on RallyUP, a way to raise funds for non-profit organizations. Here are a few screen grabs: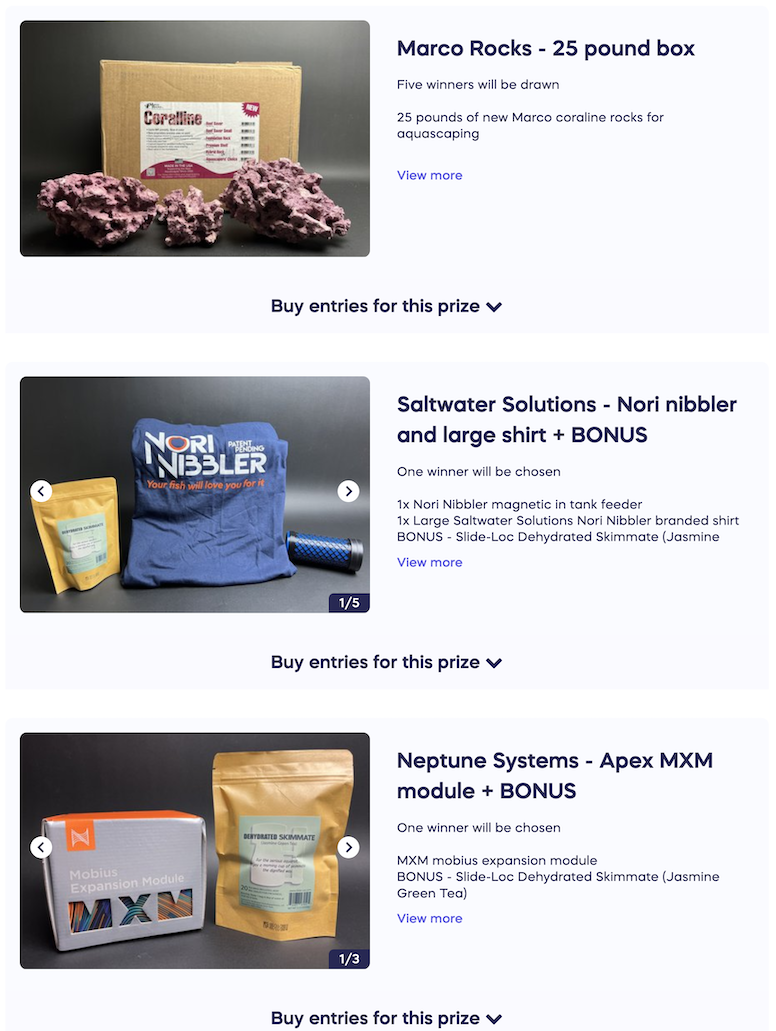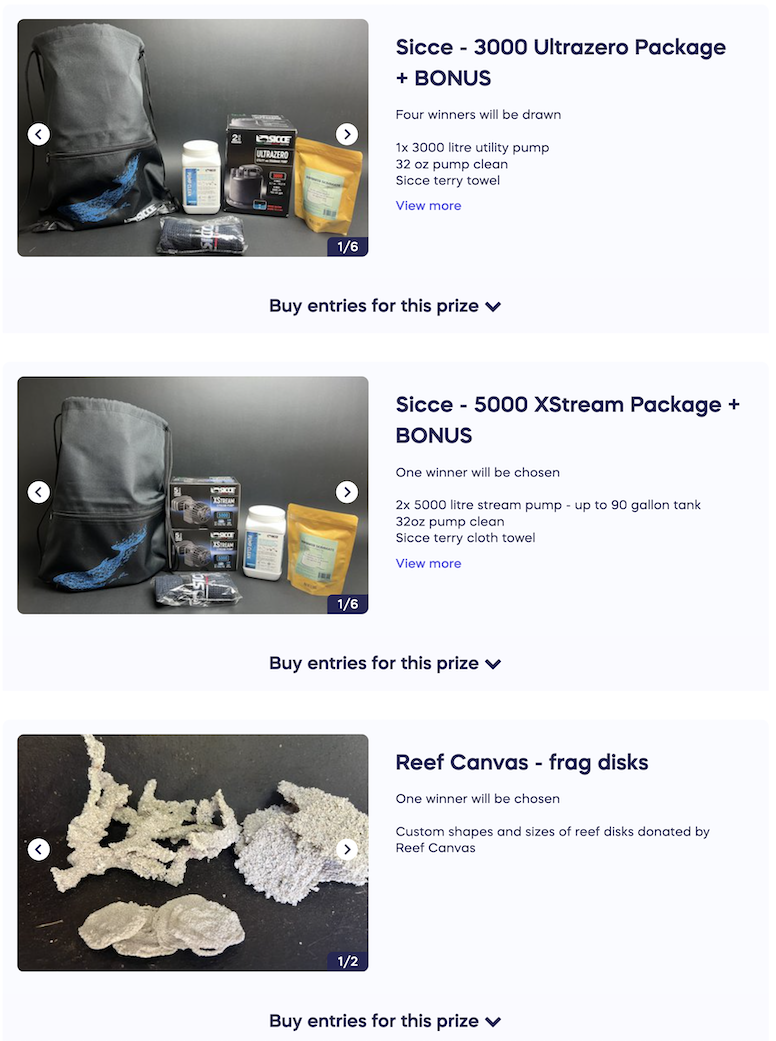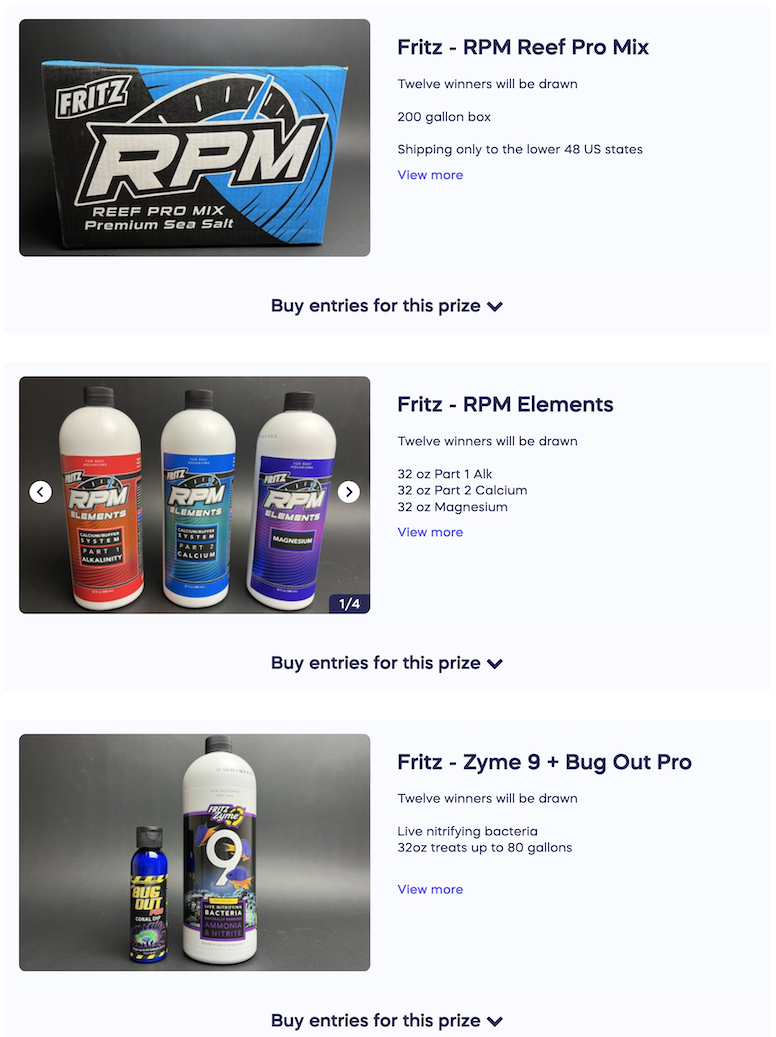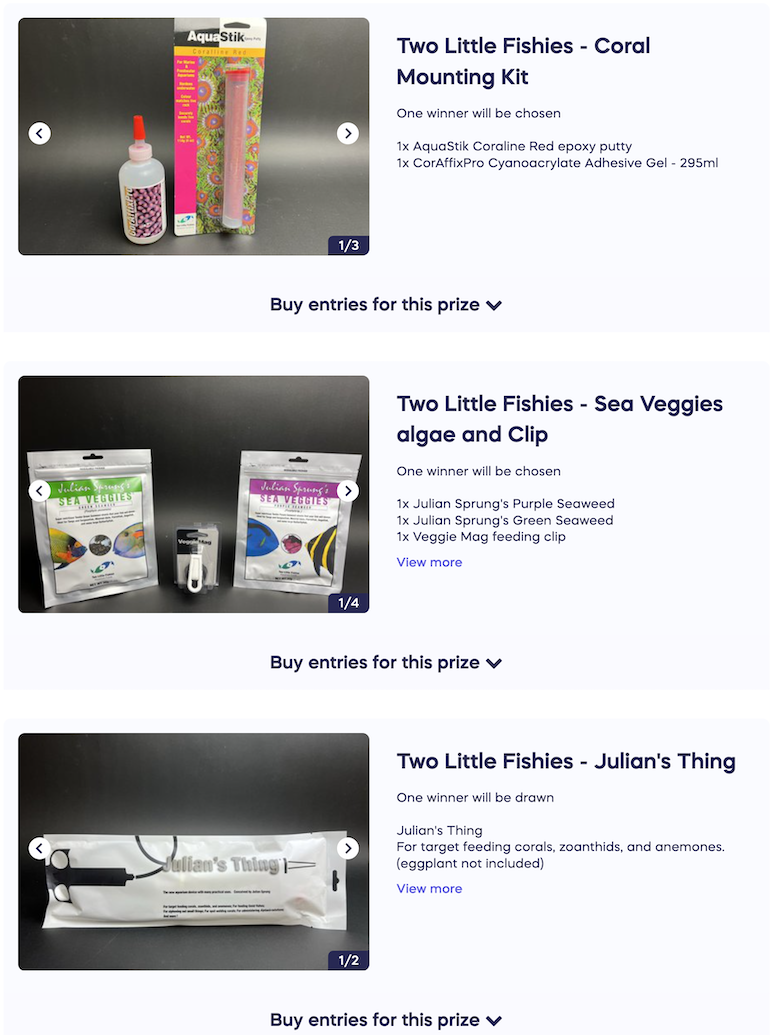 Final Thanks
The team worked under extraordinary circumstances to prepare, organize and run the event after a sudden powerful storm hit our location only hours before MarcNA began. The first 12 hours of the livestream were broadcast using a gas-powered generator for power. Each person volunteered their time to make sure the raffle prizes were photographed, described, sorted, carefully packed and prepped for shipping. Each presentation was imported and transferred from one computer to the next to be broadcast.  Graphics were built and deployed as necessary. Everyone helped backstop each other to try to avoid errors, repeatedly double and triple checking anything that could be in error. 

Big thanks go out to all the speakers, all the sponsors, to my local team Ian Eisenberg, Duane Oestreich, Wes & Maria Parton who made this event possible. Thank you to Peter Cherrick who provided the MarcNA website to spread the word, and for his livestream software tutorials. Thank you to WAMAS for their help with the raffle process. The team also included online moderators (Andrea, I'm talking about you) to watch over every live chat session for 24 hours... and to all the viewers that participated and kept things fun. Thank you to AJ for creating our fun logo too, it got a lot of interest as the big day approached.
Over $8400 was raised for the Coral Restoration Foundation™ in 24 hours!
Website Area:
On Location
MarcNA occured Sept 9th, 2023.