Since I've never been to Las Vegas before, when I took a family vacation in March 2013 my camera was always at the ready. If it wasn't, my iPhone 5 was.  I flew in on a Monday and stayed at the Stratosphere Hotel & Casino, which is just off the main strip. Pricing was reasonable, but you should know that all the hotels add a "resort fee" to the bill, which will increase the daily room rate. In my case, the fee covered parking at the hotel among other things, but the best feature was access to the Stratosphere tower, which is the tallest free-standing tower in the U.S. Using Travelocity to book my hotel and flight, I got a great deal. I added shuttle service from the airport to my hotel, which was another $15 round trip, far less expensive than cab fare.  
The airport quickly gets you in the mood to see some sights. All you have to do is open your eyes, or ask questions. This is a city that wants to make sure you have the full experience, and the people that work here are very service oriented.  They smile and greet you often.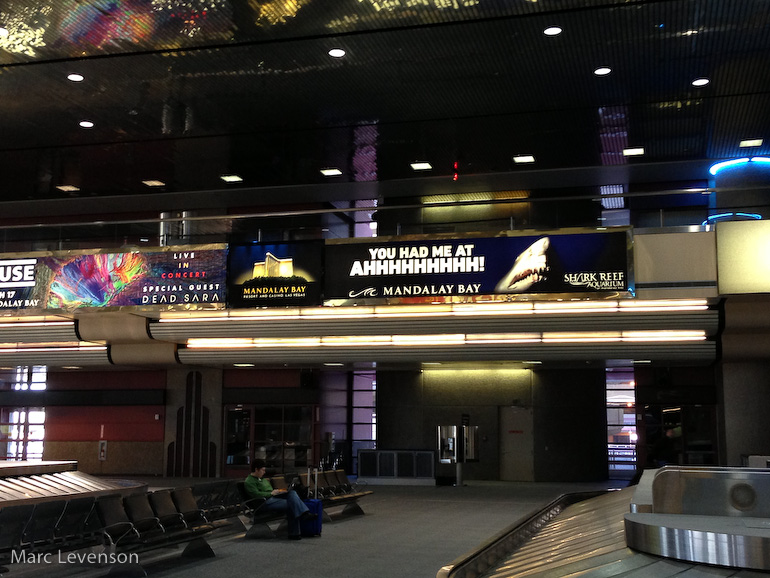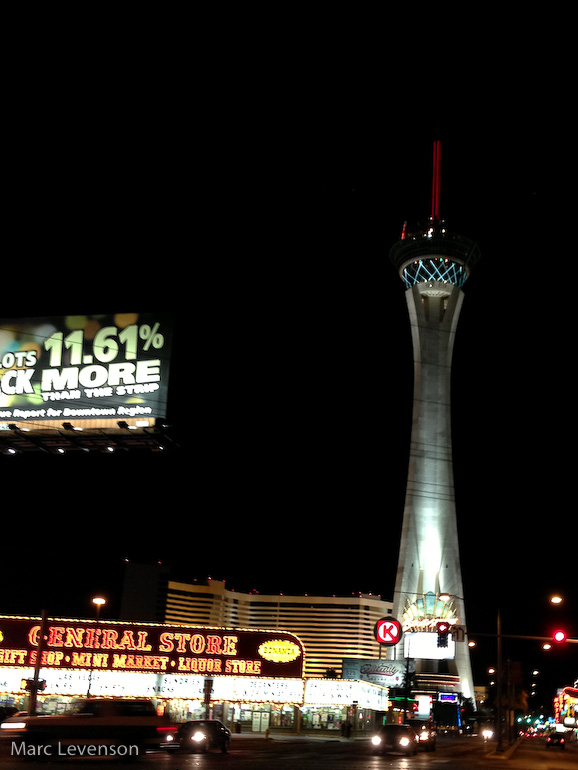 My room was simple, and provided the basics. No coffee maker though, and I used 3G instead of paying the daily fee for in-room WIFI.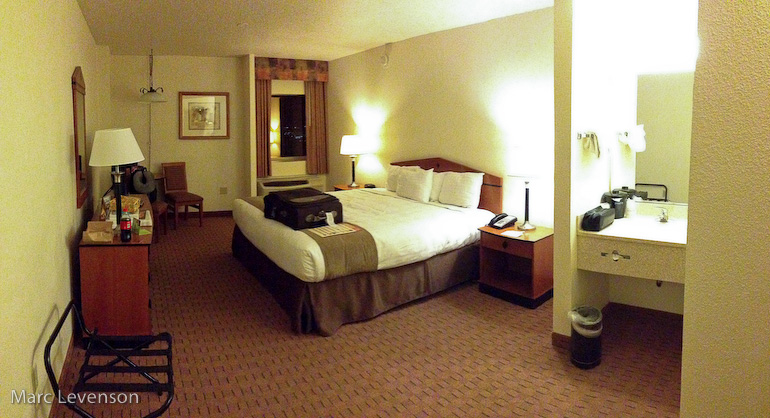 I'd heard there are roller coaster rides on the tower, and I had to see this for myself. After a brief hike through the casino, I followed the signs leading to the tower itself. After going through a screening process not unlike TSA, I rode the elevator up the tower to the 108th floor. It's a fast ride, rising at three floors per second. Here's the marker explaining the upper deck.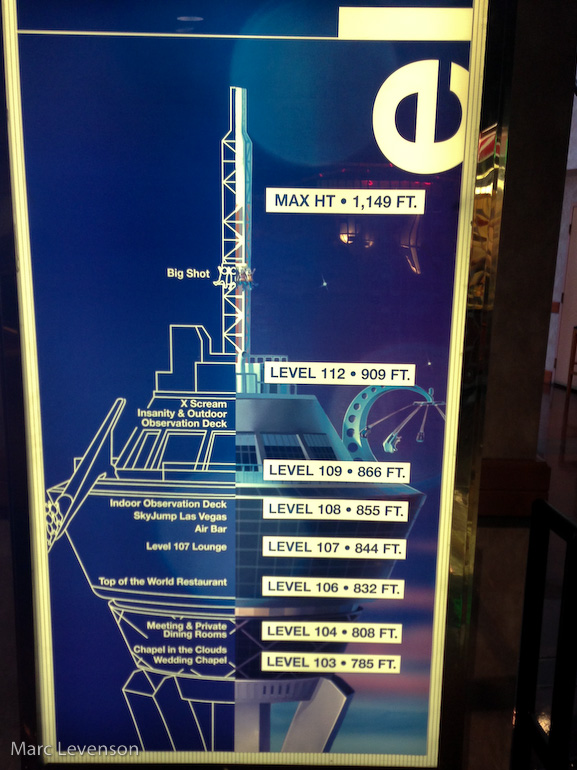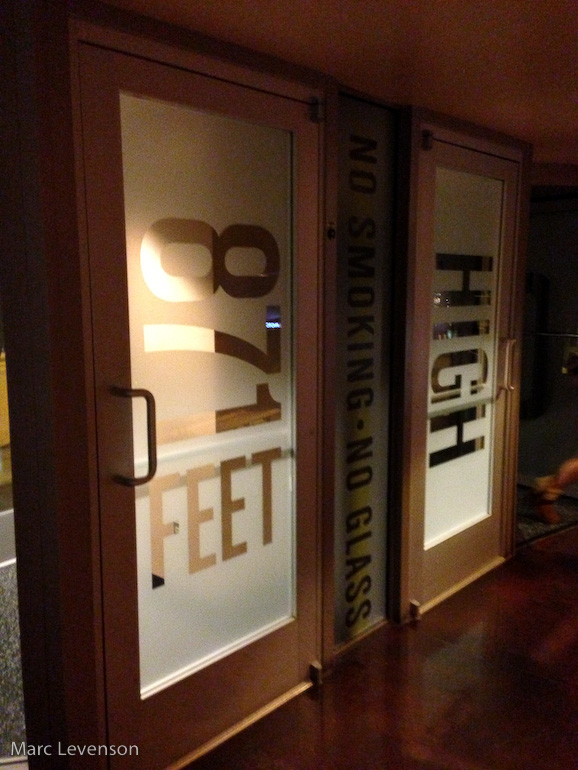 The perk of using the hotel's resort fee is you can take three friends with you for free. At this height, you'll be yawning to pop your ears.  The view is incredible, especially at night when everything is lit up nicely.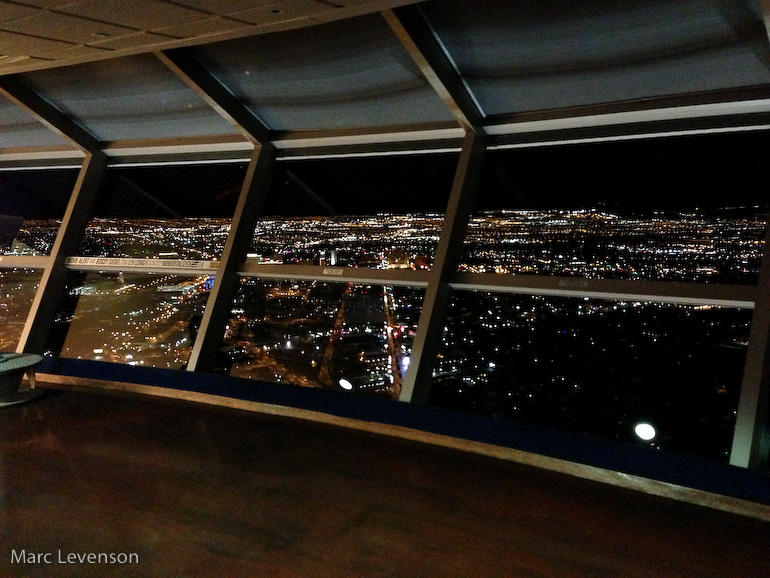 The main strip. Circus Circus is the brightly lit hotel on the right. That cable going down is what people ride as they skydive out the side of the tower. The day I went up, I was told 132 people had made the jump that day, but with a perfectly good elevator I didn't see the point.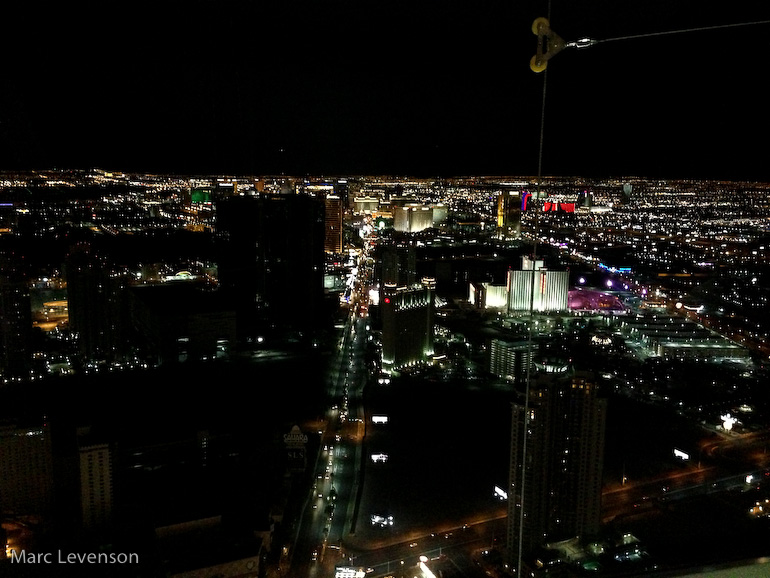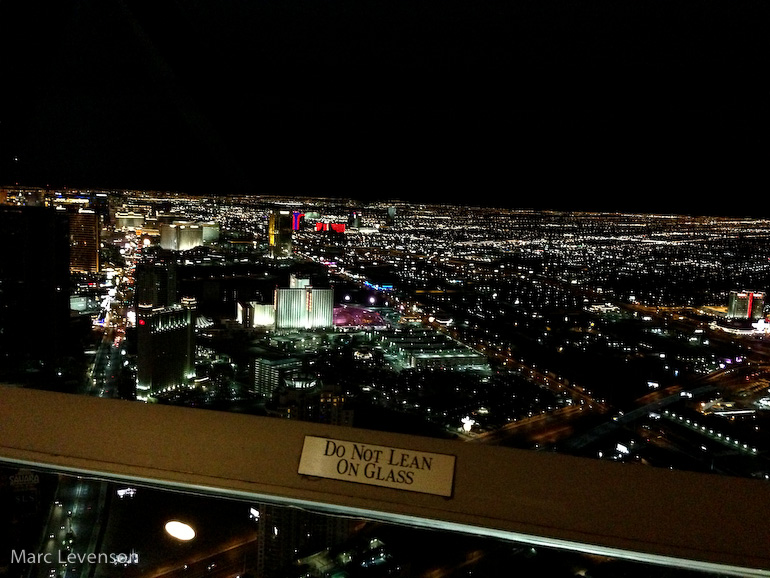 There is an outside observation deck as well, and it'll be very windy. Still, you get a great view without reflection off the glass, and you can watch some of the daredevils tackle the amusement park rides. I was definitely an observer. There's a giant claw that hangs over the edge, and you are strapped in as it spins and widens outwards to give you a downward view. Another ride was a roller coaster car that heads straight out to the end of the track over nothingness, then drops suddenly, only to lift you back up, to ride back to where you came from.  And finally a drop ride rises and falls high above, similar to the Superman ride at Six Flags. Crazy.  After all, the ride is situated at 900 feet above the ground.

During my stay, I went up the tower three different times. There's a rotating restaurant on the 106th floor, which would super nice.
The view from my room wasn't bad, which was on the 20th floor. This is looking north-east of Vegas.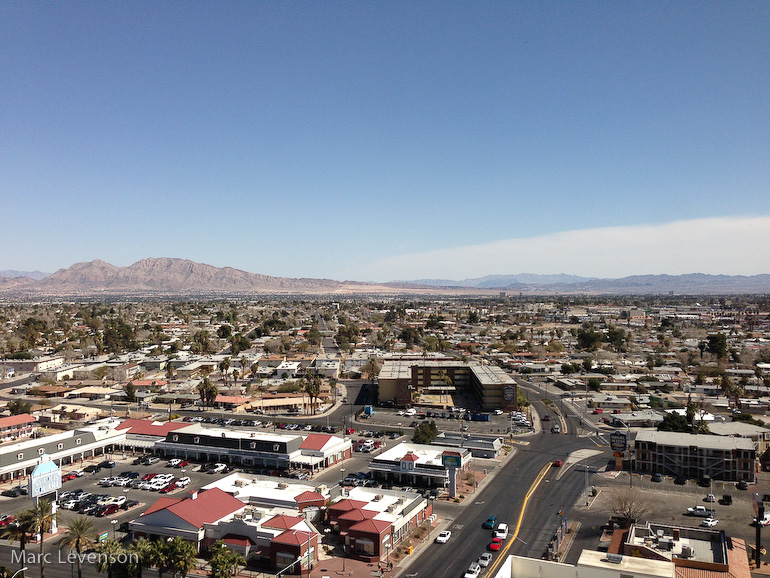 My parents stayed at the Wynn Hotel, which is a beautiful extravagent hotel.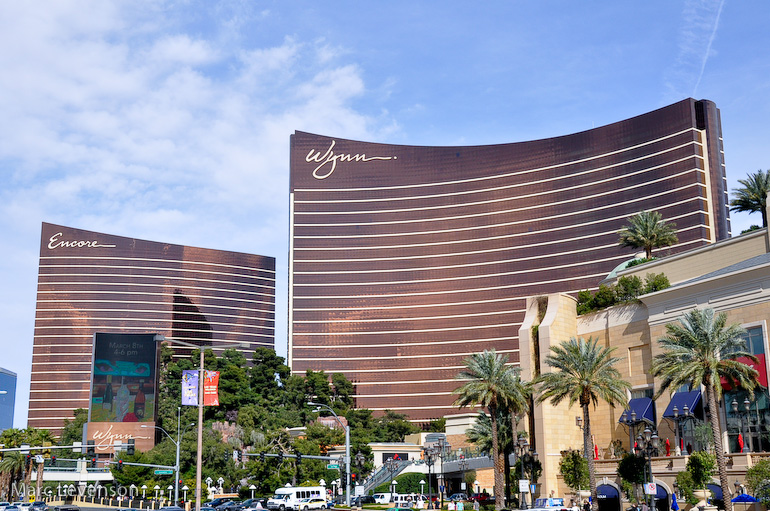 What do the hallways look like in a curved hotel? Pretty much what you'd expect.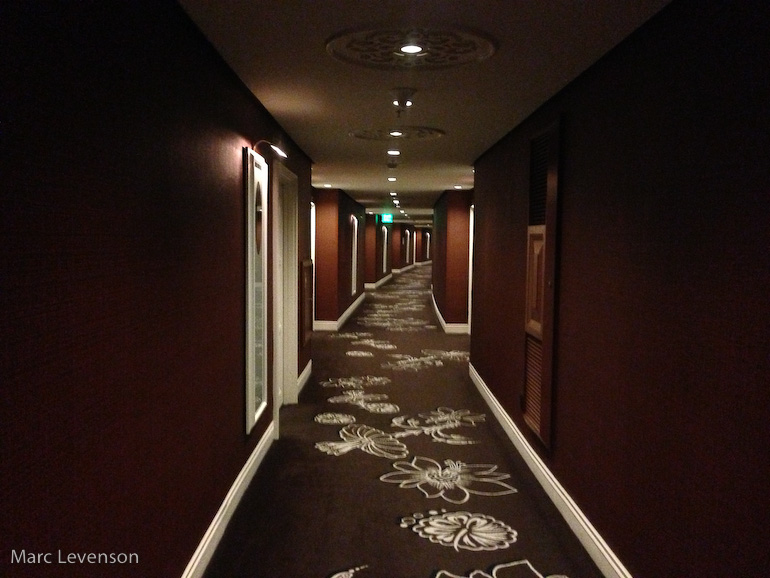 If you can afford to stay in a presidential suite, this should fill your every need.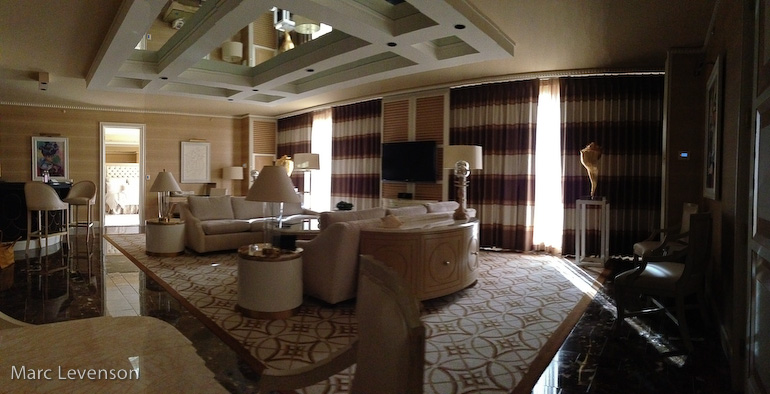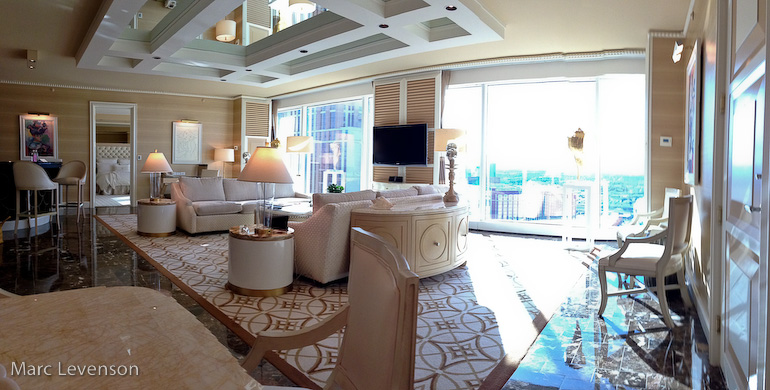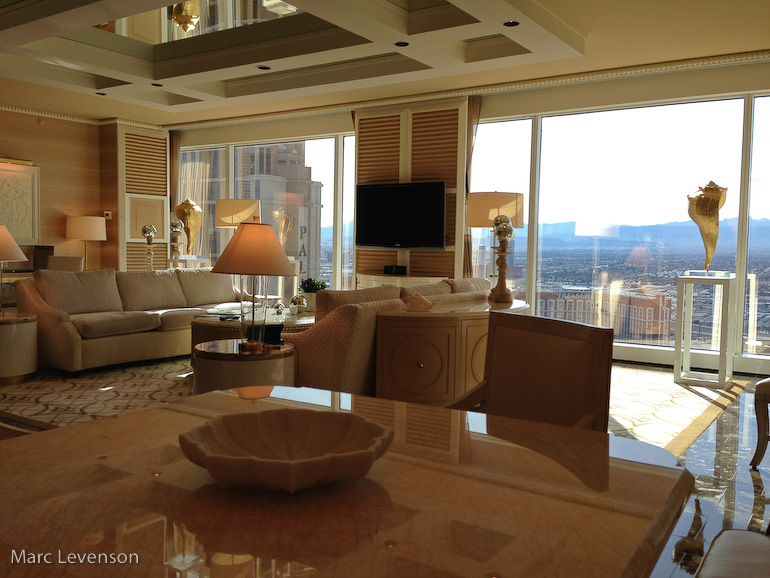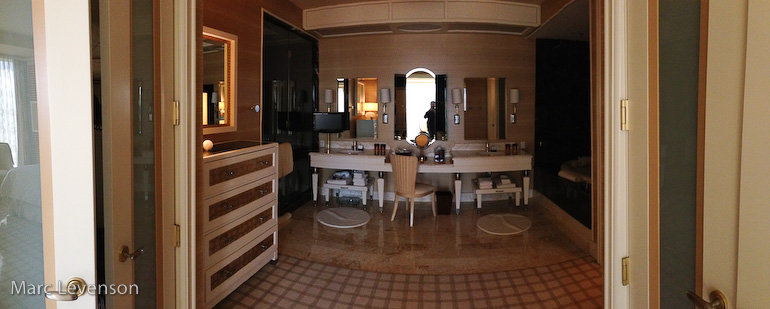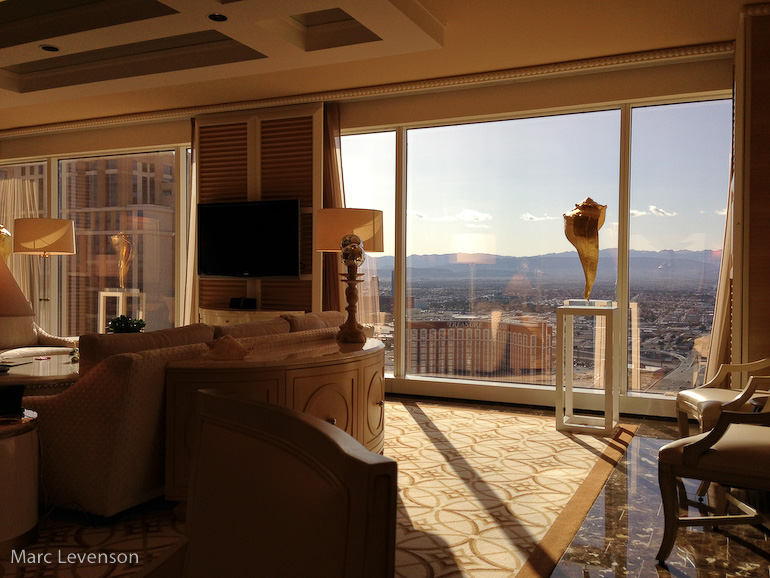 The view from the 55th floor was amazing, with floor to ceiling glass panes providing a full panoramic experience.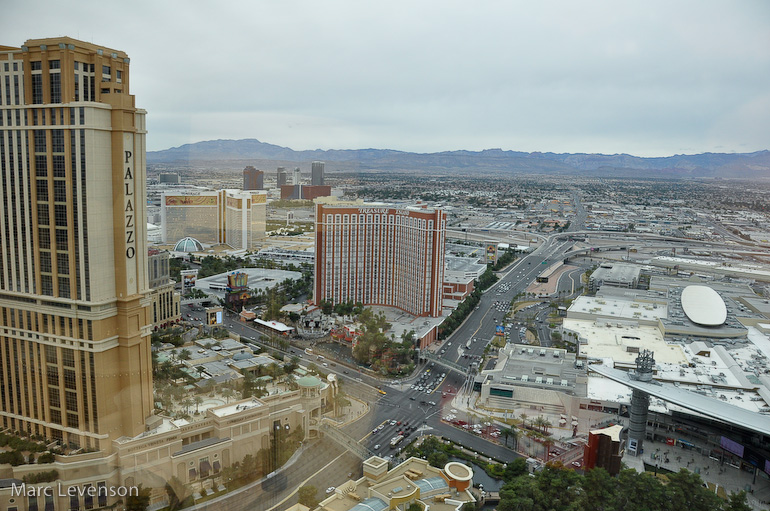 Everything in Vegas is over the top ornate, no expense spared to provide an unforgettable experience. When you first enter the Wynn's main doors, you'll see a lush garden in what I'd term the foyer. This is a walk-through area like the center of a mall, leading to the casino, or the registration room, or the restaurant area. You have to stop and stare, it's pretty incredible.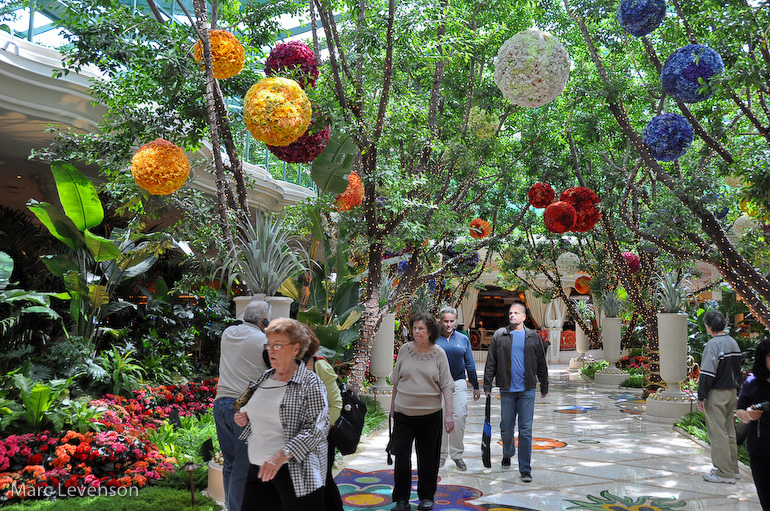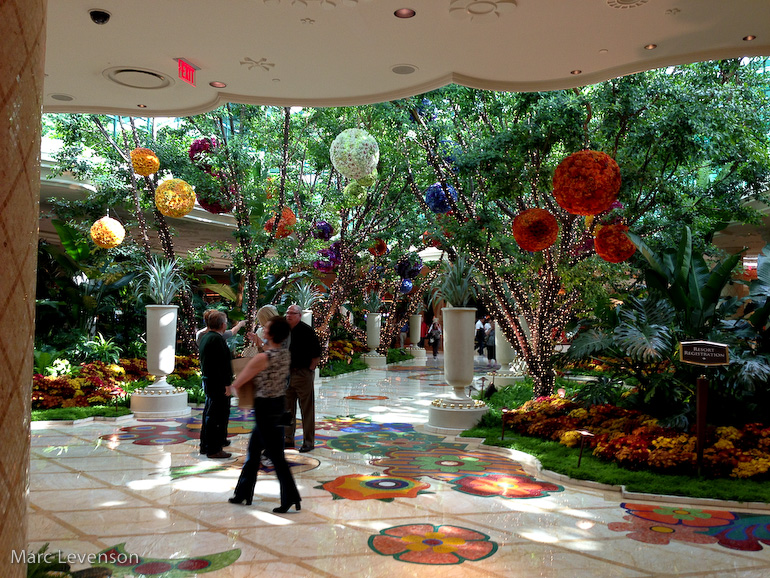 Driving on the strip is a little difficult because of the massive amount of people, so often it is best to drive to a neighboring hotel and have valet park it for the time being. During my visit, the valet was the best option ever. They are happy to park your car for you, and upon your return they will bring it out to you for a tip. This is much easier than self-parking and the requisite hike to your final destination. The visit to the Bellagio was a repeatable experience. I was there to enjoy lunch, their Cirque du Soleil's "O", and to explore the stores within.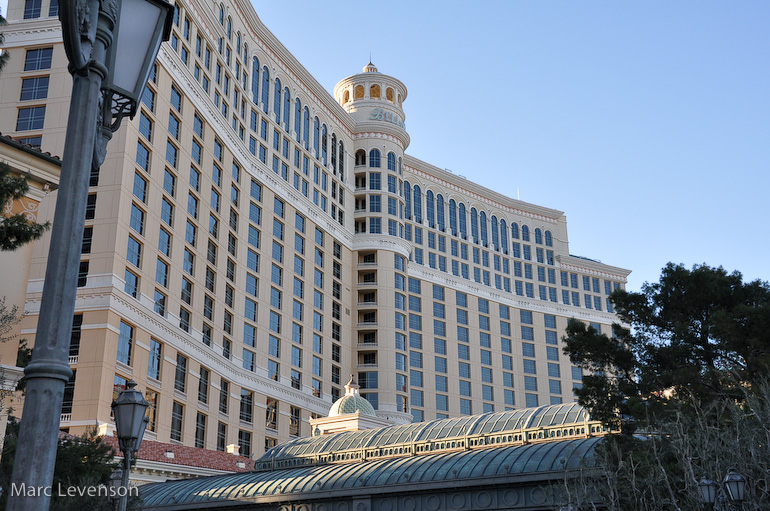 Speaking of valet, how's this for ornate? It feels massive, and very very real.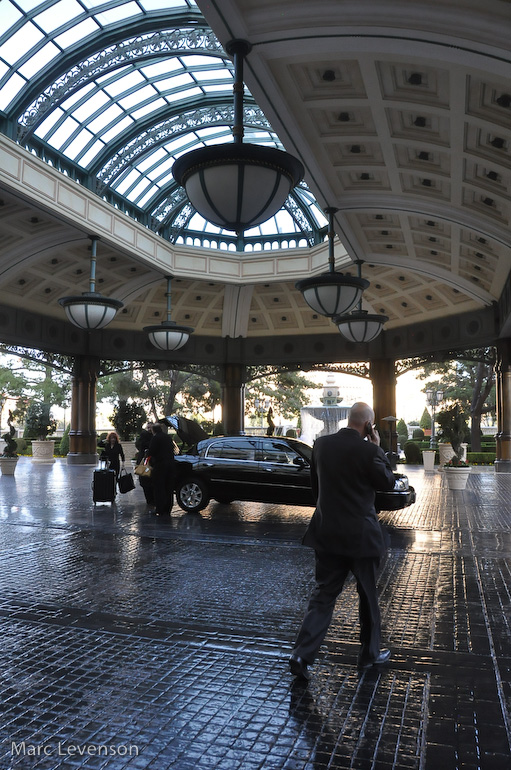 Their main lobby area has the famous Chihuly glass sculpture hanging overhead.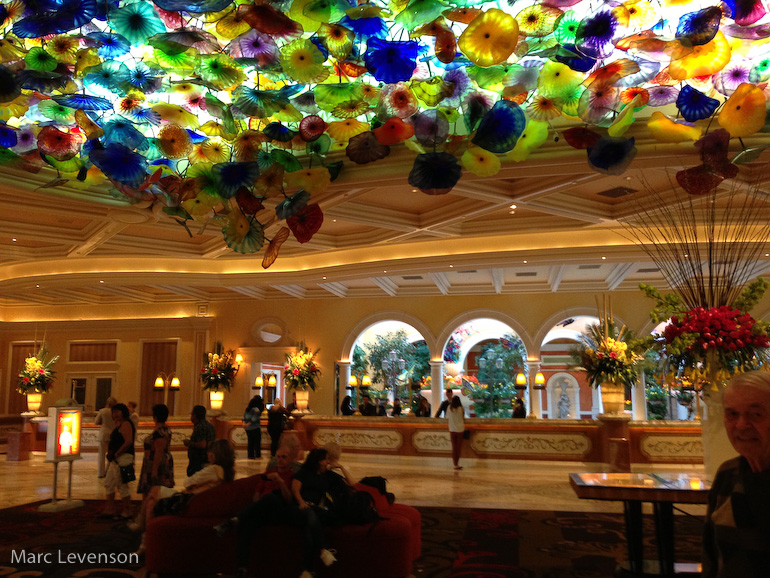 Behind the main counter where you check in, this is the view. It is purely for show.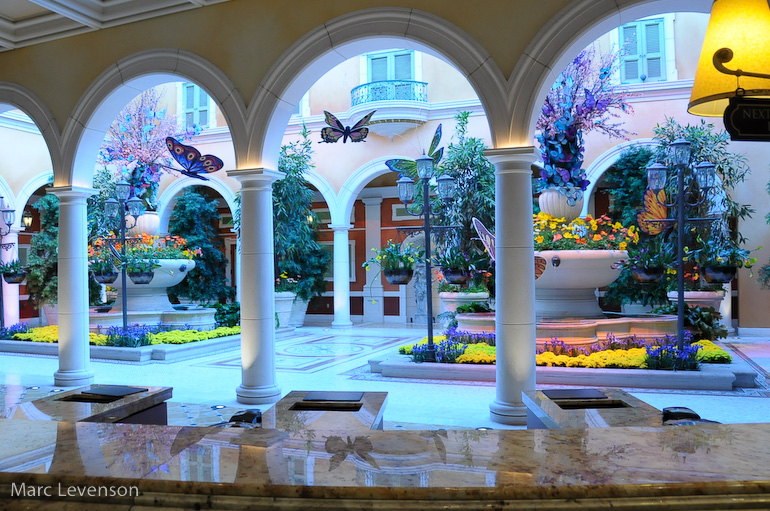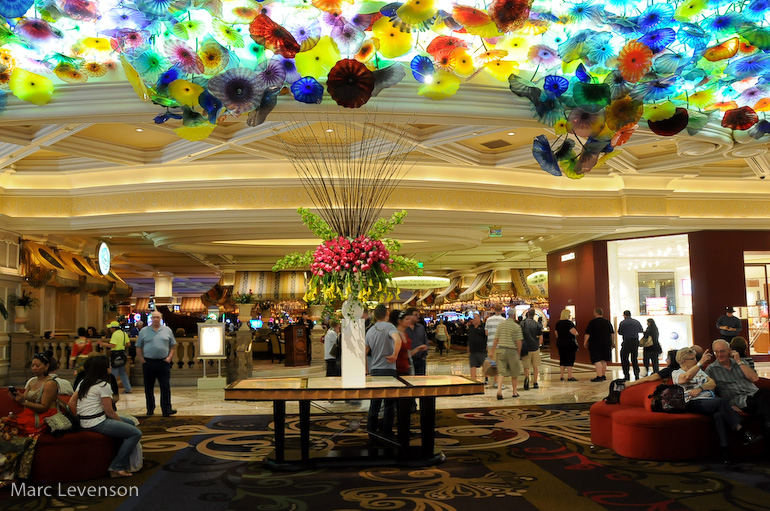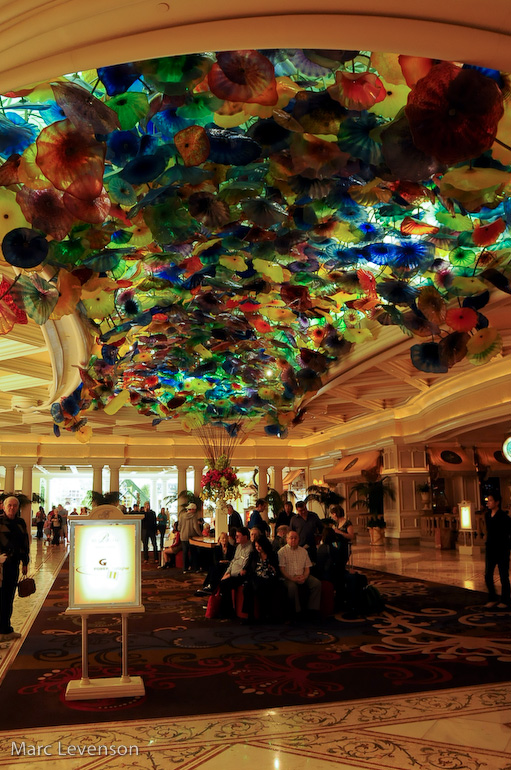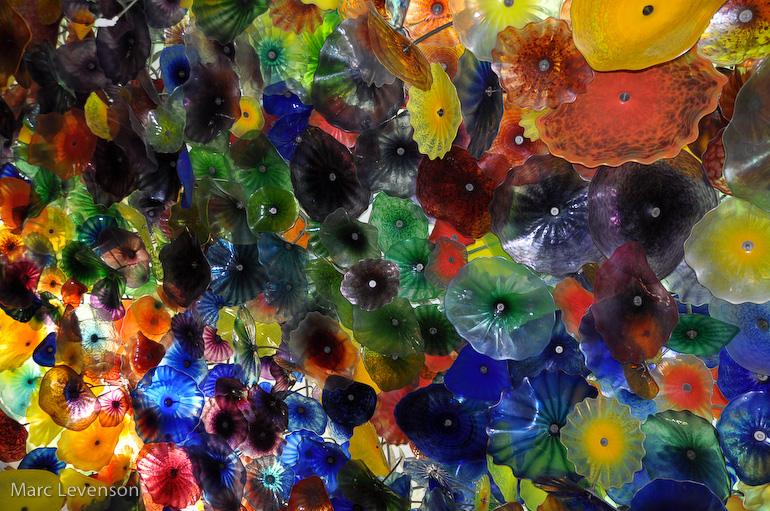 One cafe had this sculpture on display.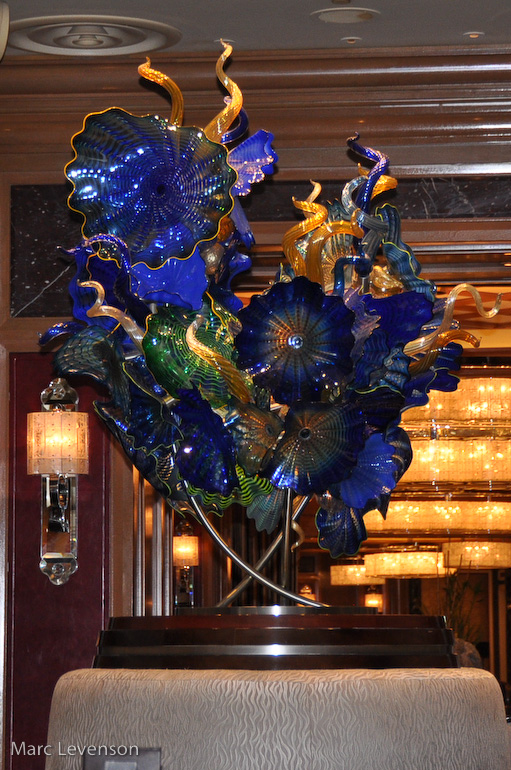 I even discovered the actual Chihuly shop and did a little window shopping.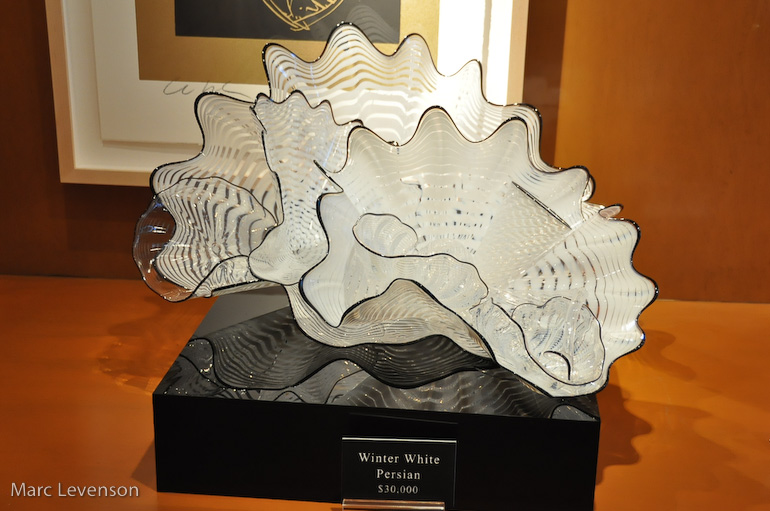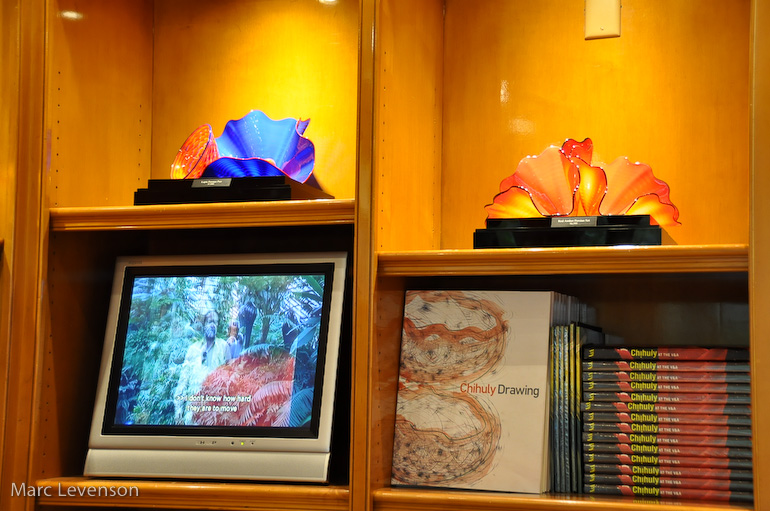 Within the Bellagio, there is an beautiful area that transforms five times per year. During my visit, I saw it change into a scene that reminds one of Alice in Wonderland over a period of three days.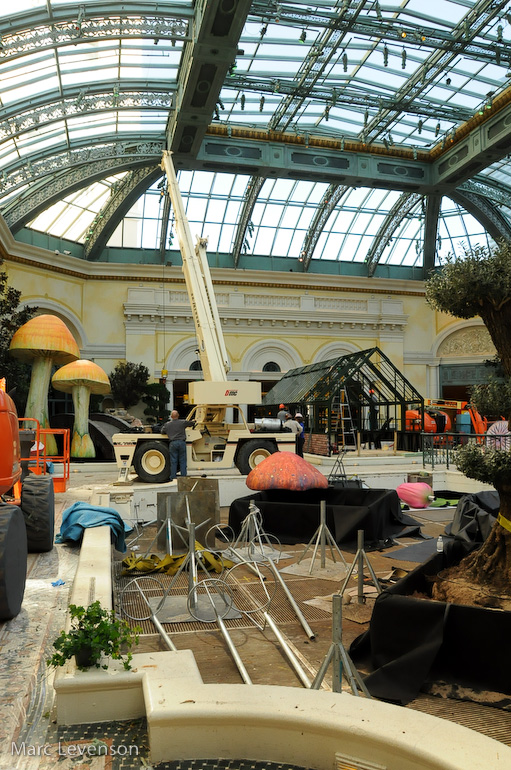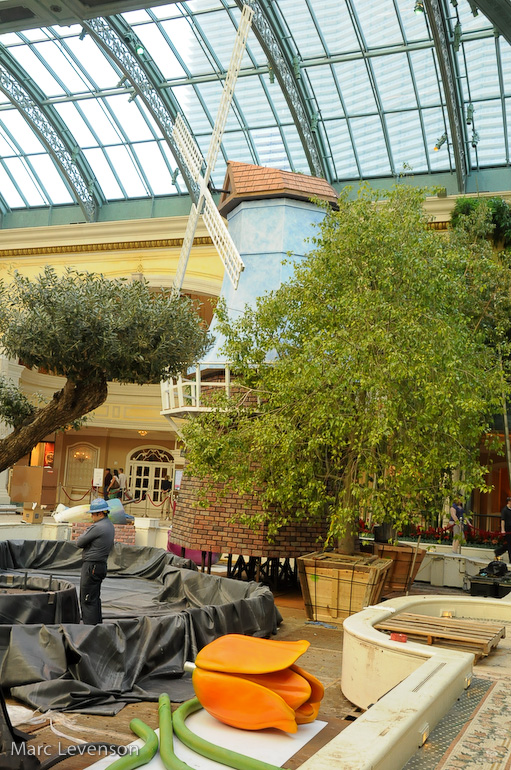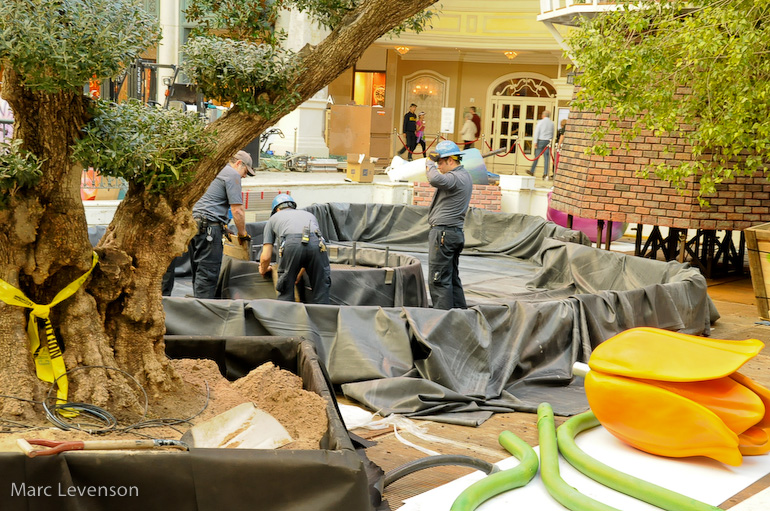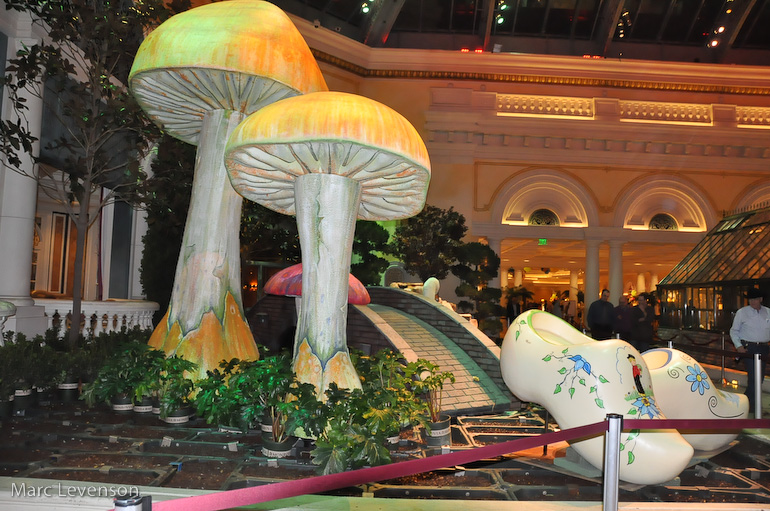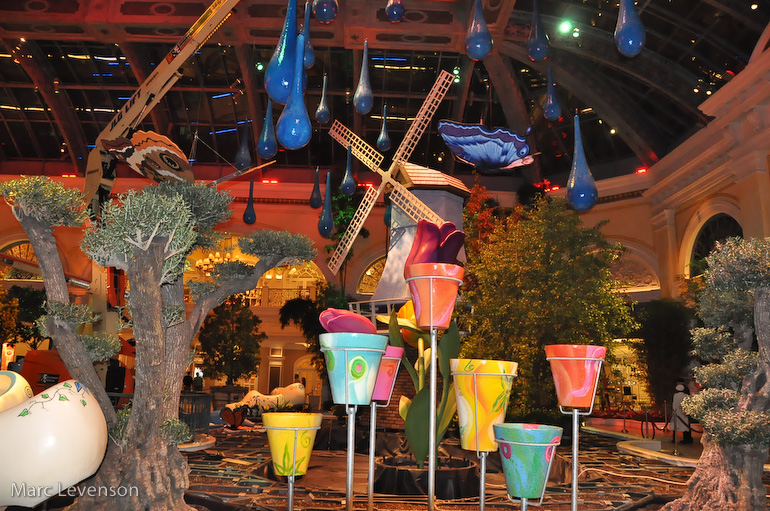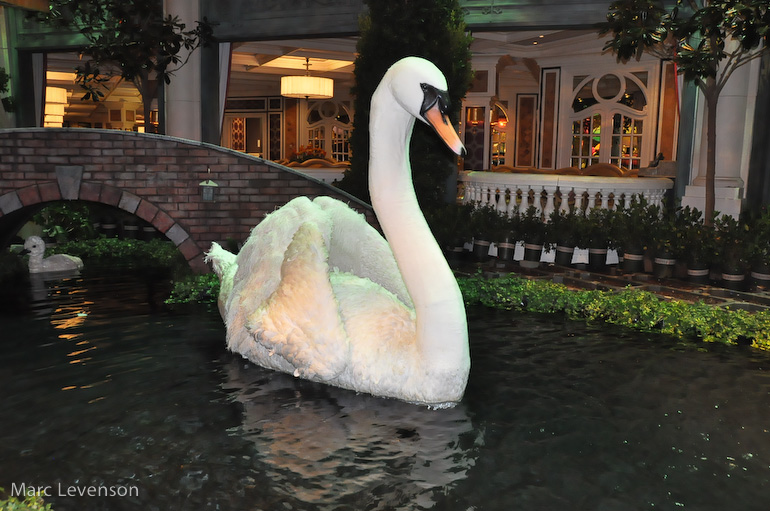 I didn't get to see the final look, which included an actual butterfly house filled with living butterflies. It seemed like the staff worked around the clock to get this done as quickly as possible. This type of construction was common through each of the hotels, and foot traffic just had to navigate around the temporary barriers. 
On Wednesday night, I had the opportunity to see "O", one of the many Cirque du Soleil shows that you can see in Las Vegas. "O" is a water-based show that is filled with eccentric characters and amazing athletics, and really is a wonder to watch. There's no actual storyline, but watching how the stage transforms from a massive watery pool to a completely dry stage only to morph into a combination of both again as the actors play out their roles... it's pretty incredible. With many things happening at once, you will always find something to see throughout out the 90 minute show. No cameras or recording devices are allowed, and everyone is told to turn their cellphones off. I completely agree, and especially when tickets cost what they do, you should immerse yourself in the experience and get a timeout from the rest of the world for an hour and a half.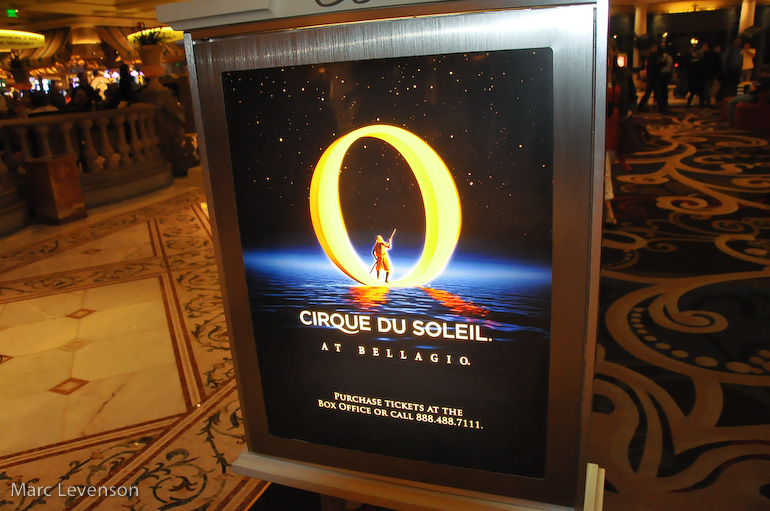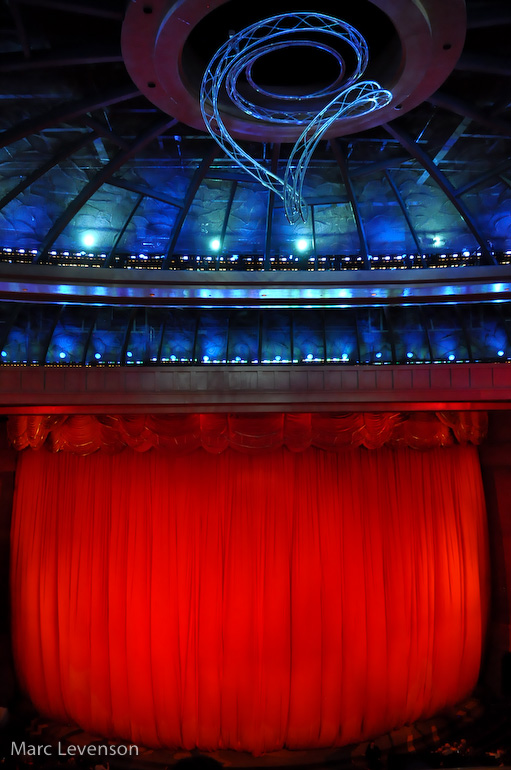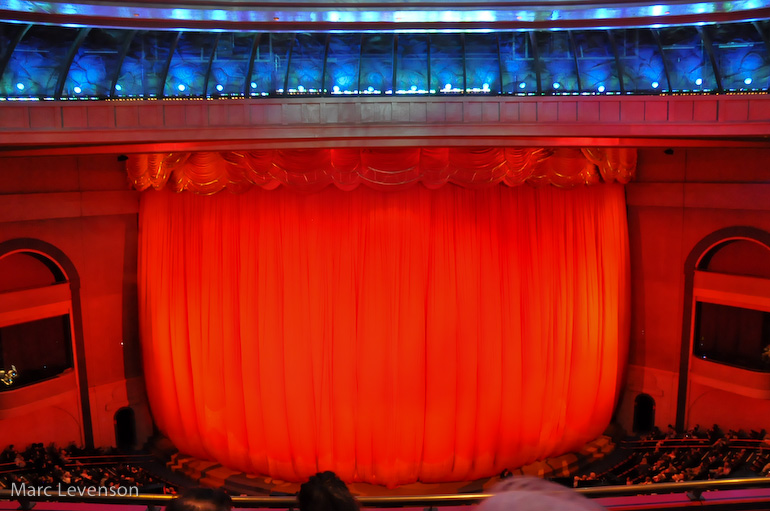 Going in and when leaving "O", you can enjoy many sculptures from the Cirque troupes. The sculpture has the actual athletes pose for him as he works the clay, which I saw on video that runs in the same room.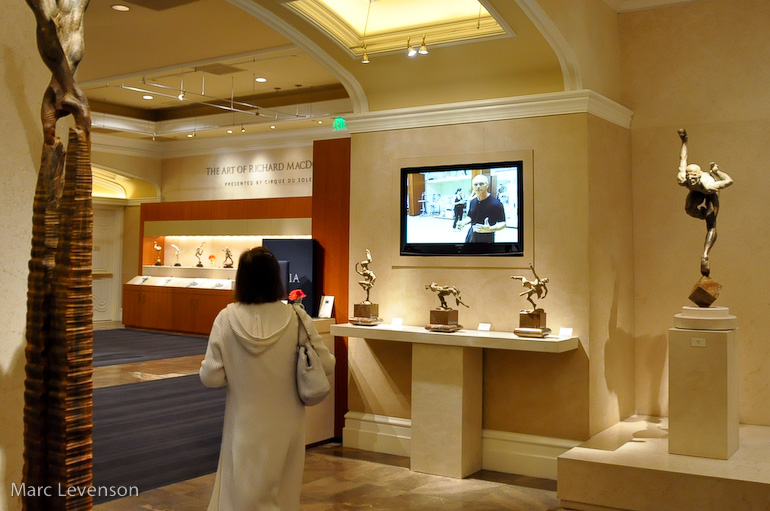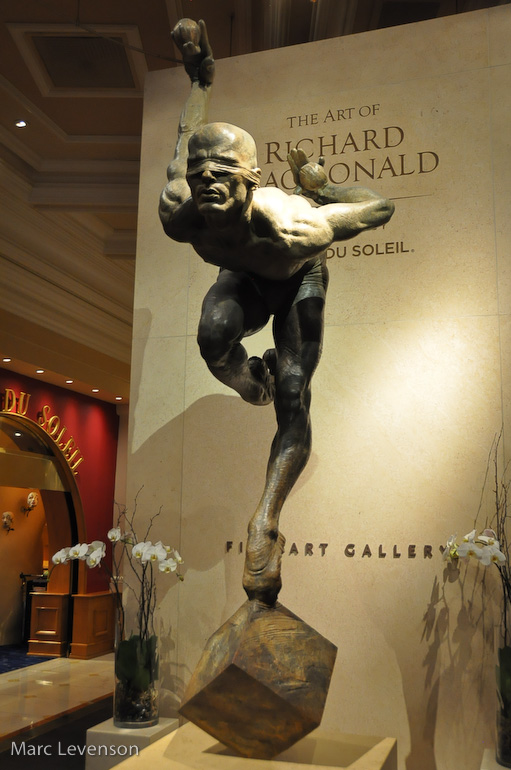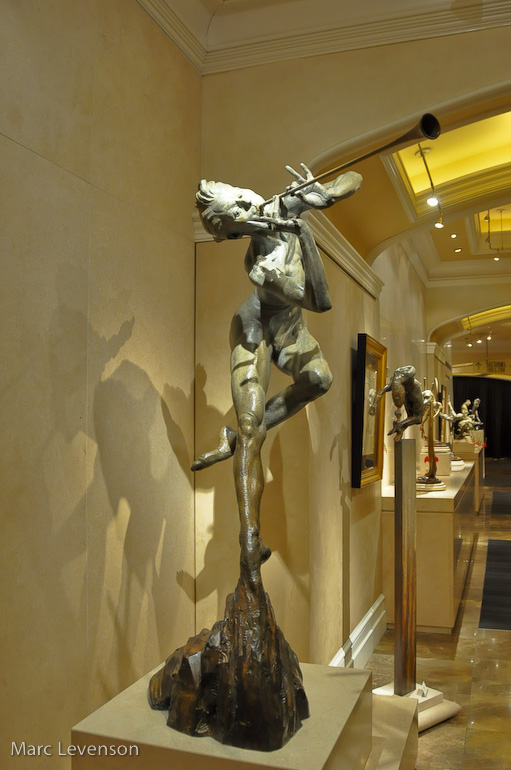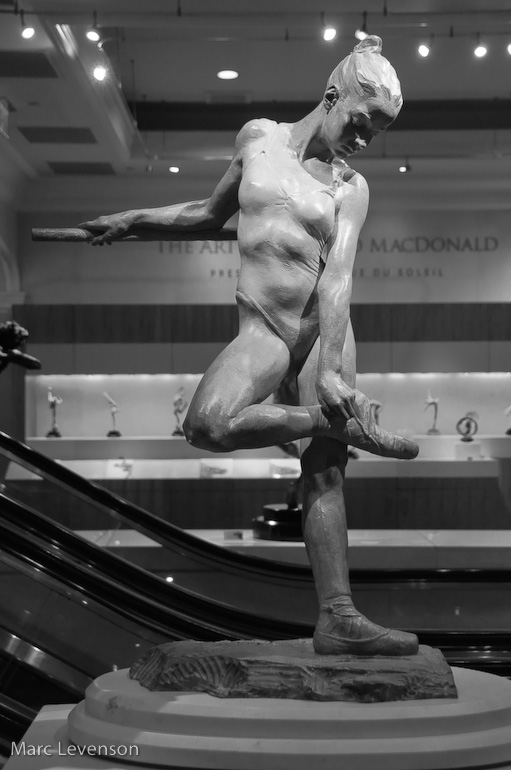 The gift shop had Cirque goodies for those inclined. The displays were beautifully arranged.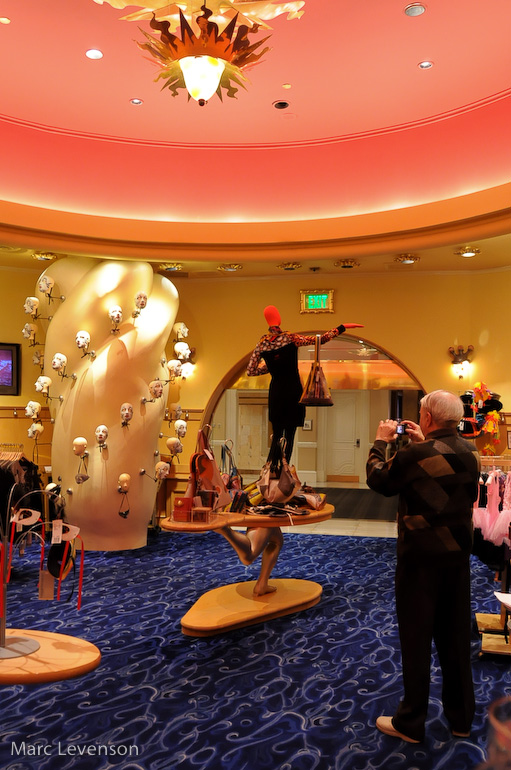 Another common often heard comment is that you never know what time it is because the casinos have no windows. Each hotel is basically a mall unto itself, and within those walls you simply exist, exploring all each one has to offer. If you didn't check your watch or listen to your tummy, it's almost a surprise when you emerge to see what time of day it is. It's easy to get overwhelmed and lose track of time, but it's fun to take it all in.
Coming out of the Bellagio, the view quickly captivates your eyes. The huge pool in front of the hotel features a water show that happens all day long, but people stand around the perimeter especially after dark. As the water rises, pivots and blasts to the accompanying music and rainbow of light, people express their excitement with huge smiling faces.
While in Las Vegas, I visit the Mandalay Bay hotel to see their Shark Reef exhibit.  It was in the far end of the hotel, well beyond the casino area into the convention section of the building. As I walked that way, I passed this strange wall sculpture. I didn't see any sign explaining the vision or reasoning of the artist. Pretty odd.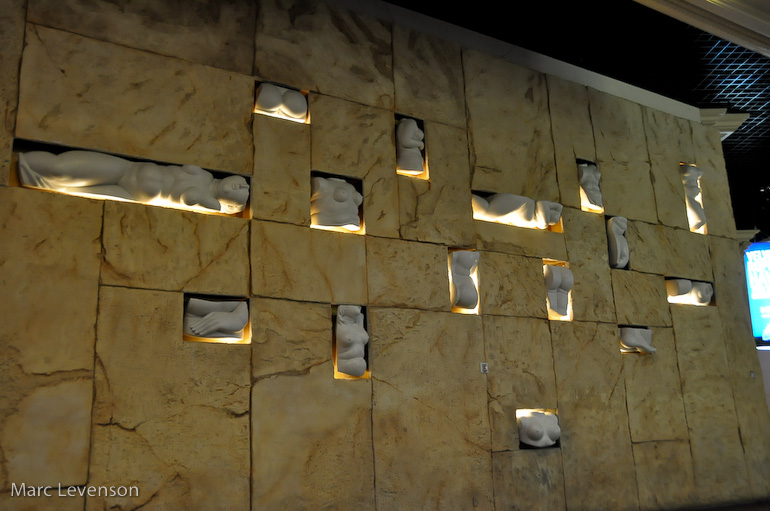 Here's the link to the Shark Reef visit: http://www.reefaddicts.com/content.php/383-Shark-Reef-at-Mandalay-Bay
Also, I took the time to drive out to ATM to see their facilities: http://www.reefaddicts.com/entry.php/28813-A-visit-to-ATM-in-Las-Vegas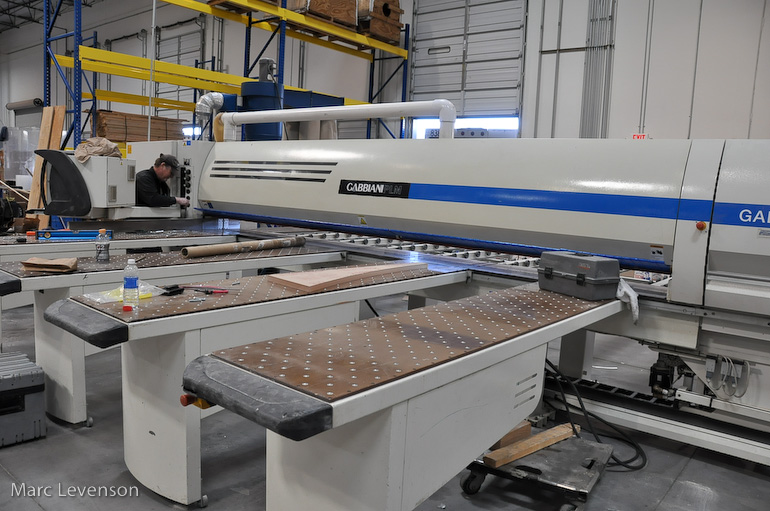 My first day, I had lunch at Carnegie Deli in The Mirage hotel, and took pictures of a few of their sculptures.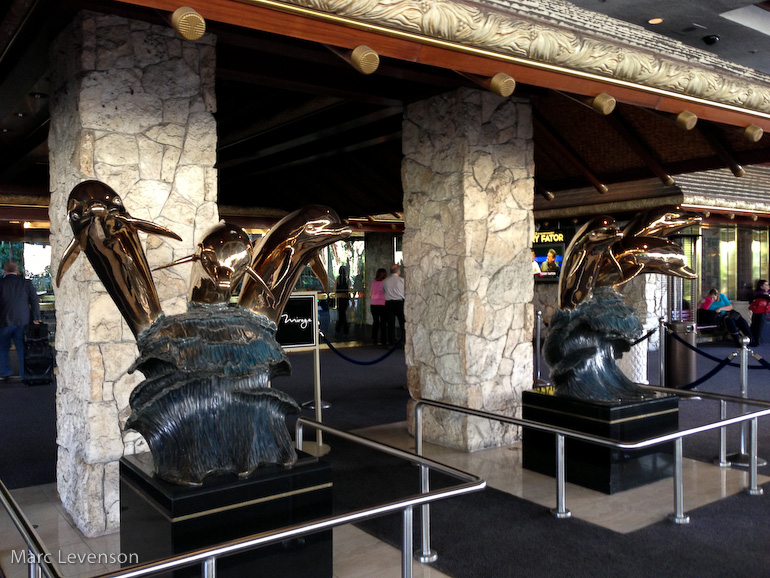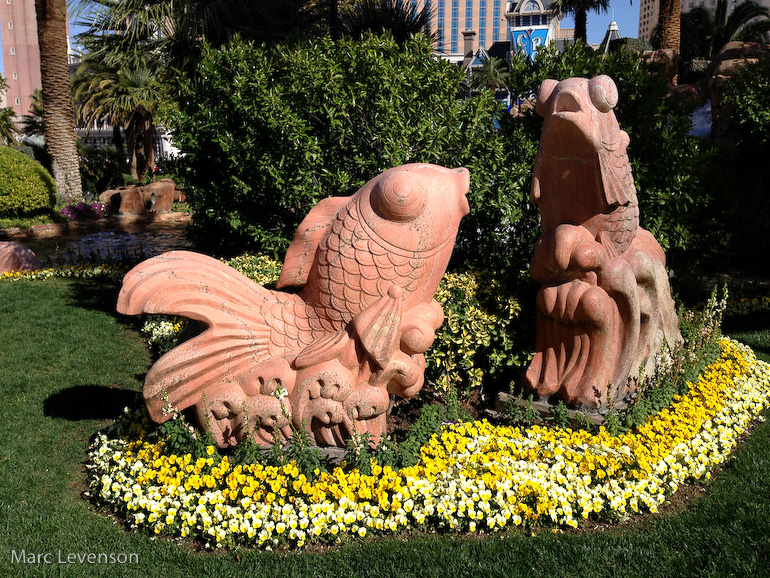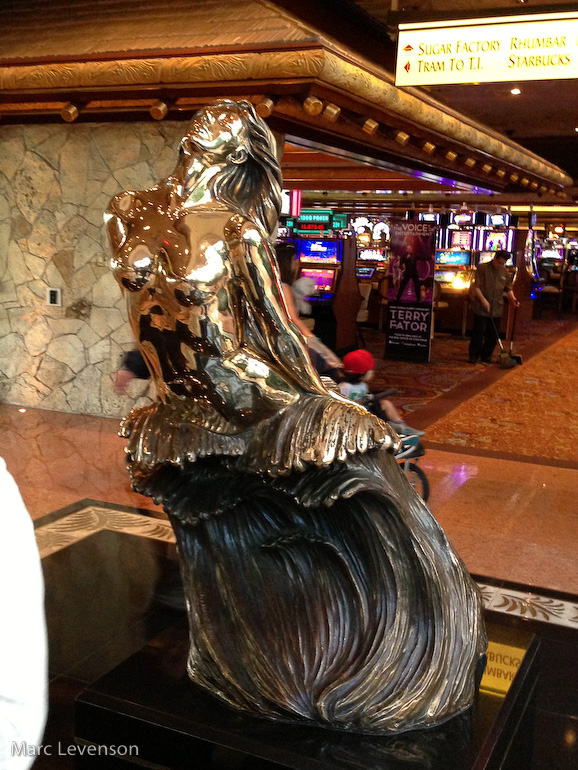 There were a number of hotels I never did visit. New York was one of them.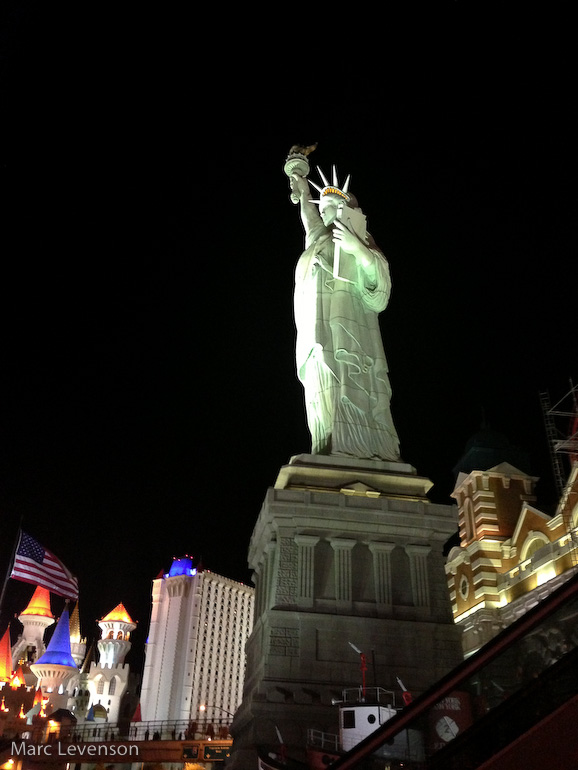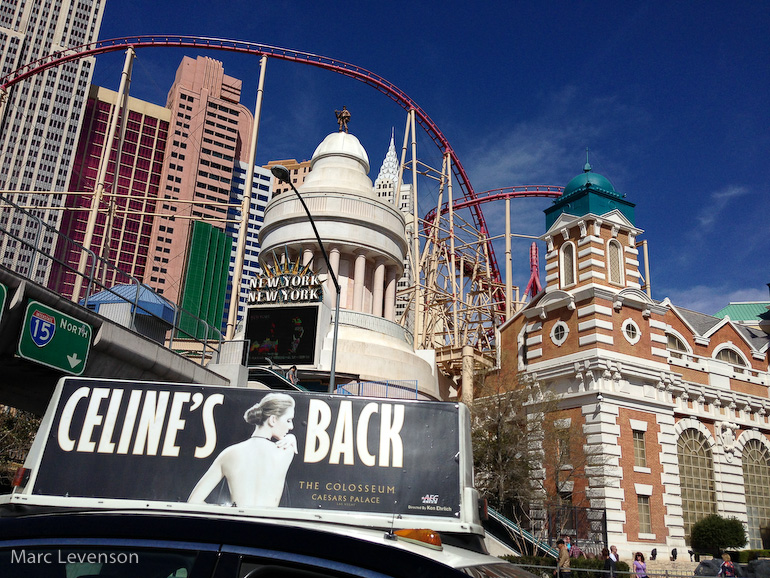 Another one was Excalibur, but boy did it look inviting.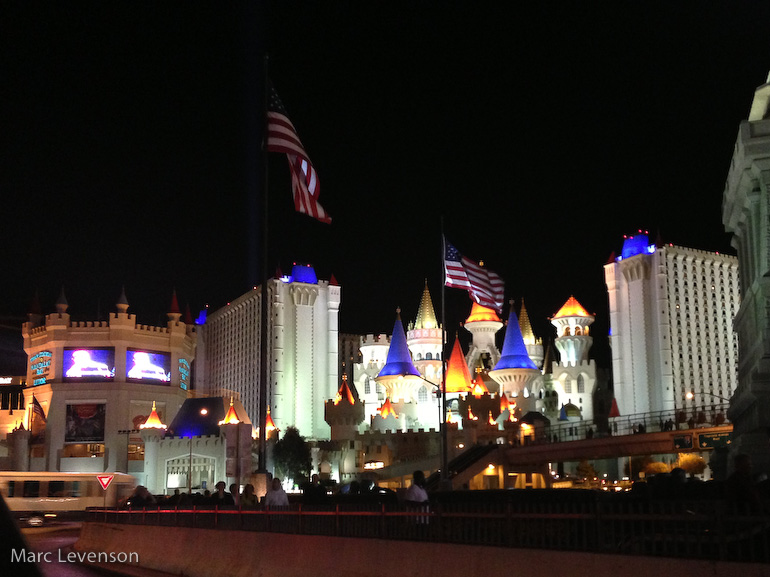 I'm curious what it's like in the Luxor hotel. Next time...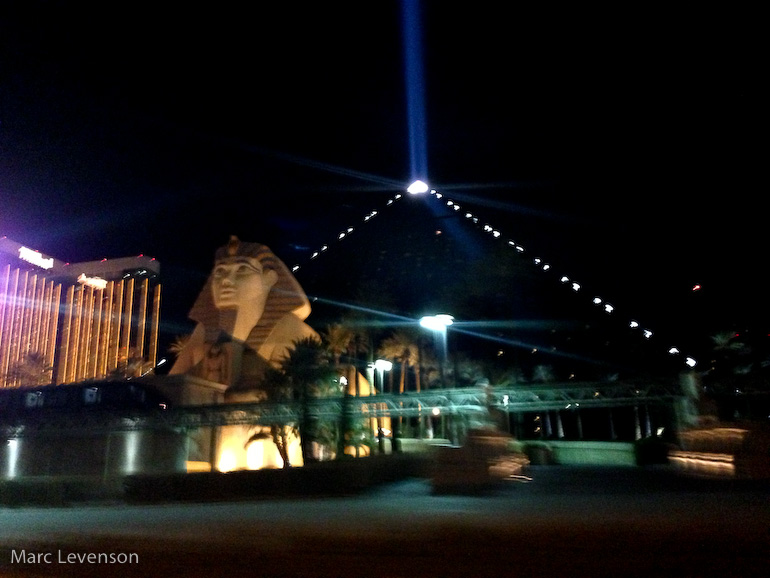 And Planet Hollywood has to be worth seeing. I ate at P.F. Changs, but didn't really enter the hotel.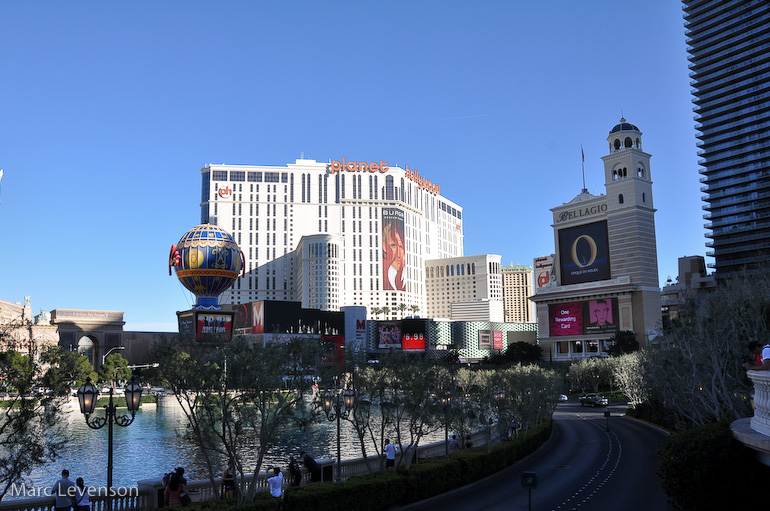 One spot I absolutely was adamant to visit was the M&M's store.  It was adjacent to a gaint Coke bottle, and eventually I got the chance to see what was within.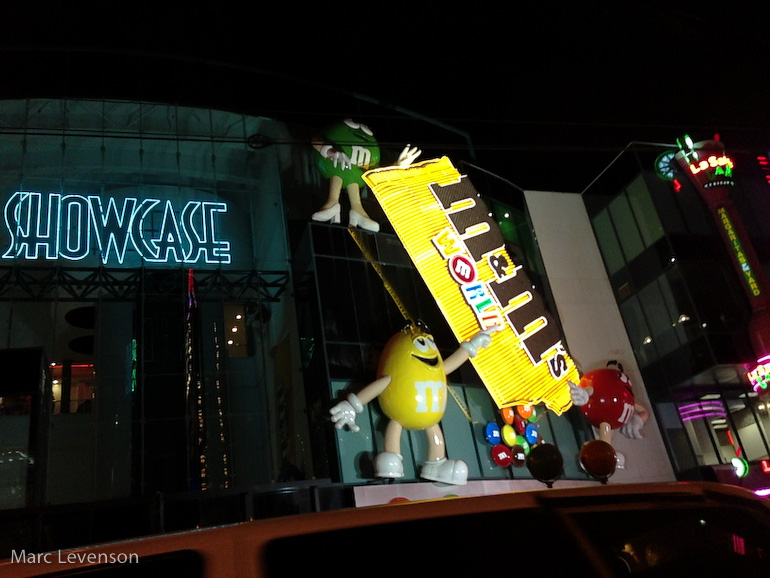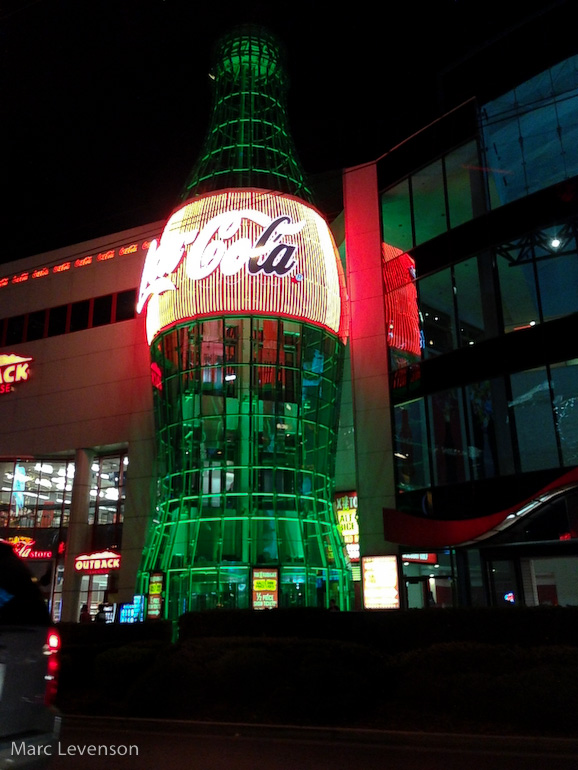 It was a sunny afternoon, and after leaving the car with the valet at a nearby hotel, I walked over. The Coke store didn't really do much for me, but I did notice the glass they used was actually the same as the bottles we drink out of, on steroids.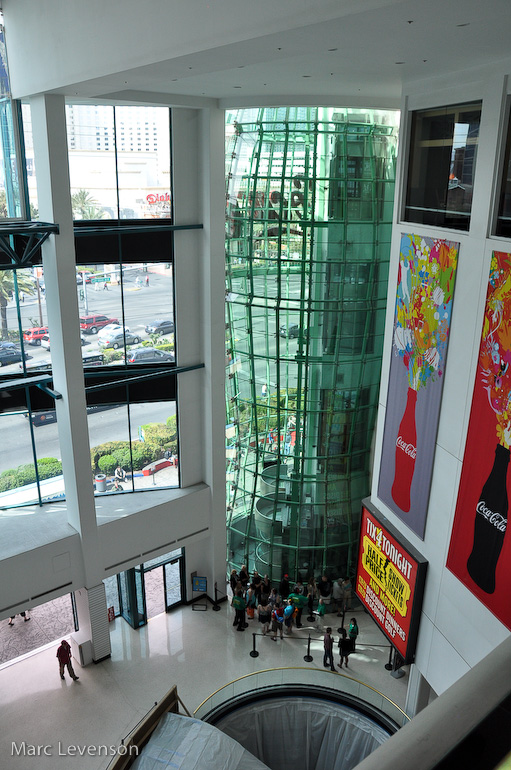 You could purchase all kinds of Coke-labeled gear. This was a strange one, you could actually smell these shirts, at least for a brief period.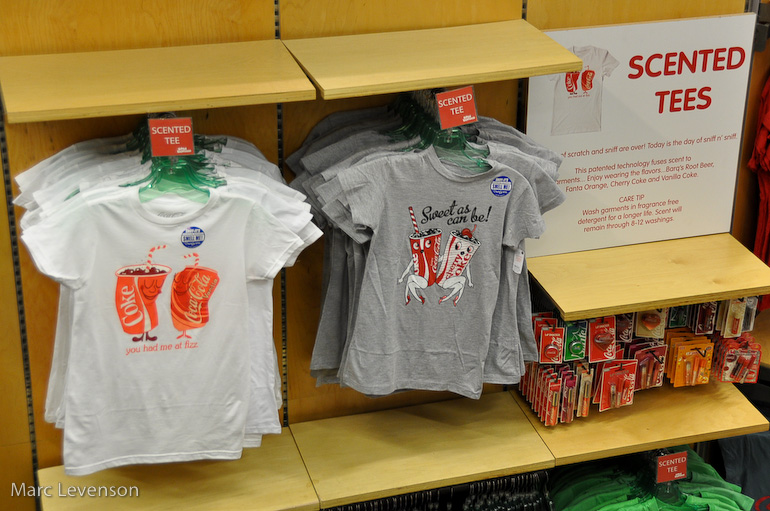 The M&M's store was much more fun for me, as I love m&m's!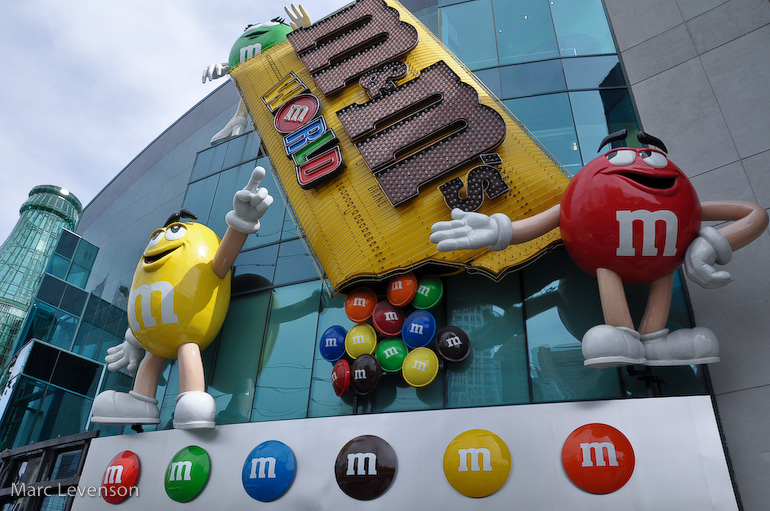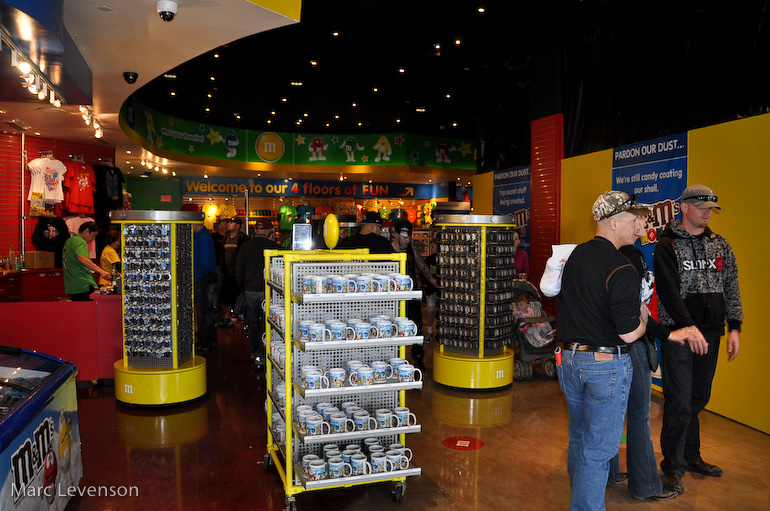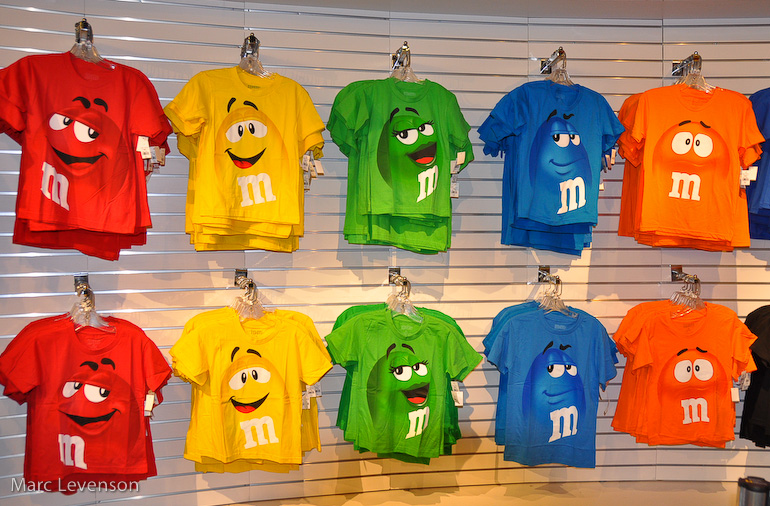 There were every color you'd imagine, and even a few new flavors like mint and raspberry.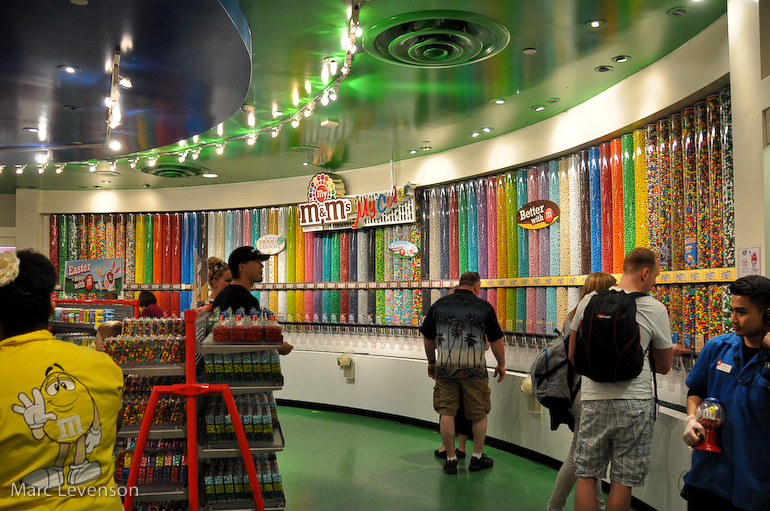 The walls were filled with fun art.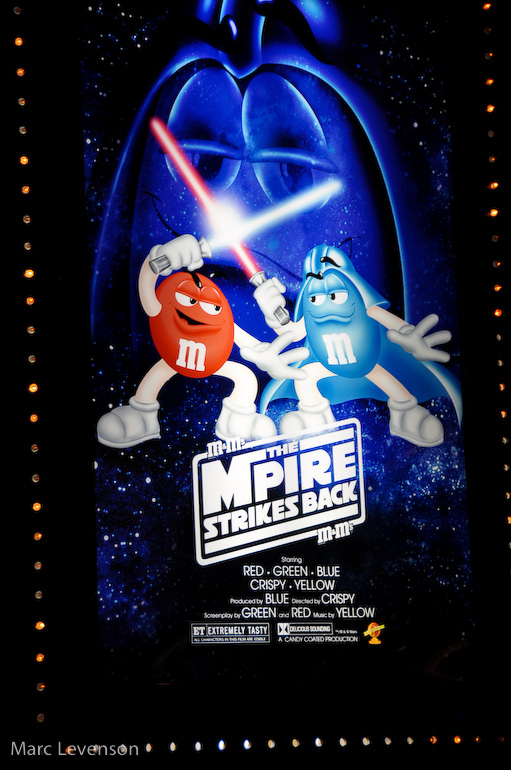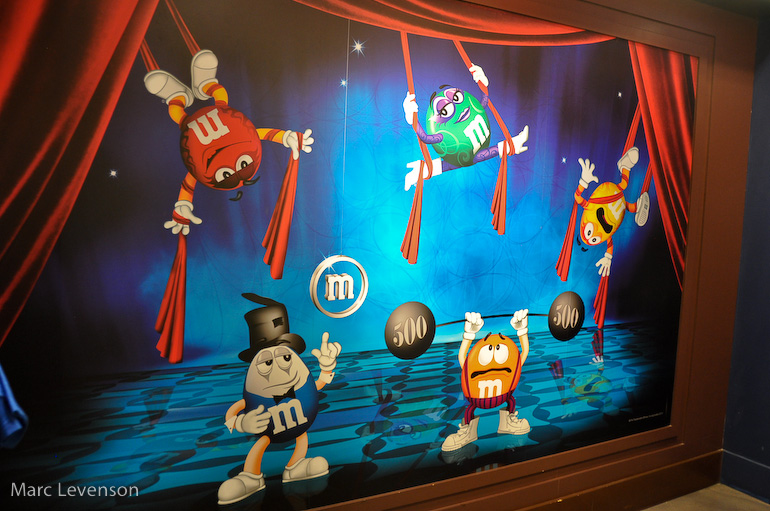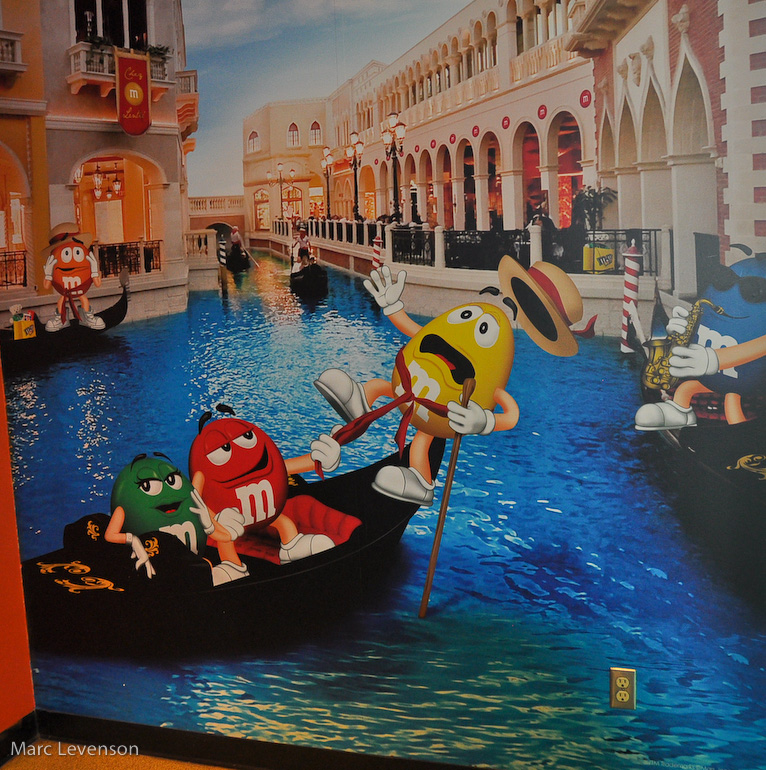 School supplies, office supplies, clothes, mugs, cups, you name it. Wine?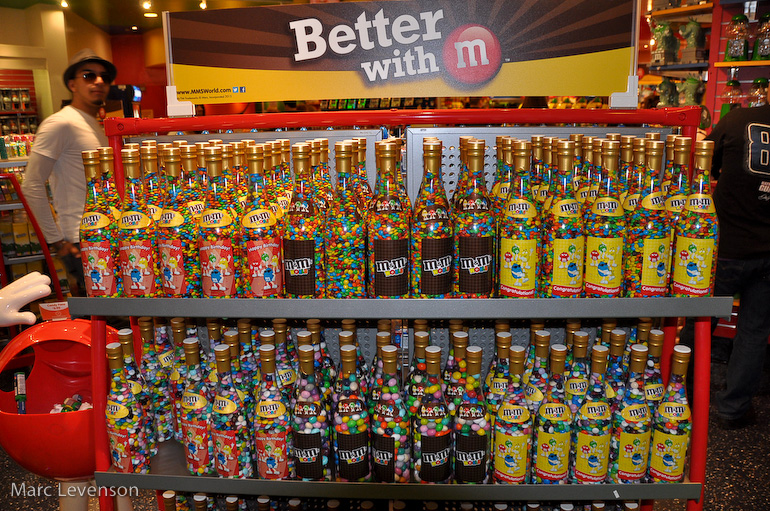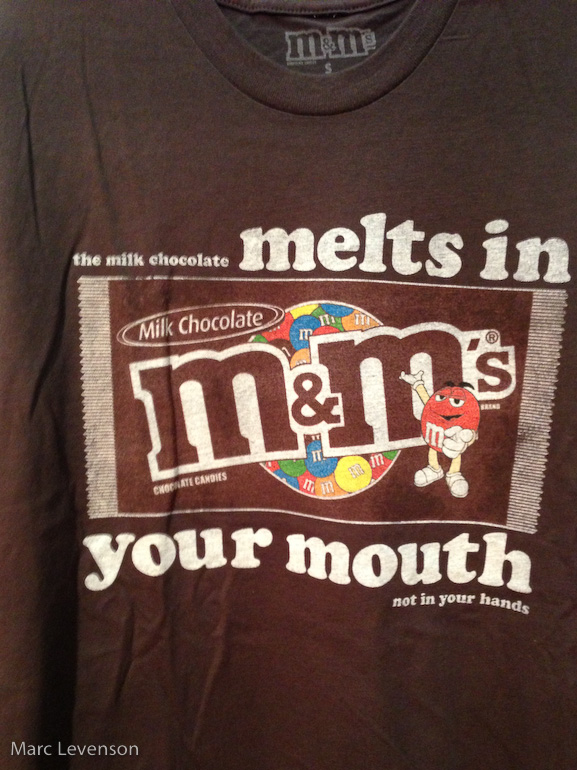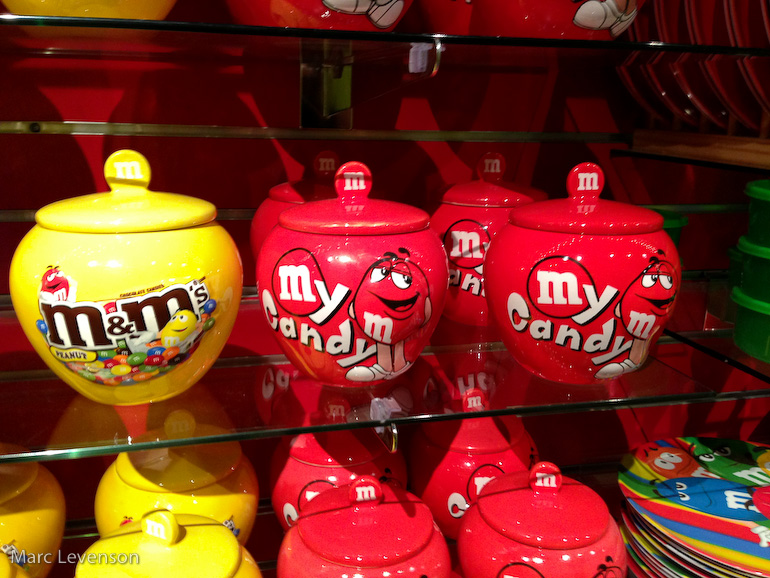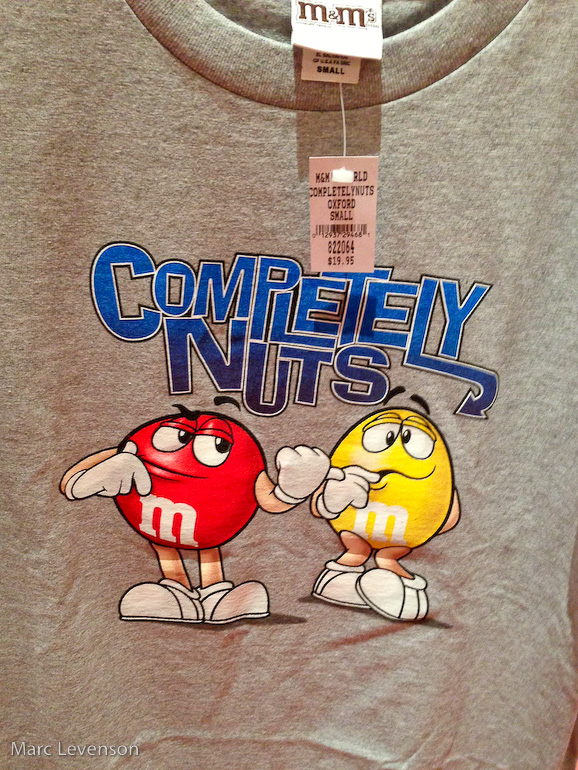 But on the top floor, the fourth floor, I didn't expect to see this. An actual race car, brought up the elevator in pieces and full assembled for us to see.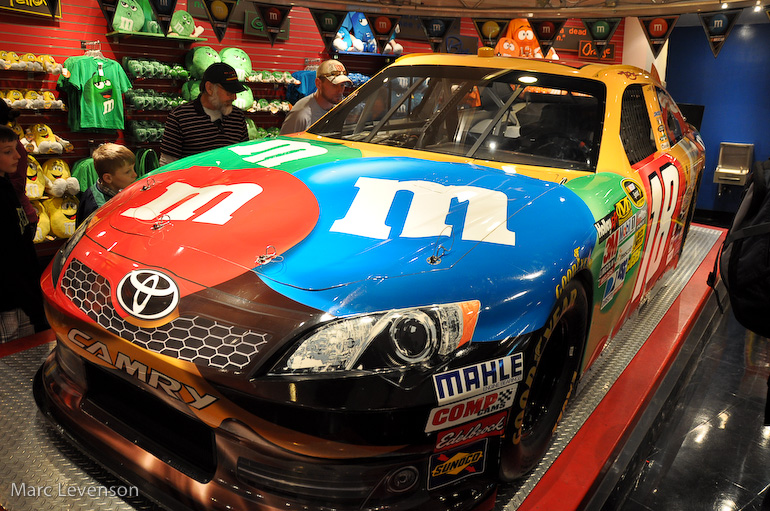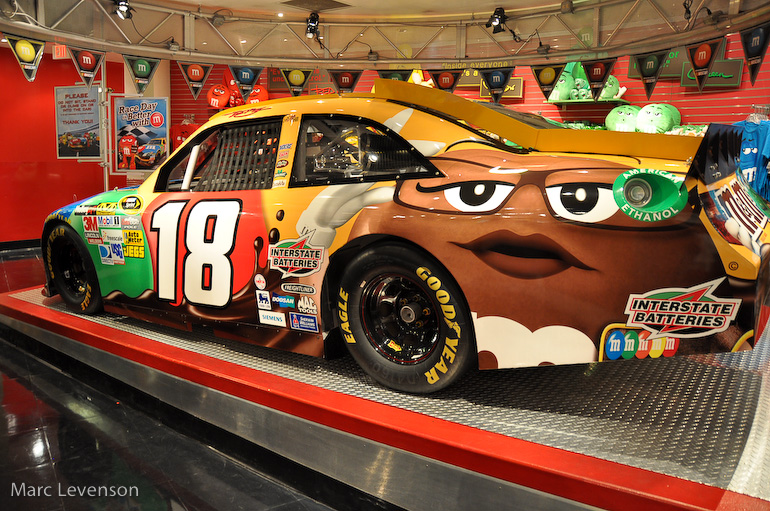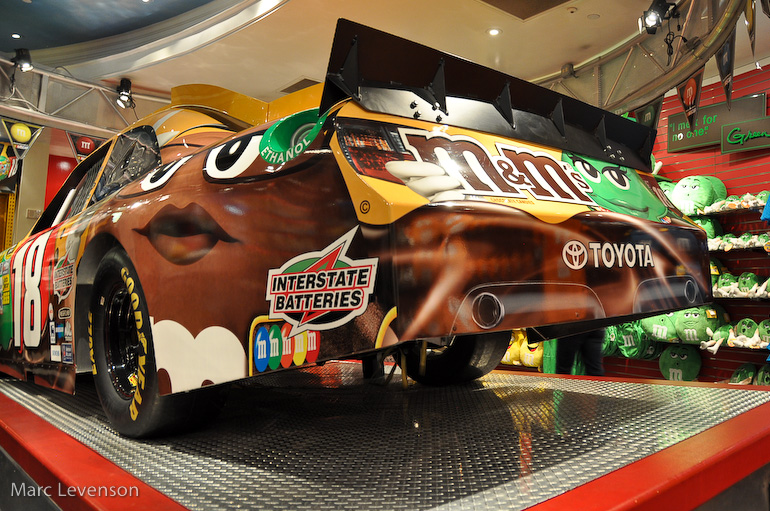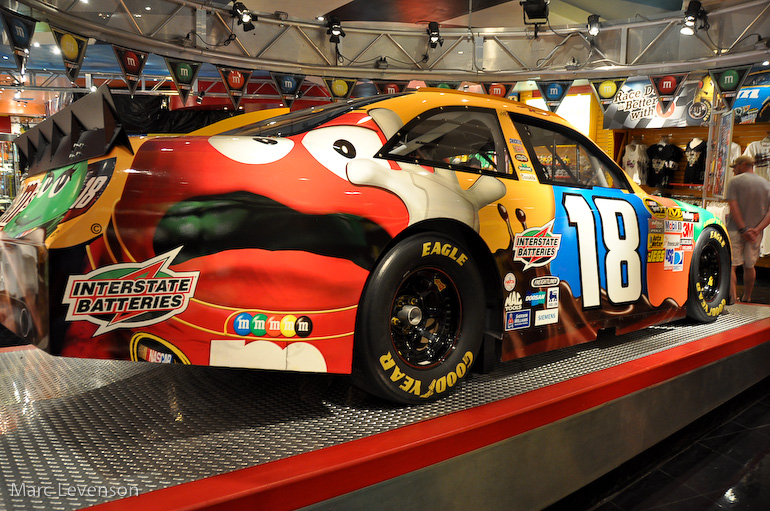 I'd drive it.
Las Vegas has brought in sights from around the world to one location.  Here's a shopping center that resembles the Walt Disney Concert Hall in Los Angeles. Yet look at the different shapes standing around it. The conflict of straight versus rounded versus angular really works.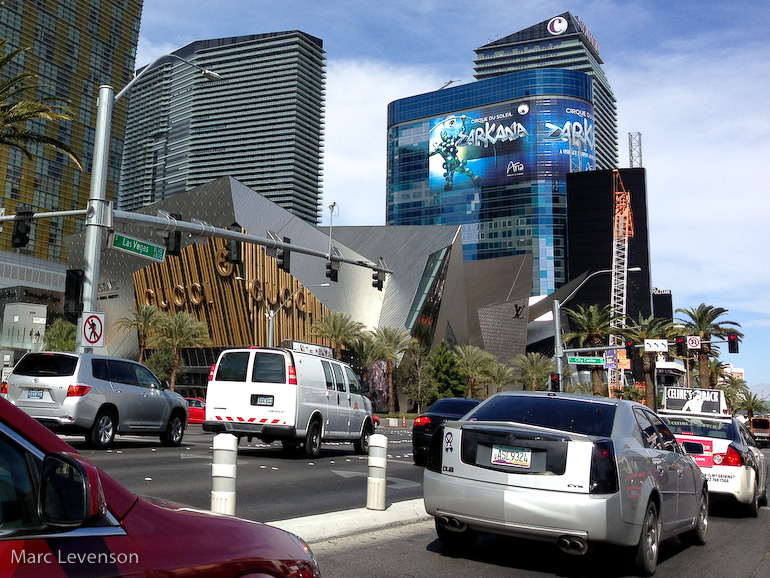 The Paris Hotel was beautiful, and I felt immersed in France as I walked past the charming shops and gazed at the offerings within. Gorgeous, day or night.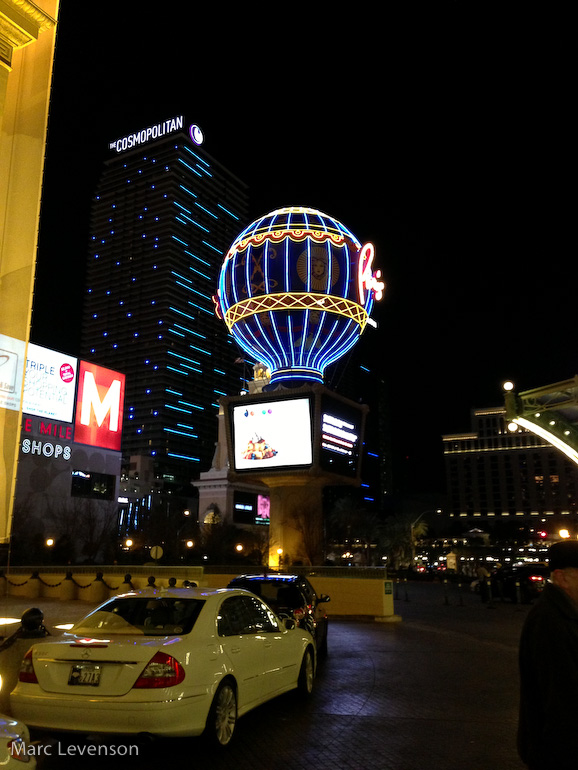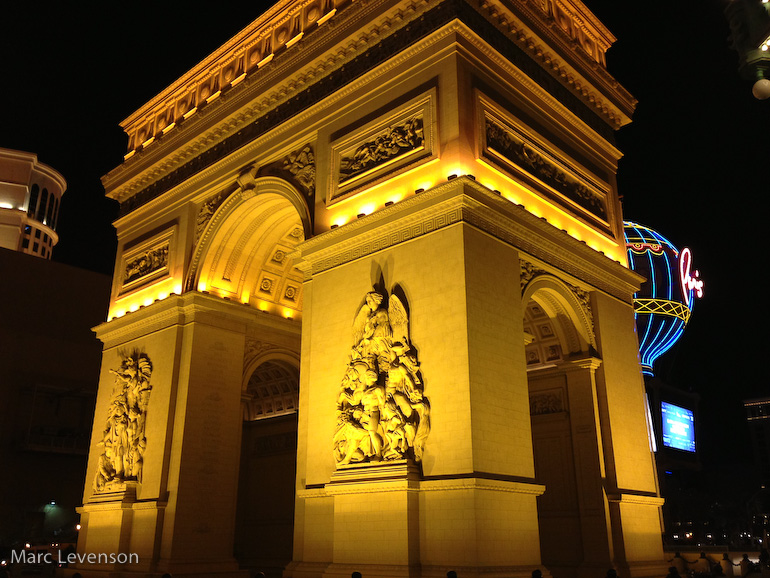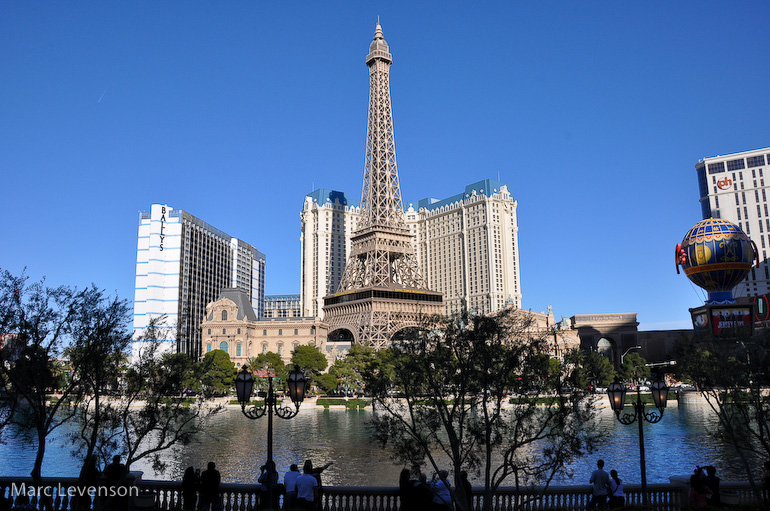 Ornate decor surrounds you from all sides.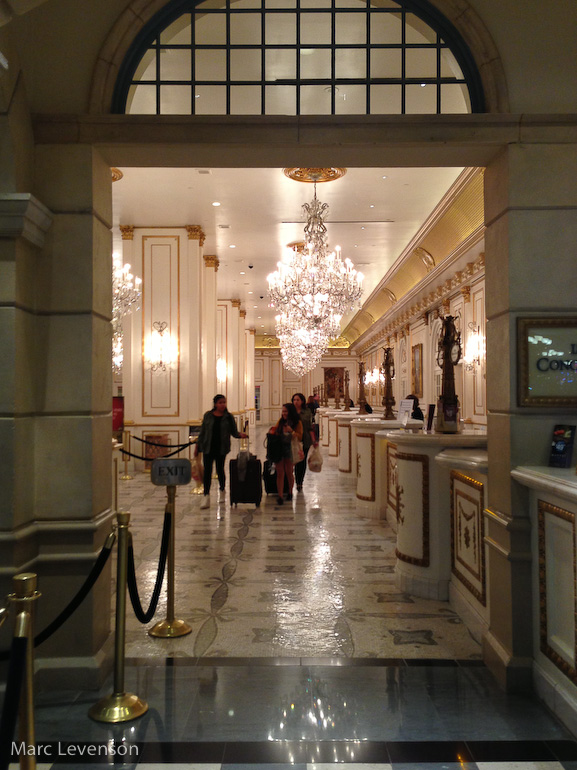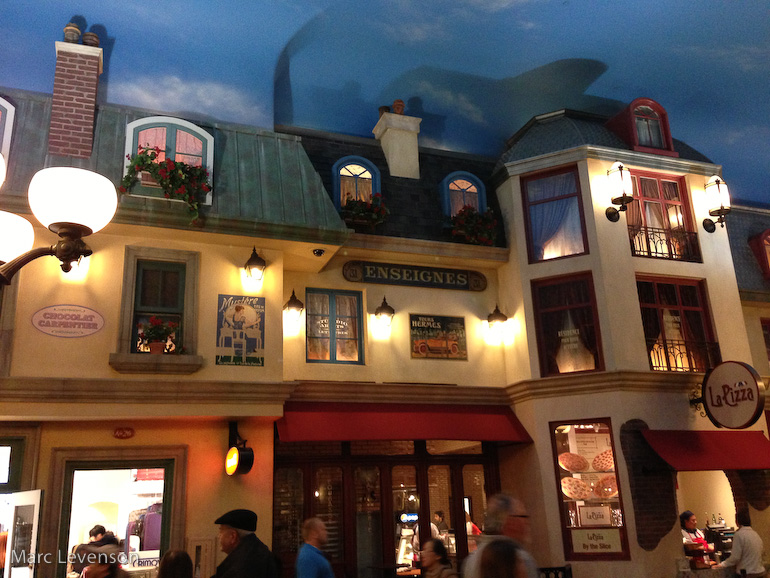 This famous bridge was recreated within the open mall-like area, and as we walked beneath it toward the restaurant, I snapped a quick picture.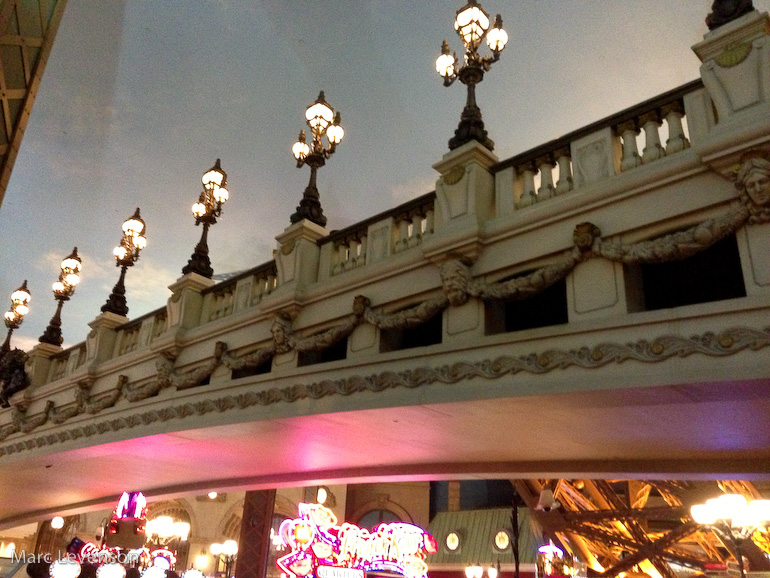 Europe always has these lovely fountains, so I had to strike a quick pose.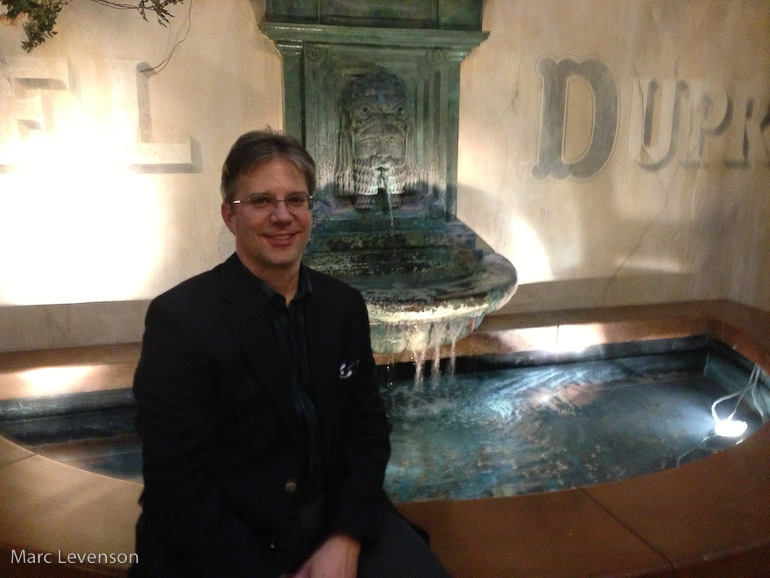 A massive stained glass windowed dome was impossible to miss.  Wow, what a lot of work!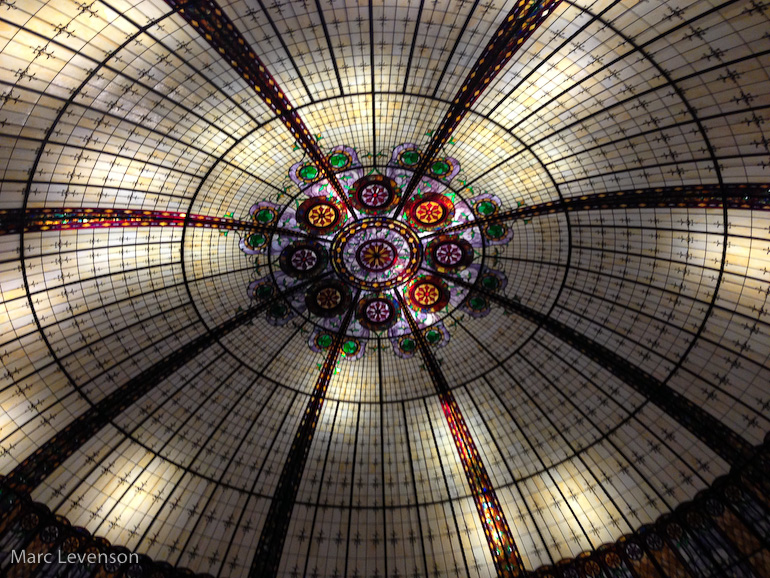 Spotted in one shop, I just had to wonder why. Seriously.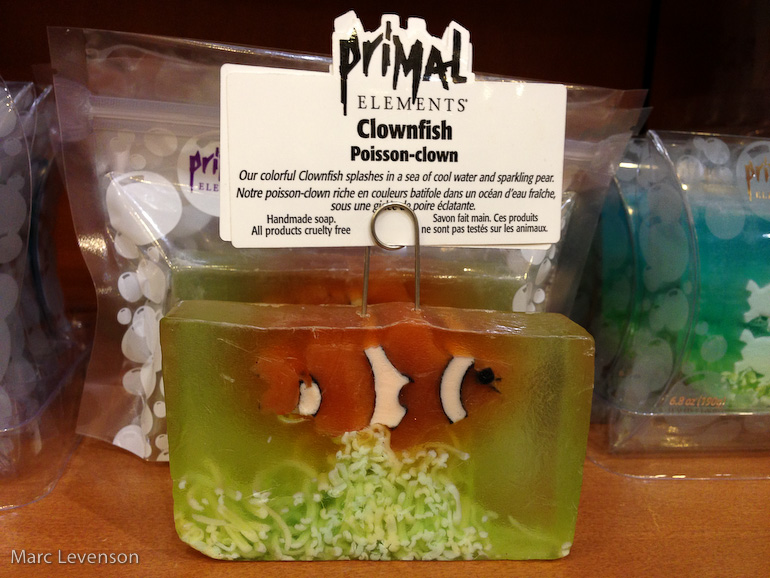 If you wander too far, you'll end up entering a different hotel.  They are interconnected. Here's a transitional spot, with a massive landmark.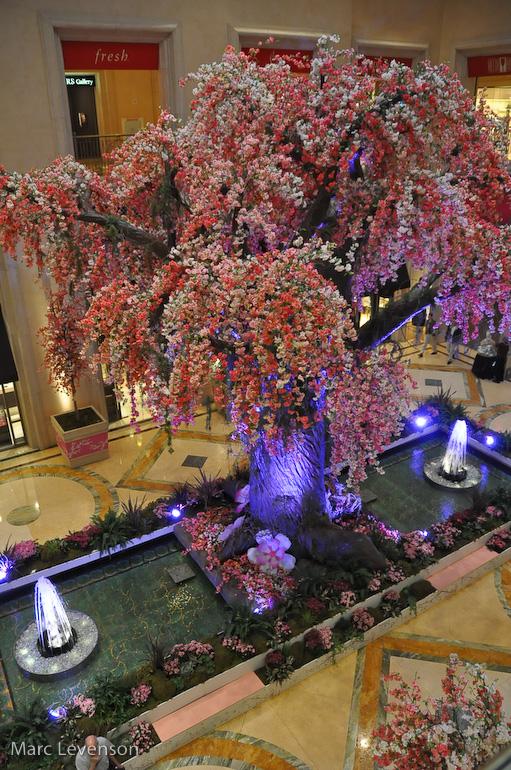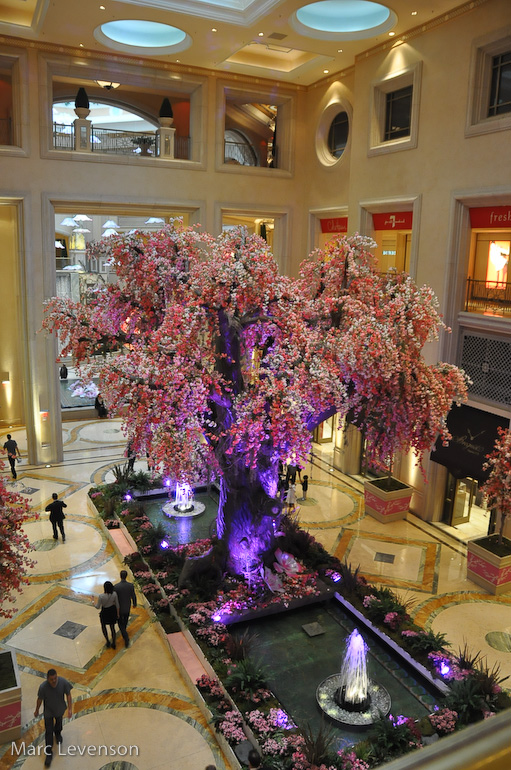 On the streets, you may run into a few street performers. Like this guy.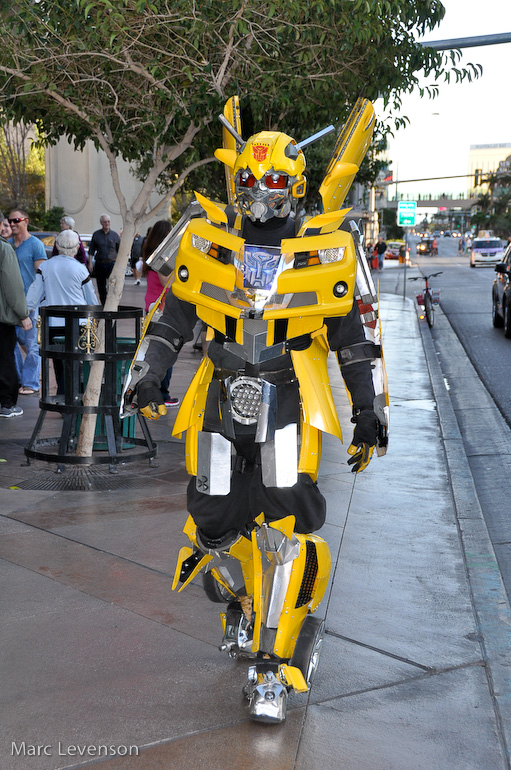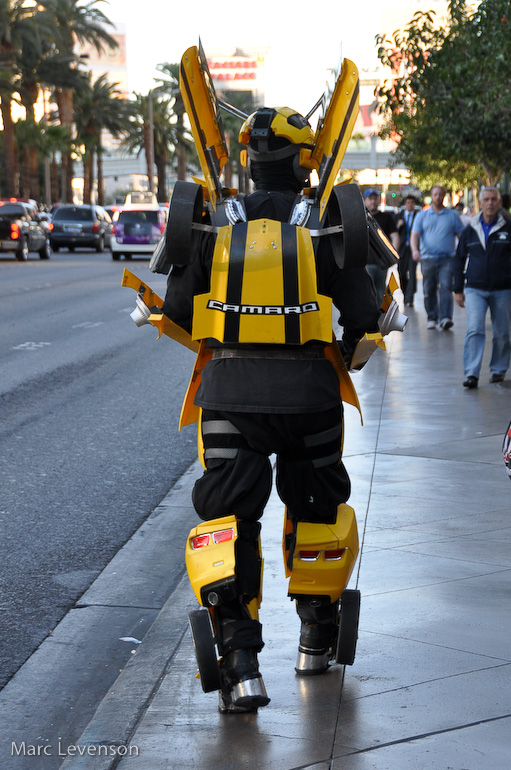 If you seek very fine dining, Fleur in Mandalay Bay is ready to serve. It's quiet, it's private, and the menu will not dissapoint. The wine menu is provided on an iPad. And they have wine angels ready to retrieve your favorite bottle, upon request.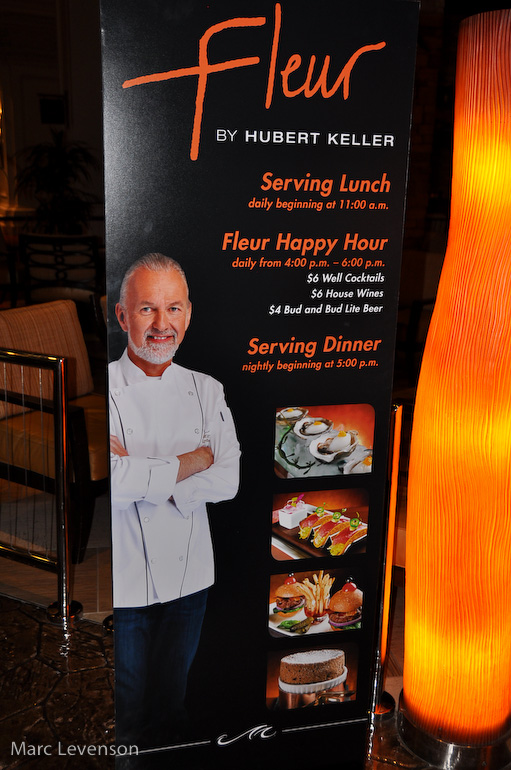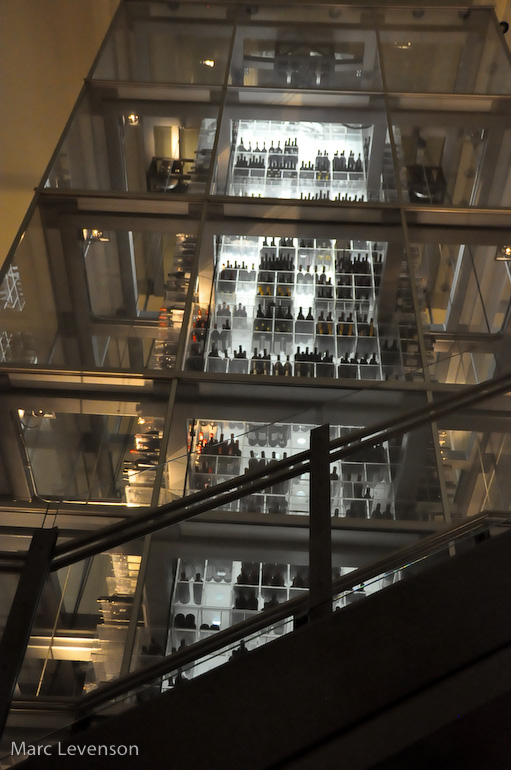 Your angel will rise on cables, do some acrobatics and pull out that bottle as you watch, and bring it to your table.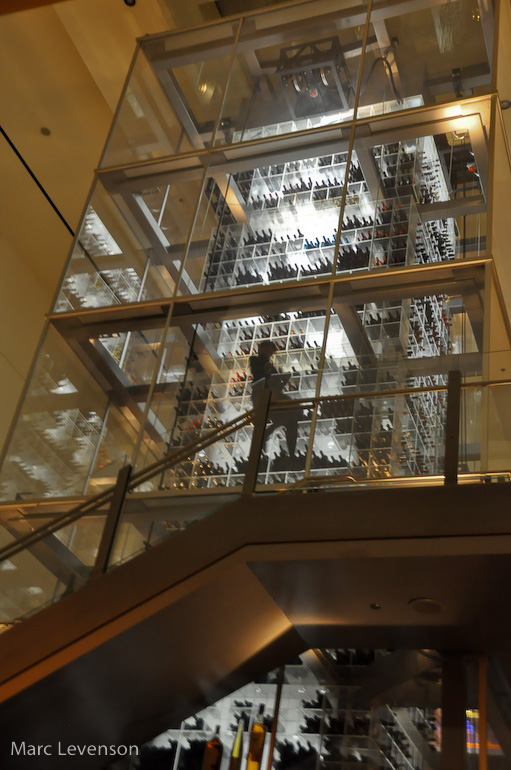 And if you feel like gambling, here's the sports betting area within the Mandalay Bay. Baseball, basketball, Nascar...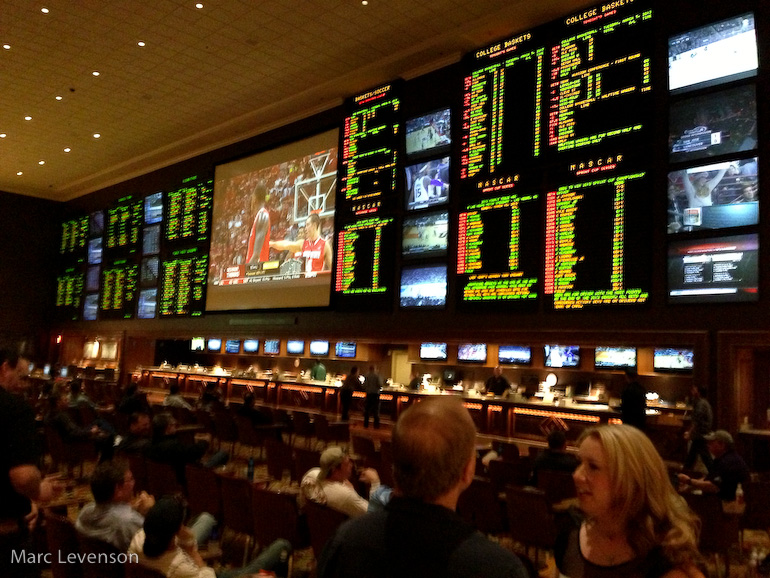 The Encore hotel is just north of the Wynn. While they have a similar look, interior-wise they are different. One section was abundant with the color red.  Red fixtures, red chandeliers... it was powerful. Look at this golden tree, which is actually a chandelier.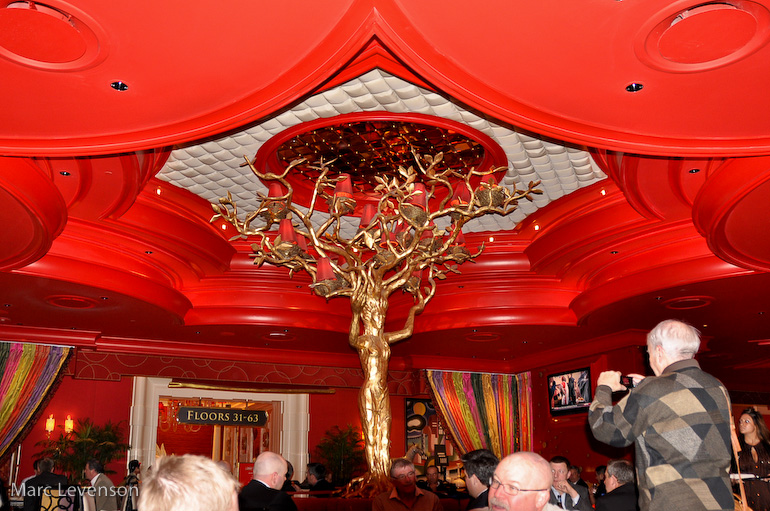 An extravagent peacock with lighted plummage.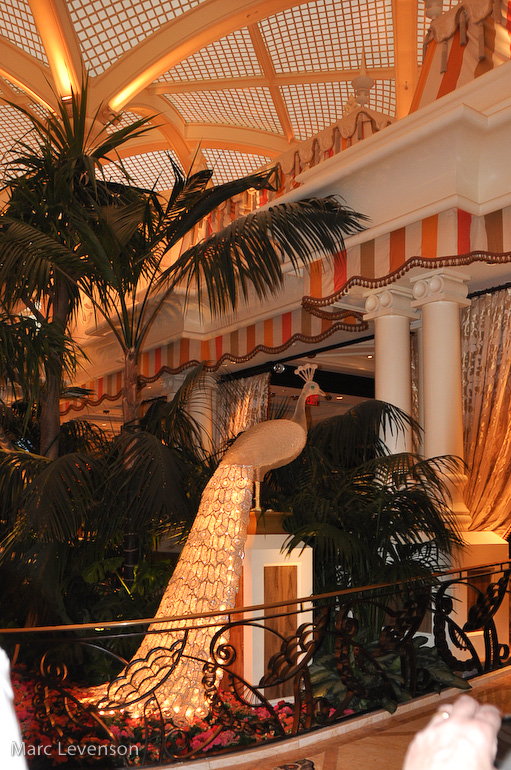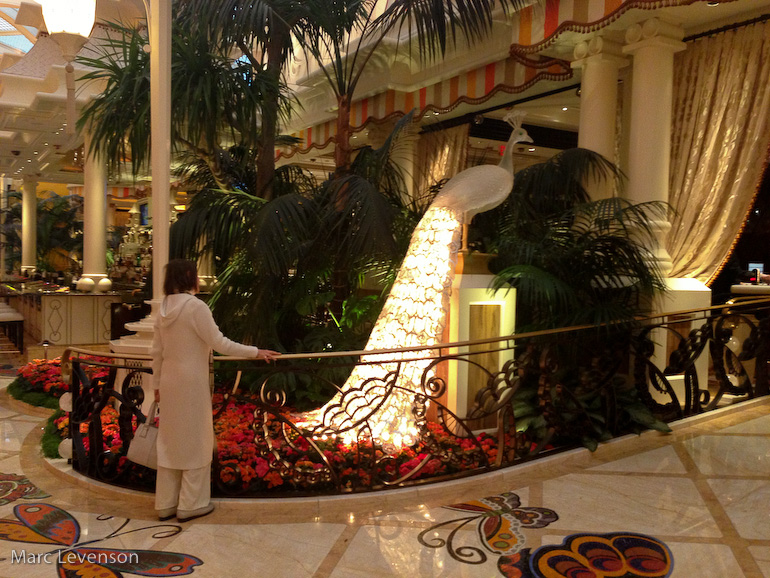 I have no idea what these things were, but I still liked 'em.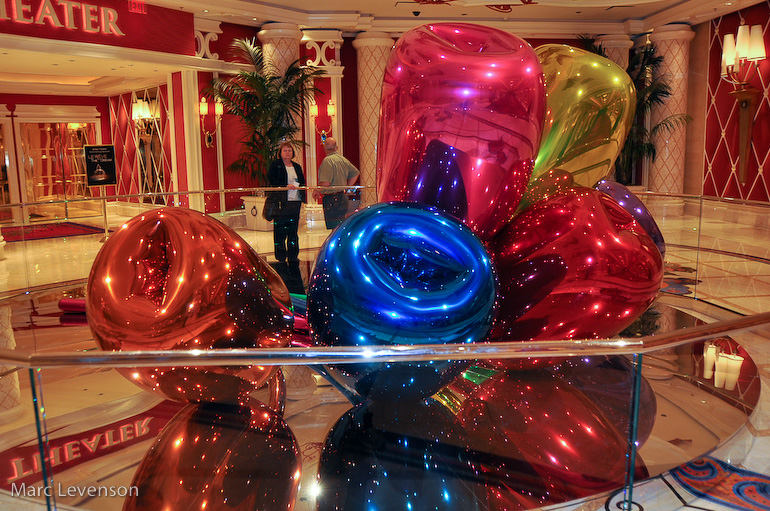 I had to make a stop at Treasure Island to see the pirate ships. The blackened area is from the explosive shows that happen every night.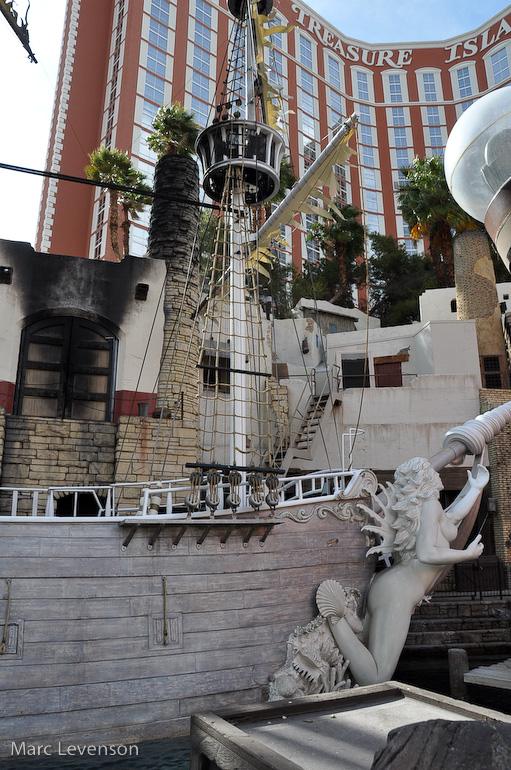 The spiral staircase is not typically part of the pirate ships I've seen; this one has a red curtain bunched at the top that must be used during performances.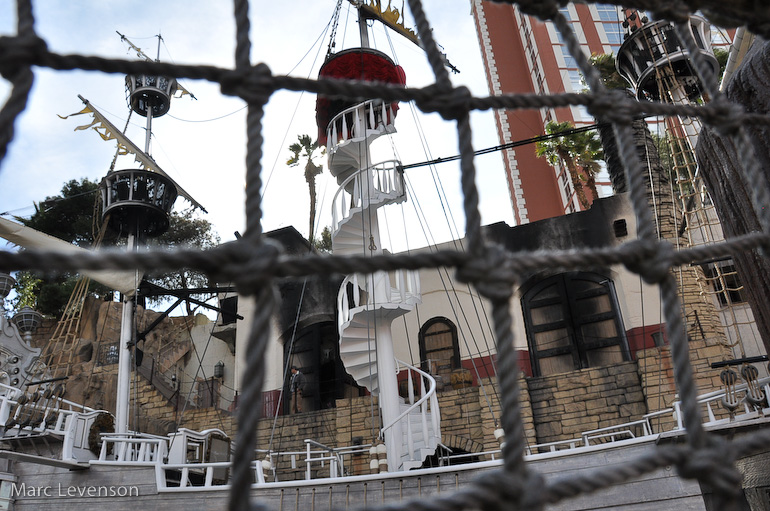 These guys were wiring up pyrotechnics for the next battle.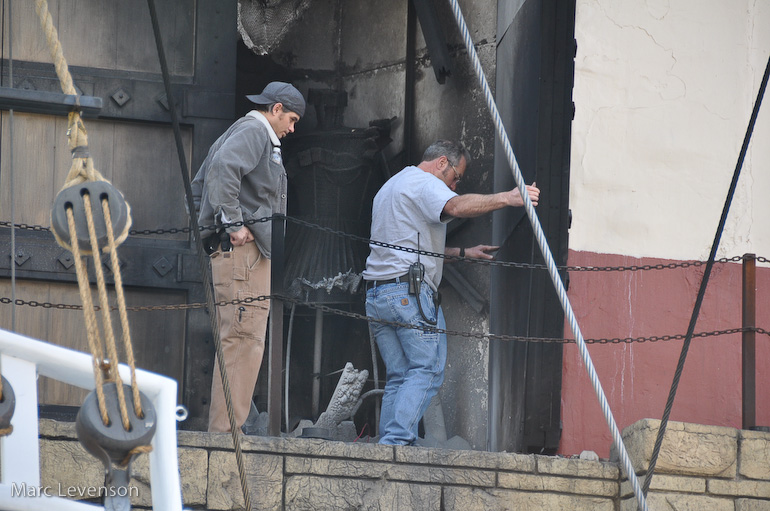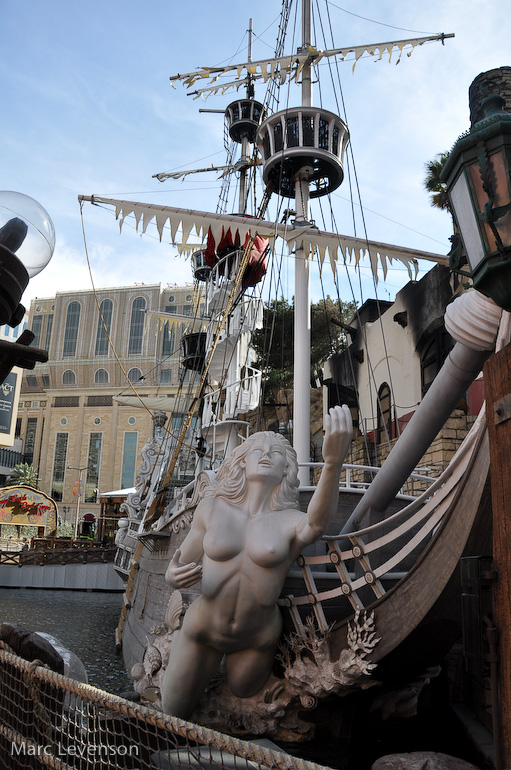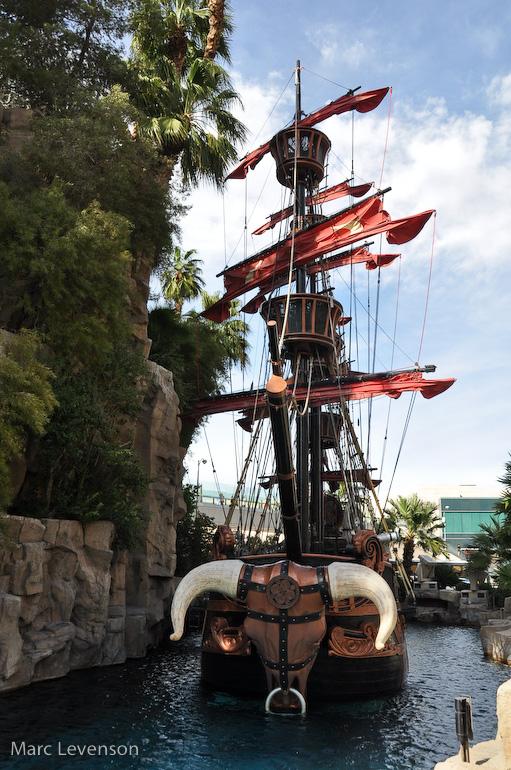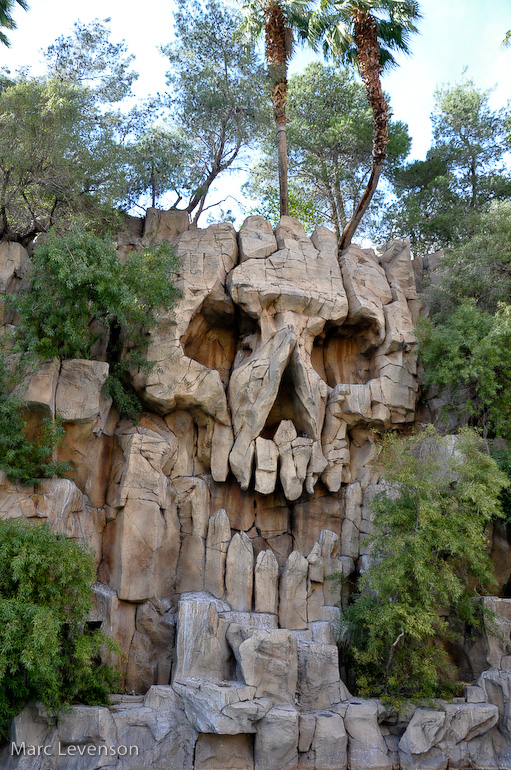 ;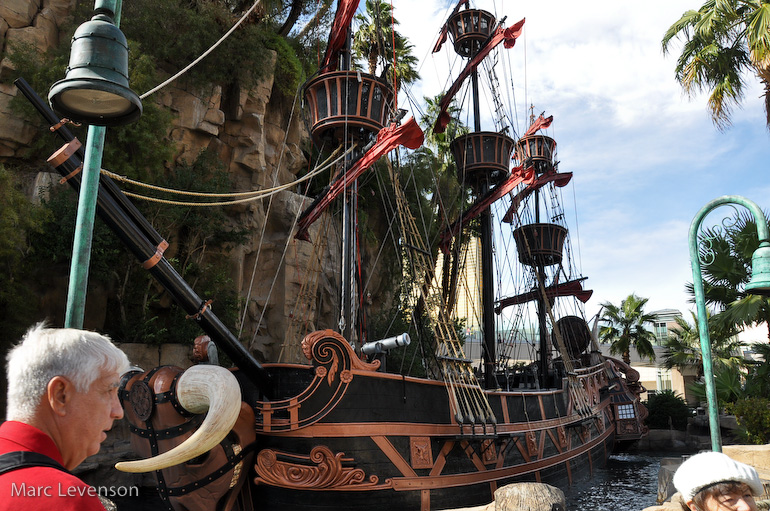 There are plenty of places to drink in Vegas. But drink while cannons are going off around you?  Only here.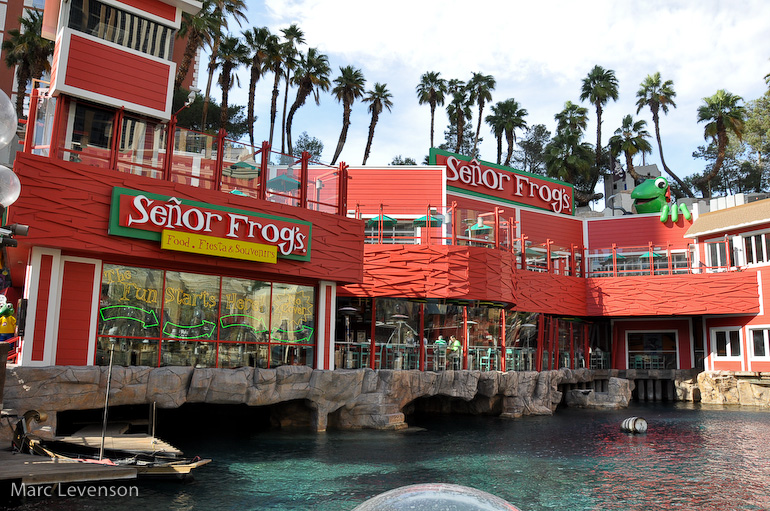 Here's a unique ride spotted inside the casino. Imagine that on a highway.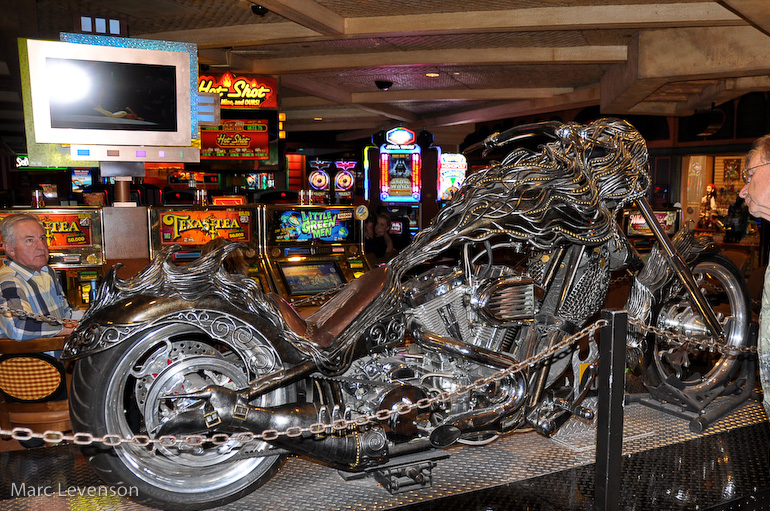 Inside the Venetian Hotel, you should be very impressed. Lovely spacious courtyards, gondolas traveling down sepentine 'canals', and plenty of shopping and places to eat.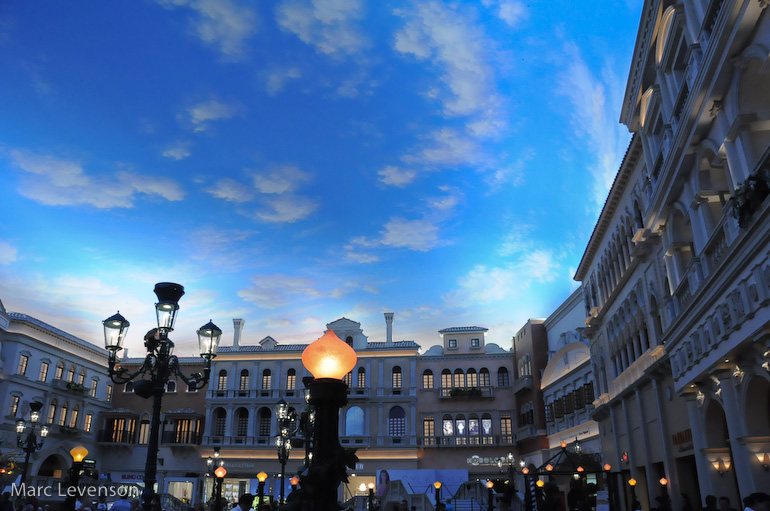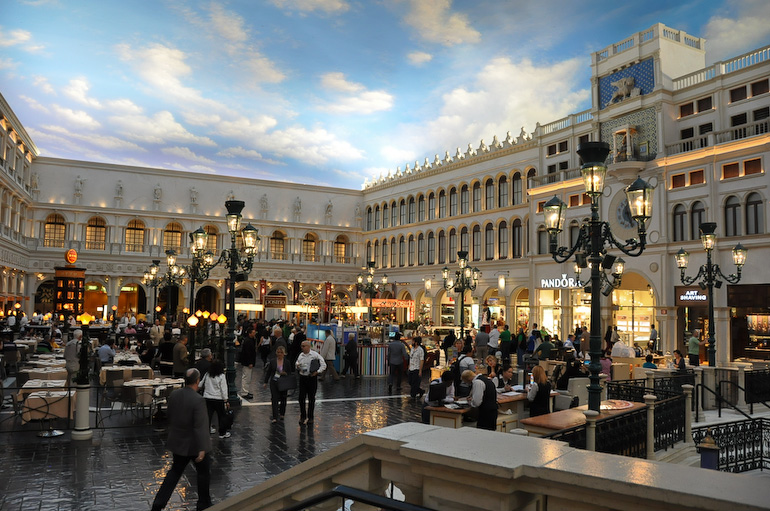 As timing would have it, a short act was performed for the unsuspecting audience.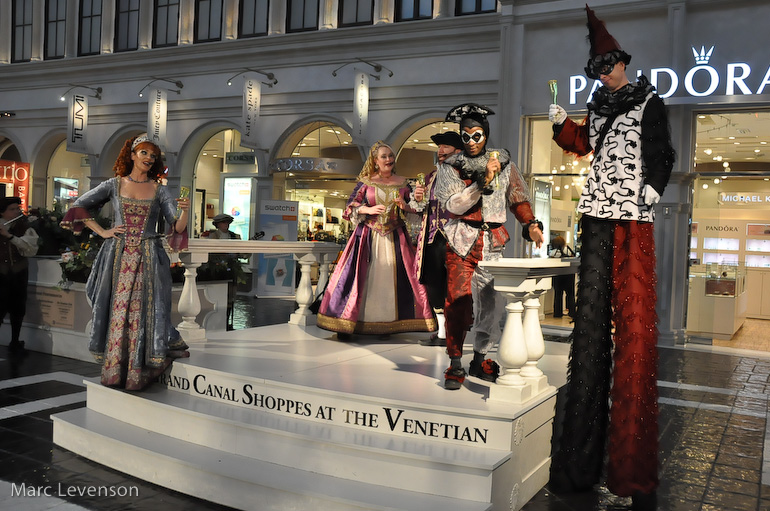 Musicians adjacent provided the perfect tone to the performance.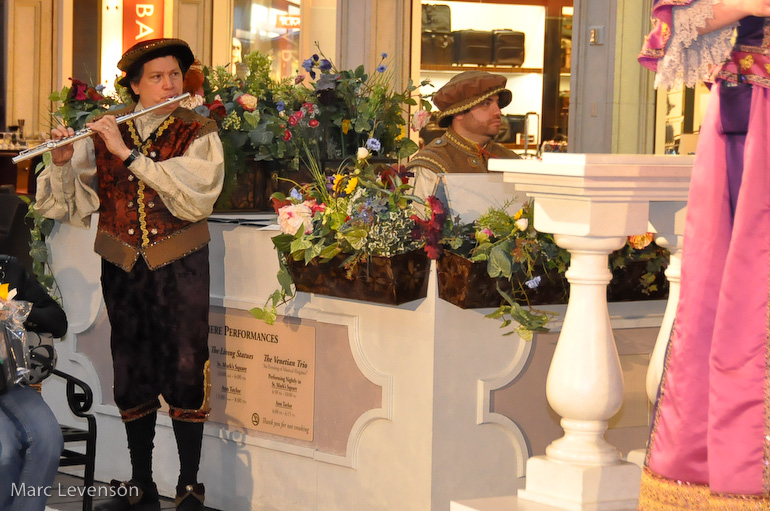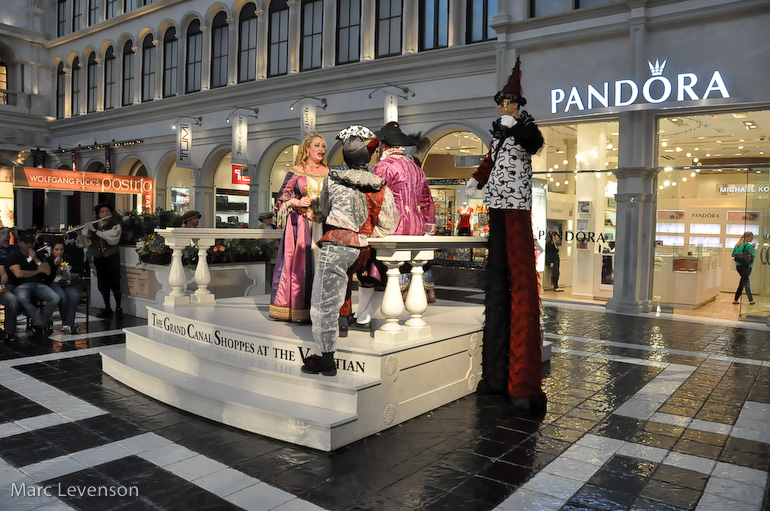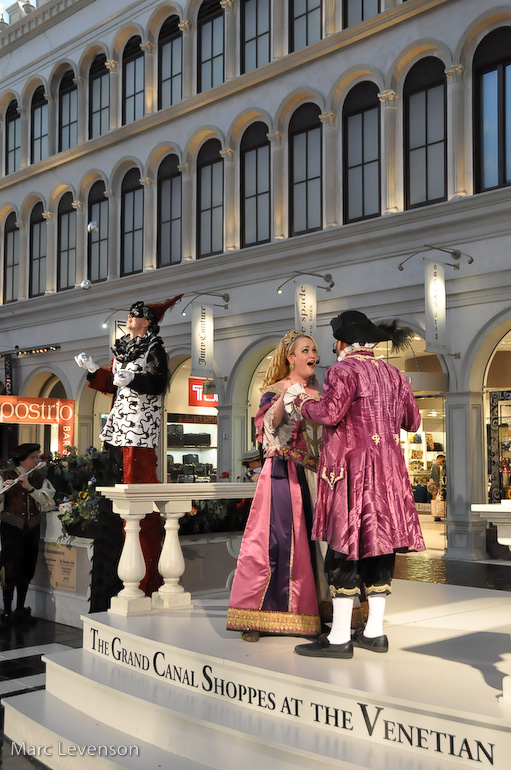 Even from up high, an actor bellows his role over our heads, making us feel like we are also on stage.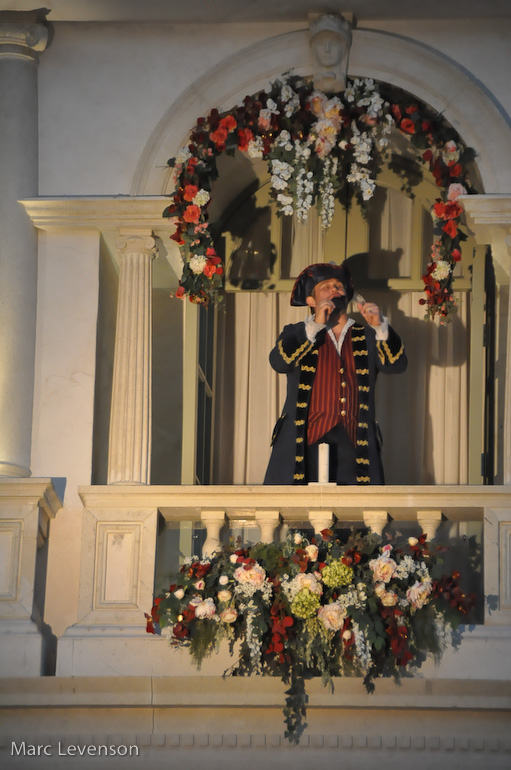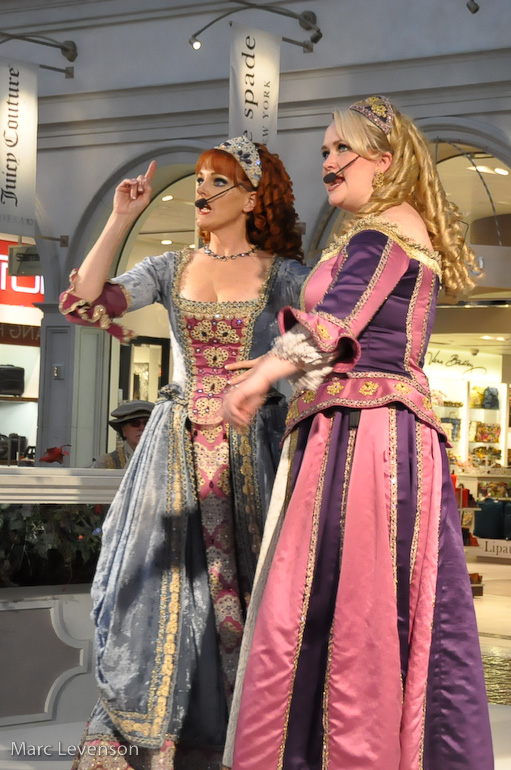 The costumes are beautifully made.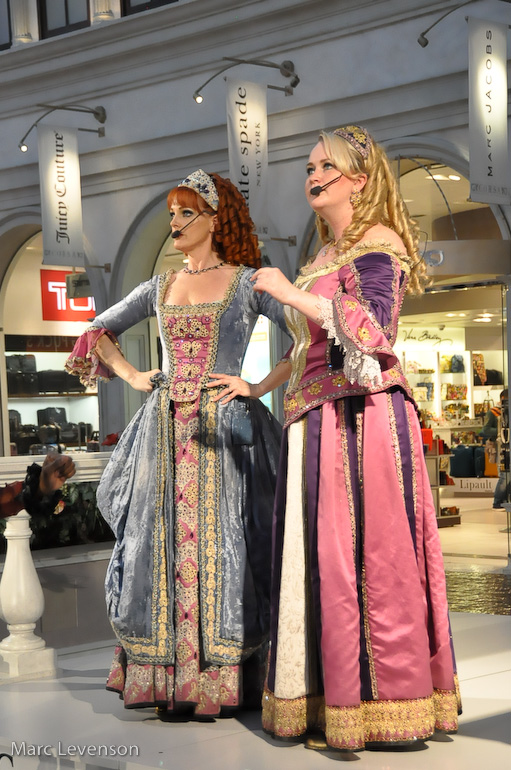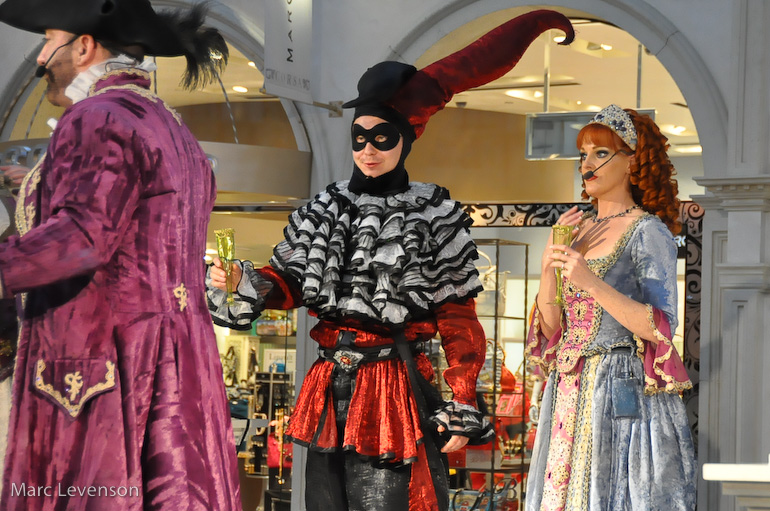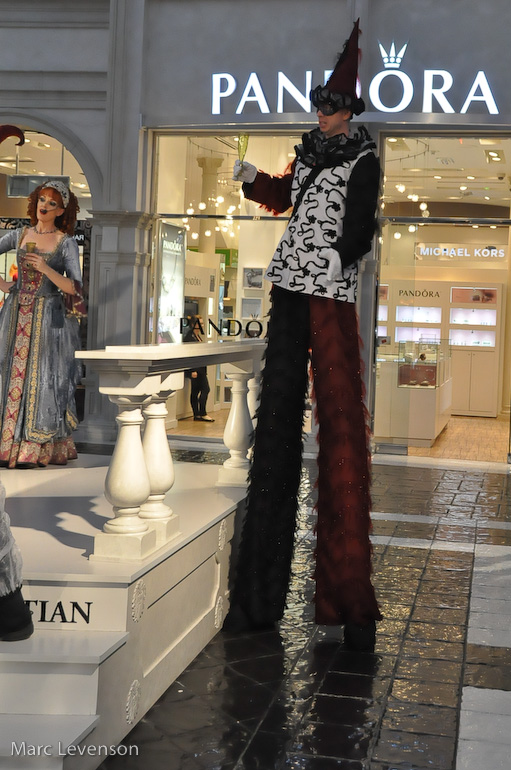 You can enjoy a ride on the gondola either indoors or outdoors. The gondolier will sing a few songs as he navigates the canal, ducking down each time the craft passes beneath a bridge. It's quite romantic.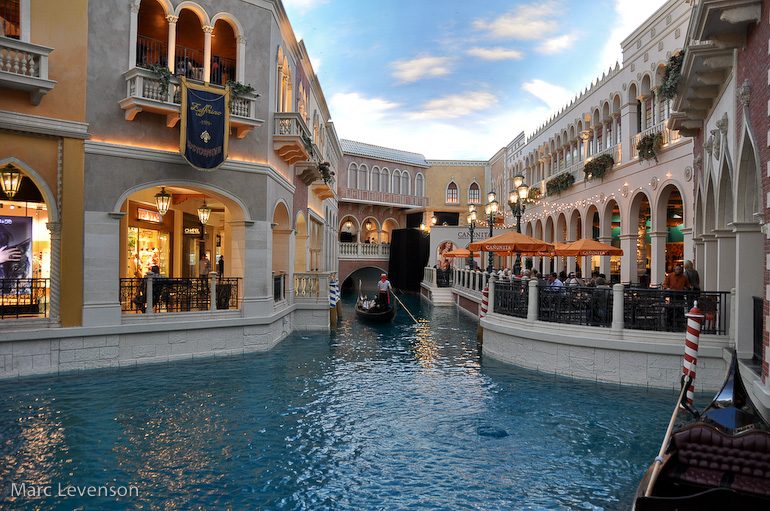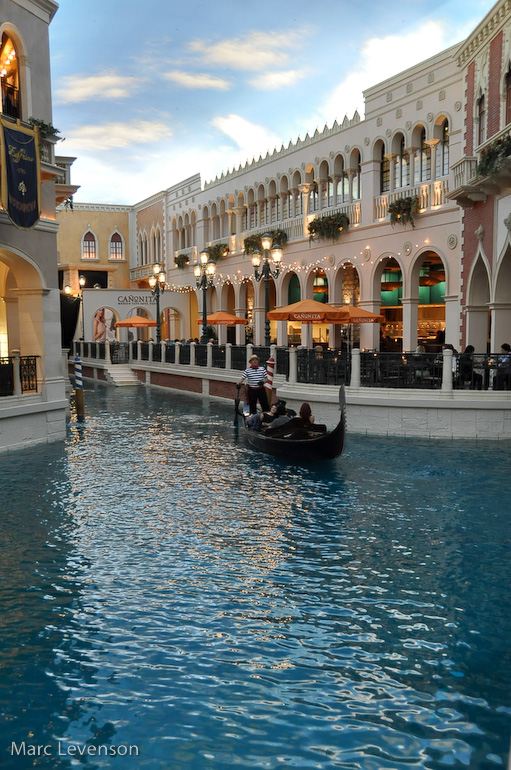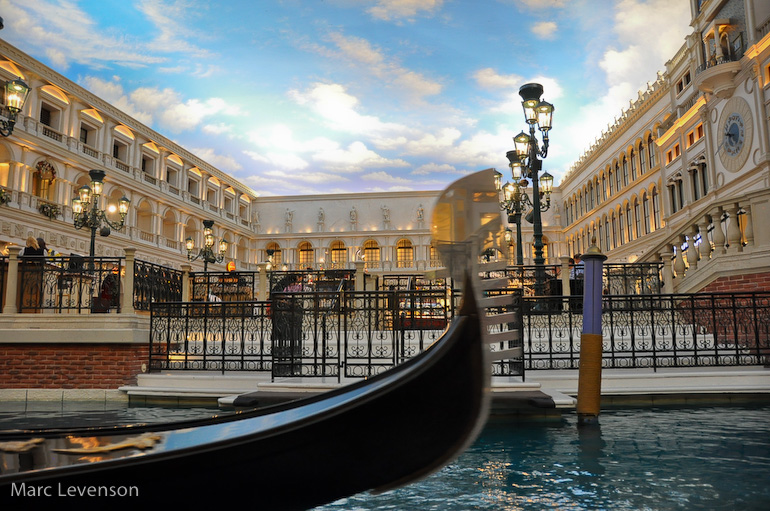 As I wandered through the shops, I saw some interesting items like these croaking frogs (motion sensitive).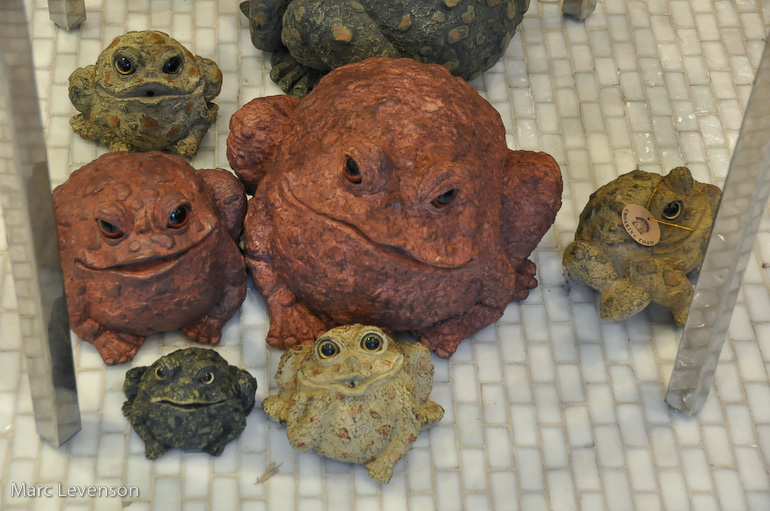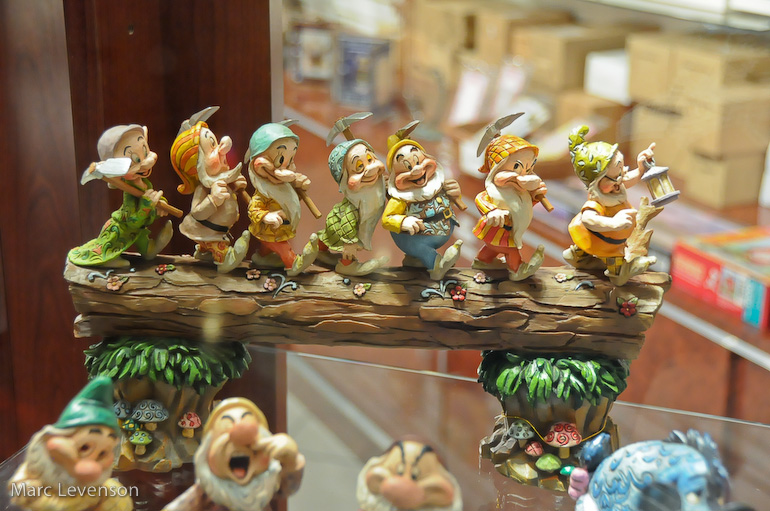 This one restaurant had their menu available on a massive touch screen, and each plate was viewable with a single tap.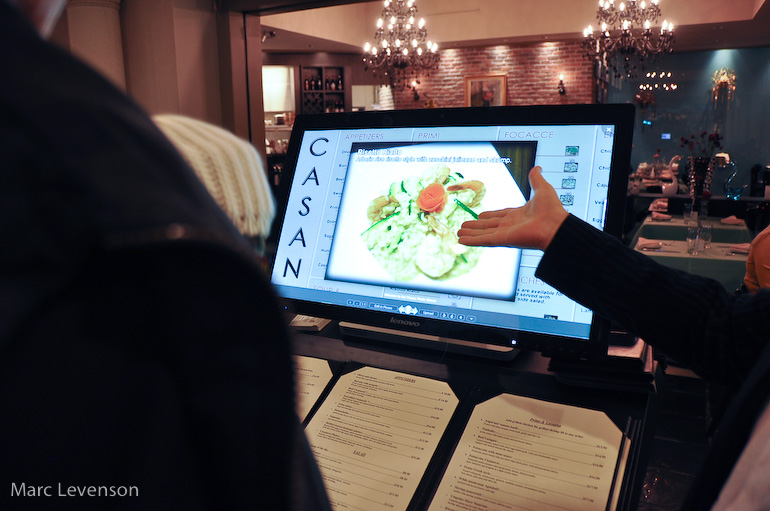 There is so much to see and do in Las Vegas that it can't be done in a single trip. I mentioned several hotels I didn't get to explore. I'd like to see The Cosmopolitan since their commercials look so good, and I'm going to have to see The Mob Experience tank built by ATM at the Tropicana. I'd love to just have the time to wander around and see where I end up, to discover more fun things that are available for the tourist in me. 
Meals are expensive in Vegas now-a-days, but you get so much food with each serving that it's actually priced appropriately. Every plate placed before me had much more food than I could consume, and I had to leave it simply due to logistics. If I'm carrying around a bag, it's harder to keep my hands free to take pictures and enjoy myself. Before I left Vegas, I'd amassed plenty of chocolates that caught my eye, which lasted me weeks afterwards.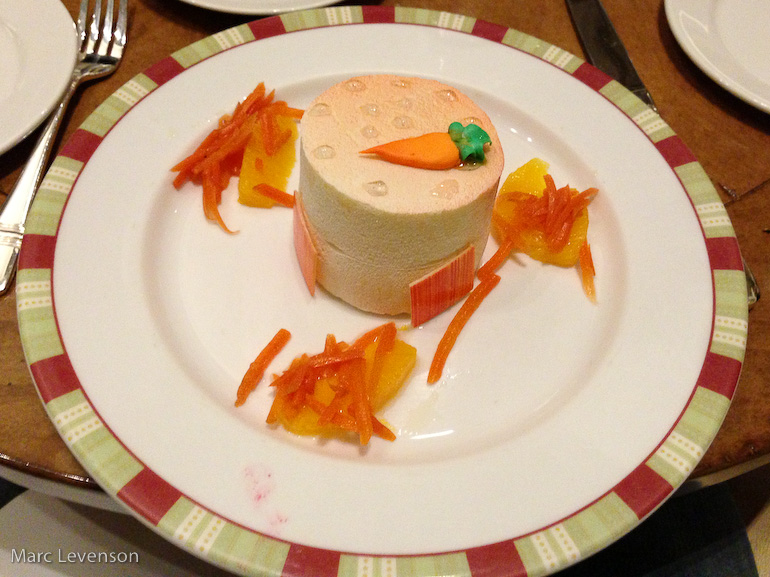 After my trip, I brought home one of these.  Don't be misled, I never did gamble a penny.  I bought this for 50¢ at the gift shop. :)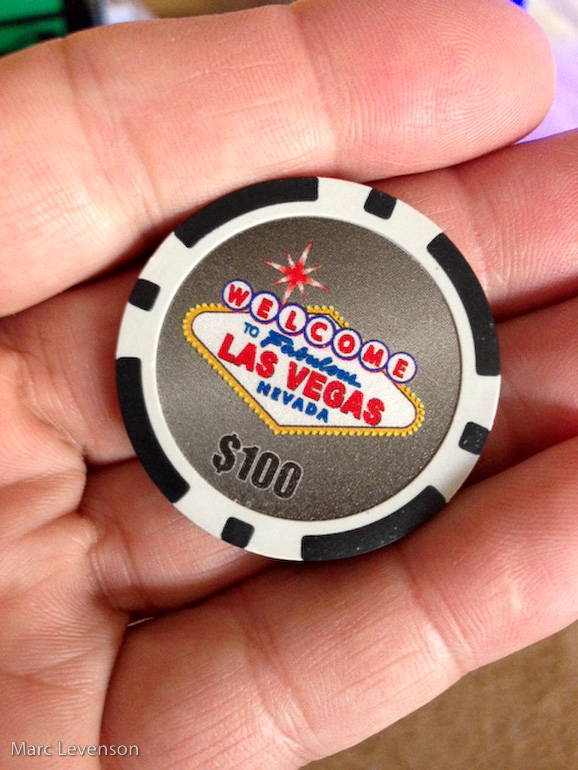 In a separate write up, I'll share the aquarium I visited in Vegas. Stay tuned.
Website Area:
On Location