Before I even arrived at MACNA this year, I promised myself I would get out of the vendors area and spend my time listening to the speakers. And I failed miserably. Two mornings in a row, I overslept! Other times, I had pre-arranged some things I needed to get done. Regardless, my goal for next year is the same: To listen to the speakers.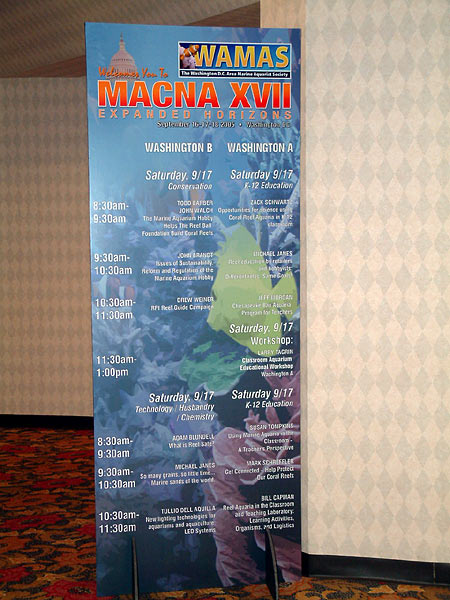 Several of these large stand-up schedules were available outside the corresponding room. Looking at my program, there were over 30 speakers presenting over the 3-day conference.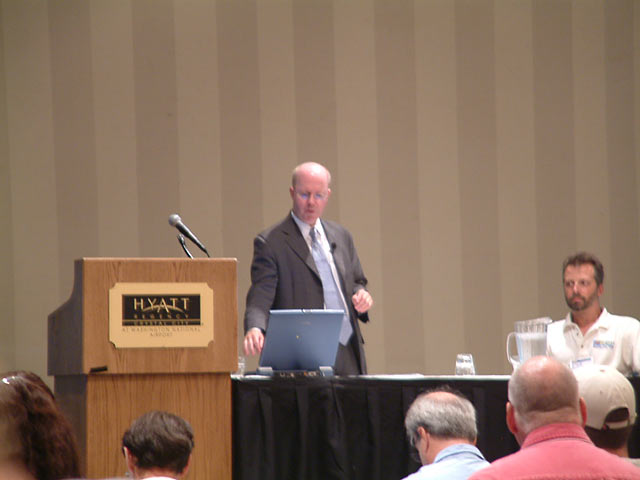 This is James L. Connaughton, Chairman of the White House Council on Environmental Quality (QEC). His presentation focused on the good points about marine life and reefs, and spent much of his time talking about commercial fisheries. He seemed to indicate good support for the hobbyist. For more information, you can visit www.ocean.ceq.gov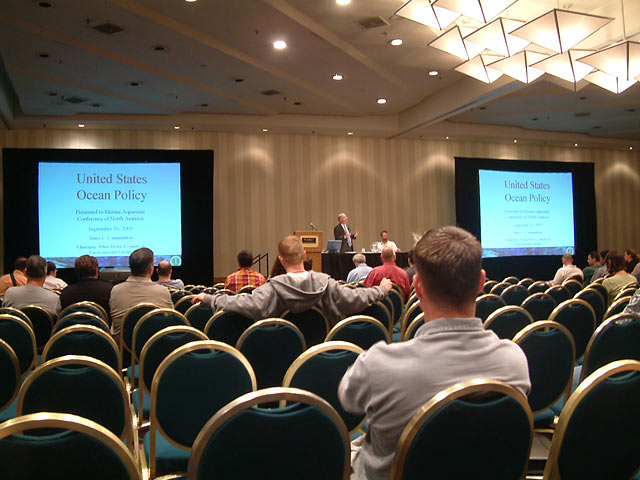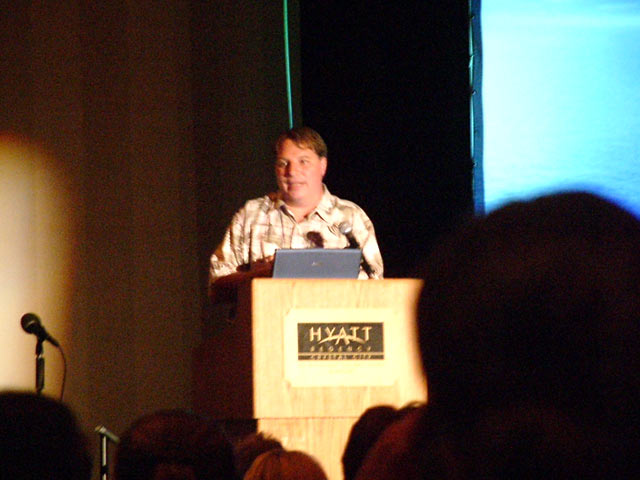 Jon B Hoech gave a lively presentation about something he's been involved in for some time. Capturing, feeding, and caring for a Great White shark at the Monterey Bay Aquarium.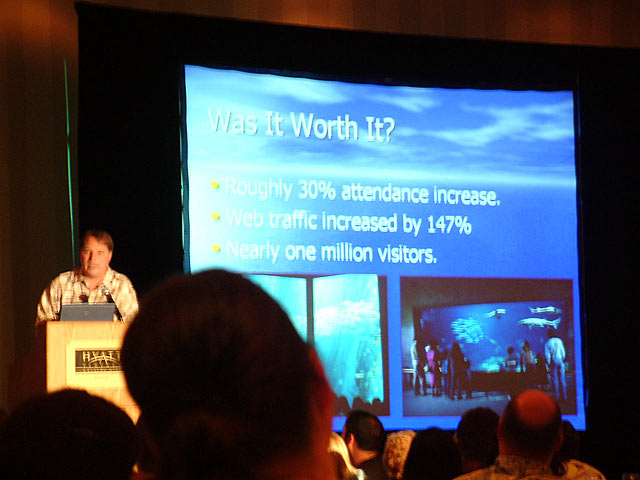 His presentation was fascinating and a bit scary. You have to wonder where the wisdom is in keeping something so dangerous in captivity. Still, their goal was to understand these creatures better, and get away from the myth that they are vicious killers. Here's more information.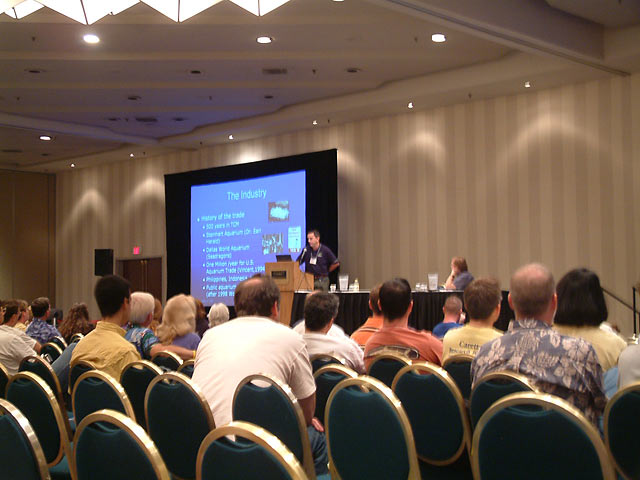 Jorge A. Gomezjurado discussed how the industry should focus on successfully raising captive bred seahorses. His website is www.dracomarine.org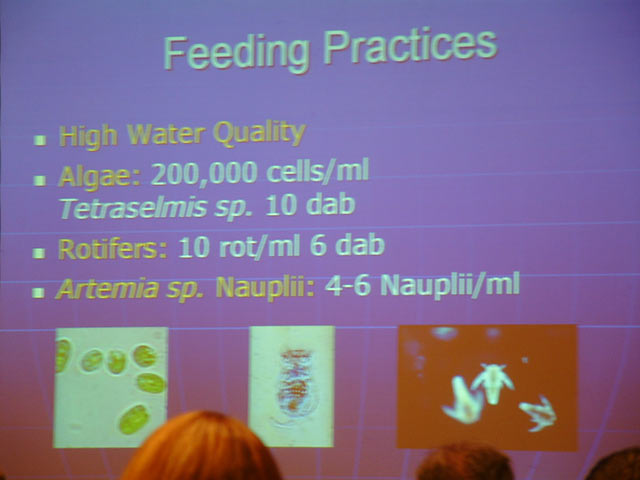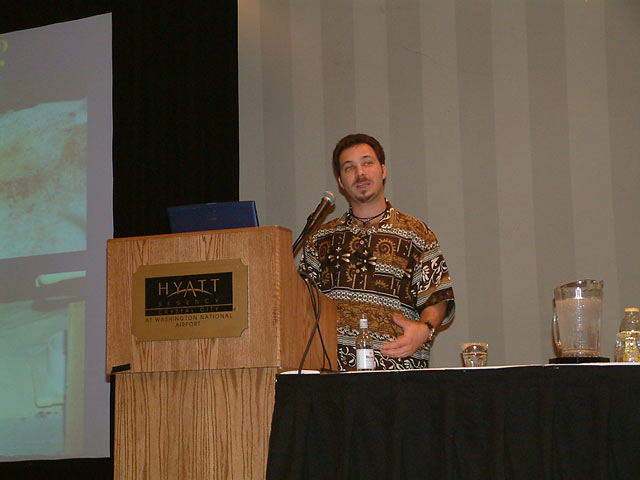 Anthony R. Calfo's presentation drew a huge crowd. He kept the audience's interest with unusual tank displays, and the laptop he used kept him on his toes as it slipped into sleep-mode after his touch, a number of times.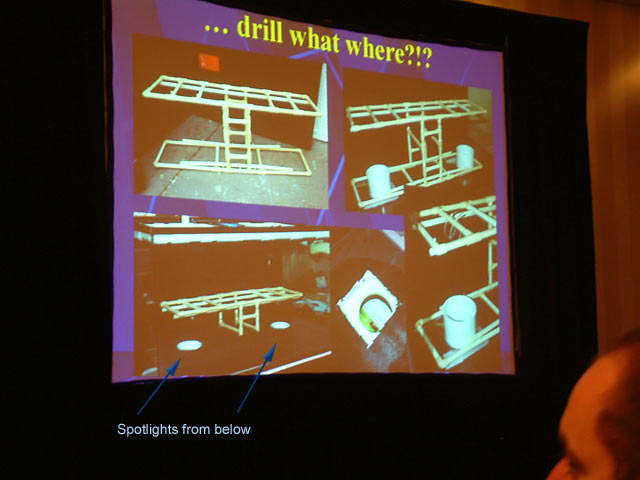 This tank used PVC to create a frame to attach live rock to. The pillars were siliconed to the base of the tank, and black substrate was then added. Using dim lighting from beneath the tank, his goal was to highlight some suncorals that would be suspended from underneath the overhangs. Cool, eh?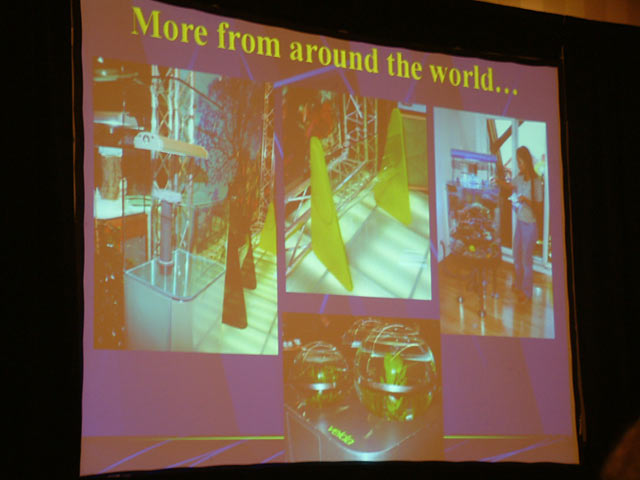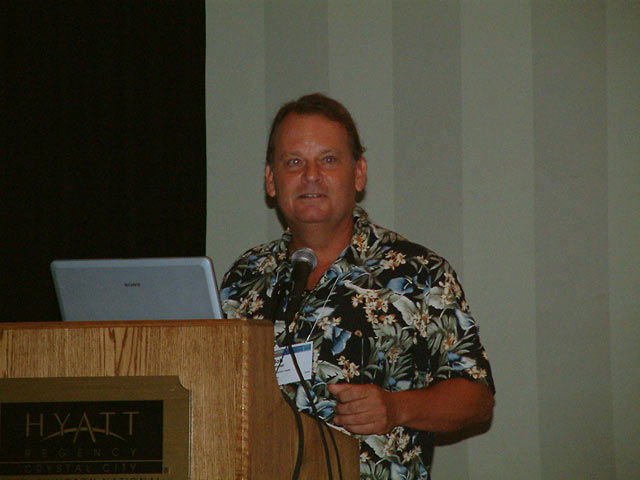 Robert Bob Fenner received the MASNA award this year. He was selected as being the most helpful to the hobbyist this year. Odds are he's been helpful in the past as well. ;) He is known for his speaking ability, and has a huge part in wetwebmedia.com. I think he owns it. Bob did his presentation at the reception on Friday night.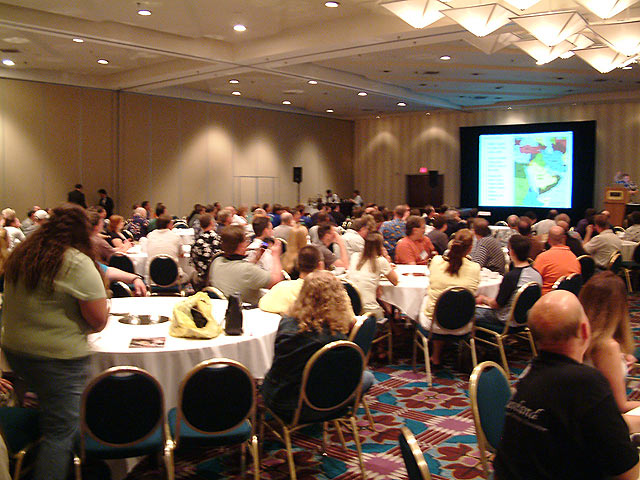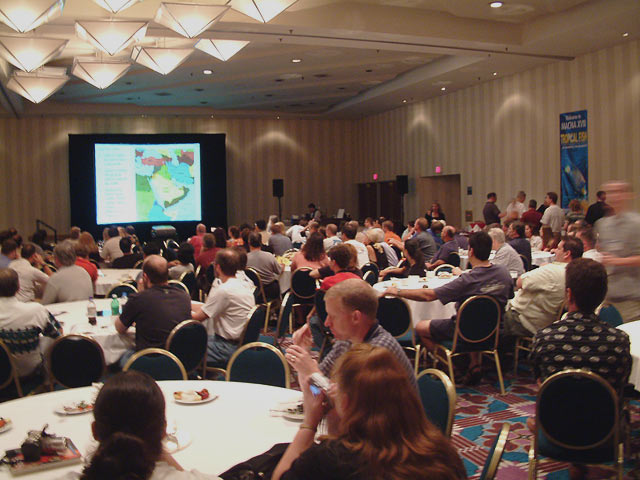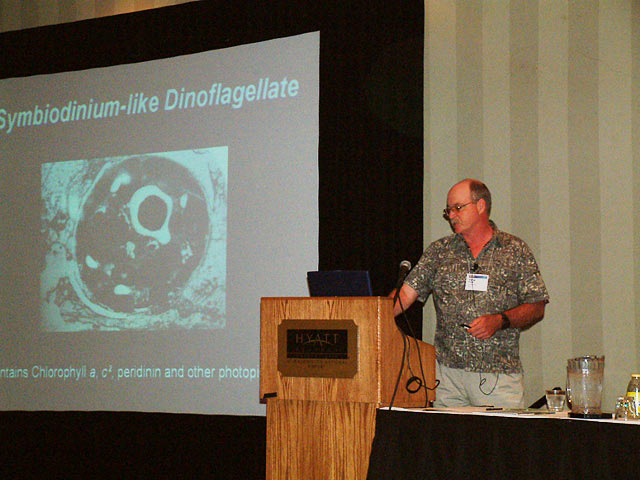 Dana Riddle, based in Hawaii, flew in to discuss lighting, and had done some research to see if perhaps we are overlighting our corals to the point that it affects photosynthesis adversely.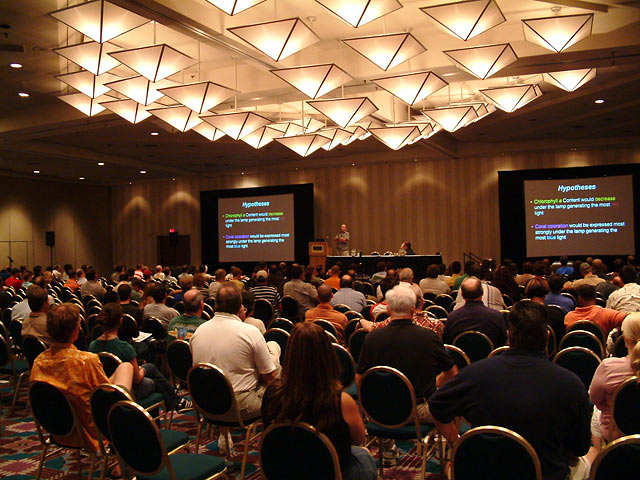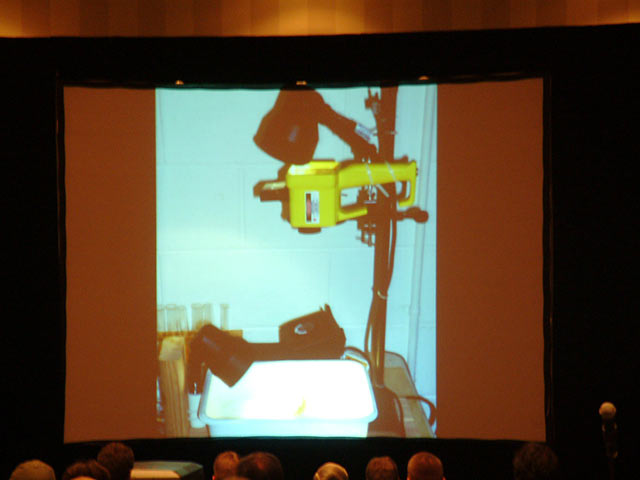 He used this device to measure readings. That is a coral in the white trough.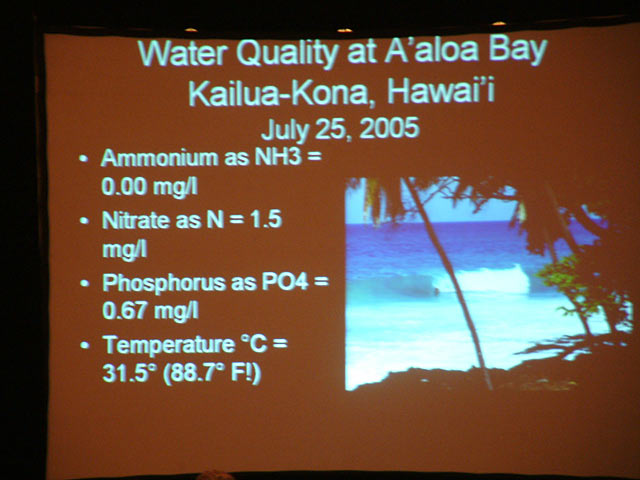 Look at the temperature of the water there!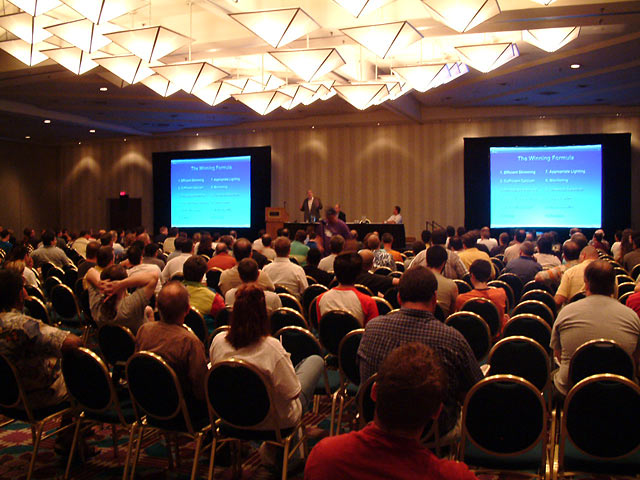 David Saxby talked about large aquariums, and how some of the related-challenges could be overcome.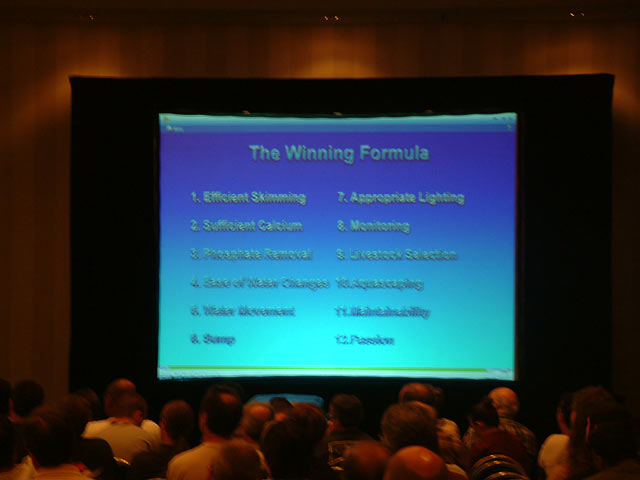 His Winning Formula wasn't too shocking. The image is blurred, so I'll retype it here:
1. Efficient Skimming
2. Sufficient Calcium
3. Phosphate Removal
4. Ease of Water Changes
5. Water Movement
6. Sump
7. Appropriate Lighting
8. Monitoring
9. Livestock Selection
10. Aquascaping
11. Sustainability
12. Passion