iPhone app: Is my tank okay? Sweet!
For some time now, I've really wanted something that would allow me to check on my tank when I'm out of town. Just a quick peek to see that all is well, although I don't really dread it - I just do whatever I can to keep it happy, and hope for the best. Once I'm out the door, there is little I can accomplish, other than call others to come investigate.
A few months ago, I upgraded a controlling device that my tank uses to track parameters, and turn the lights and heaters on and off. The Aqua Controller II was replaced with a III. Since I'm about to go on a road trip to Arizona, I decided to take the plunge and purchase the iPhone that I've wanted for more than a year. Being connected via the web is a huge draw, having Google Maps at my fingertips to avoid getting lost was another, and then there was the reason I first mentioned: to check on my tank.
A guy named zigzag on Reef Central wrote an iPhone App(lication) that is designed to work with the AC3 and AC3 Pro, and after you click on the symbol on the screen, it connects and reports instantly the current status of the tank: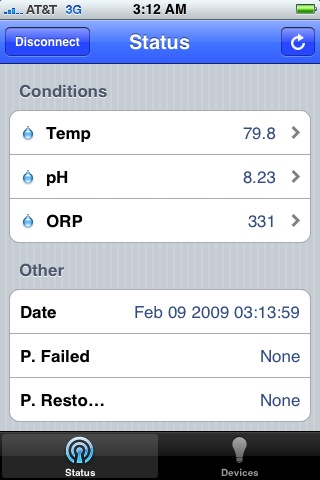 And then if I click on the small arrow to the right of the current temperature, and rotate the phone into a horizontal position, I can check on the the past day, week, or month's temperature variance.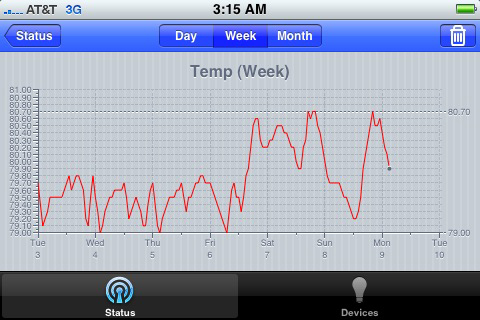 I'm so happy to finally get this connectivity. The AC3 can email me if anything is outside of normal range (after those parameters have been programmed), and my phone will receive those email alerts as well.
Neat, right? The app can be found in the iTunes store, and is free. Search for "aquanotes". By the way, those images above are actual screenshots from the phone. Whenever you see something you like, you can press two buttons on the iPhone simultaneously to take a screenshot that is saved to the picture directory.