A sudden visit to the hospital
Submitted by Admin on Fri, 02/27/2009 - 4:55pm
To get everyone up to speed, the road trip to Arizona was a lot of fun. I got home Monday morning at 5am. Of course, as soon as I walked through the door, I checked on my reef and did a bunch of minor tweaks to adjust things they way they needed to be. All was well.
By 7pm that night, my stomach started hurting. I ran up to the store to buy some Mylanta tablets, and chewed up 5 of them over the next few hours. Since this was the fourth time in a month that this pain had occurred, I felt I better go to the hospital. Plus, that evening I was watching a recorded episode of Grey's Anatomy, and the woman had stomach cancer, so at 3am I threw on some clothes and drove up to the hospital. Within an hour or two, they told me I wasn't going anywhere for a few days.
I was diagnosed with acute Pancreatitus, which was a symptom of gall stones in the gall bladder. The bloodwork told the doctors that I had elevated enzyme counts (somewhere around 6600 instead of a mere 68), and I was put into a private room and got my required IV drip. No food or drink was allowed as surgery was imminent, and that included even ice chips. They medicated my pain, and watched my bloodwork daily. Within 24 hours, the enzymes had dropped like a rock to around 200, and my surgeon was eager to get in and remove my gall bladder since the opportune time was upon us. Surgery went well, and with four small incisions, they removed the gall bladder. I believe at this piont, I've had all of my back-up organs removed, and have to rely upon whatever is left in my body. ;)
The next day, I was given a good bill of health and by evening got to go home. As you can imagine, I'm still very very sore, but at least I'm not paying the hospital for another day or two to stay in their room. I'm going to be resting up for the next few days, because even sitting at the computer long enough to pay bills is too much at the moment.
The Aquacontroller 3 and my iPhone have been one of the best purchases I've made in a long time. I've used it often to make sure my tank is okay, including yesterday when Fort Worth was unseasonably hot (84F).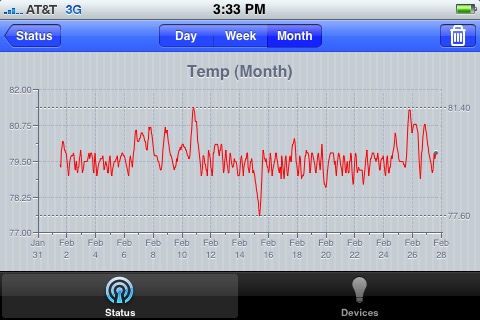 Over the next few days, I'll be working on the magazine as my body allows, but won't be too active online.