Keep this under your hat ;)
Submitted by Admin on Sat, 03/22/2008 - 3:27am
I'm currently doing some PAR tests on my lighting. If you are interested, here's the page:
PAR - Measuring Lighting Intensity with a Meter
For now, keep this under your hat and don't discuss it on any message boards. I'd like to get all my findings completed before posting it on the forums. Still, I know y'all are always interested to know what I'm up to, so enjoy this in stealth mode, and watch that page get updates quickly over the next few days. ;)
Quite a few things have occurred recently that need to be added to the Reef Log, but until those pages are ready, I'll hold off on those details.
My trip to Atlanta was excellent. The ARC club was very nice, and it was interesting to attend their monthly meeting. As the speaker, I had the opportunity to discuss a topic, but as a guest, I got to see how they run their meetings. Before I flew home, I visited the Georgia Aquarium, which is absolutely amazing. If you haven't gone yet, make plans to do so. MACNA XX is in Atlanta this September, so that would be an excellent opportunity spend a few hours there!
While I was visiting a LFS (local fish store) recently, I saw a couple of clams I couldn't live without. I'm talking about these two cute T. maxima clams at the top of this picture: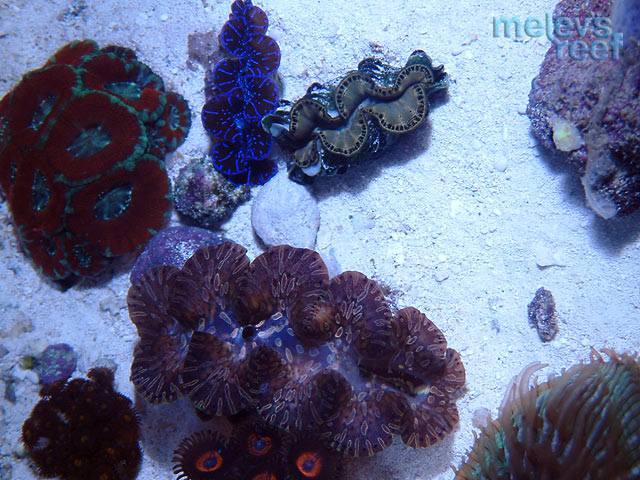 They look great in my angled tank, don't you agree?
In less than two weeks, I'll be flying out to Southern California for the Marine Aquarium Expo. My presentation is on Sunday at 12:30pm. For more details, visit the MAX site. It only costs $10 to get in both days, and there is no doubt you'll have a great time visiting with the many vendors as you see their displayed products. I'll possibly be speaking to another club during this trip, but the details have not been worked out yet.
Later in April, I'm flying out to Cleveland to speak to that club. April 18th, if you are in that area. You can find out more about their club at c-sea.org/.
During May, I'll be speaking to the Austin Reef Club, and then back to Ohio to speak to the Cincinnati club.
And with all of that going on, I'll still be editing Reefkeeping Magazine each month, cranking out new Reefcast episodes with Evan, selling RO/DI units, building sumps, and caring for my reef. Whew!